REVO Husqvarna UK travelled to Orlyonok on the shores of the Black Sea for the Patron MXGP of Russia, round eight of the FIM Motocross World Championship.
With Crew Chief Sam Yates staying back at the team's HQ to carry out engine work, a streamlined team made the long journey to south west Russia where both Dylan Walsh and Alvin Ostlund were forced to work hard in sweltering 35-degree heat to score solid points in both MX2 motos.
On the fast, slick and unforgiving hard-pack track, Dylan qualified in 18th but was caught up in a first turn crash in race one. Digging deep, the Kiwi went from last to 17th over the course of the 30-minute plus two lap moto and second time out he held an initial 10th, then lost a handful of places before recovering for 13th at the flag.
Alvin was 15th in Saturday's qualifying race and matched this position in Sunday's opening moto.
After struggling out of the gate in race two, the young Swede had to push for the full race distance and thanks to two passes on the closing two laps he was rewarded with a hard-fought 17th at the flag.
The team now heads to Kegums for this weekend's MXGP of Latvia.
Crew chief Sam Yates: "At the British we had an engine issue with Alvin's bike so we made a team decision for me to stay back and rectify the problem which turned out just to be a component failure but it put us on the back foot for Latvia.
"Instead, Dylan's training mechanic Isaac took the lead which seems to have gone well – he's stepped up to the plate – and I put Brandon in charge of organising everything and together they've done a really good job.
"Dylan went down in the first turn of the first race and I think he went back to 28th on the first lap so it's a positive that he came through the pack instead of staying where he was so we are making improvements with his riding and his fitness.
"In the second race he got a good start but made an early mistake and went from 10th to 14th but fought back which I'm very pleased about.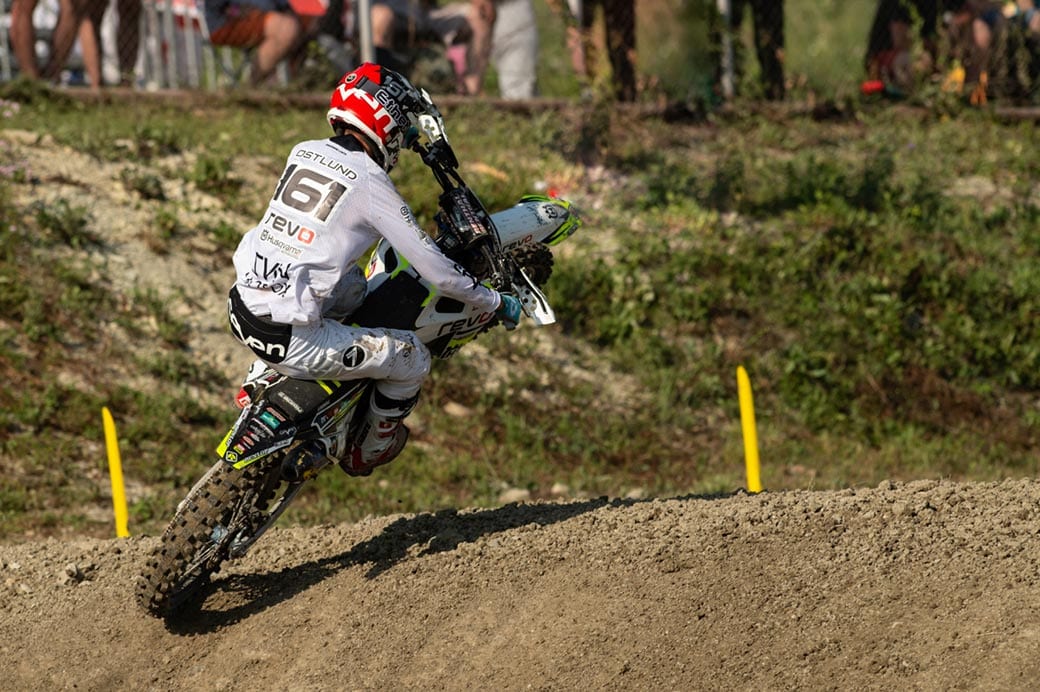 "Alvin rides totally differently to how he does at the British and for the first four laps he's not aggressive enough and then gets going later on in the race but by then it's a bit too late. That's something we need to work on."
Dylan Walsh: "In the opening moto I got caught up in a first turn crash so came from last to 17th and I was happy with my riding.
"In moto two I got a pretty decent start and rode solid. I was trying to pass for 11th on the last lap and made a mistake so dropped to 13th but it wasn't a bad weekend.
"The heat was unreal – 35 degrees – and the track was really sketchy. There were a lot of big crashes but I'm leaving Russia healthy and looking forward to Latvia and the sand."
Alvin Ostlund: "The first race was pretty good and I was in a train with some other guys. My speed was good and I was feeling strong – I was 15th which was not so bad but it could easily have been 13th or higher.
"In the second race my start wasn't as good and I was feeling a little bit tired. They'd flattened the track after the first race and it was maybe too easy which I don't like so I struggled.
"I was hoping for a better second race and I'm a bit disappointed about that but now I'm looking forward to some sand in Latvia for next weekend."
[more-from heading="Also In MXGP" category="mxgp"]