New Cab Screens Honda signing Harri Kullas proved his worth by winning both Fastest 40 races at last weekend's round one of the Michelin MX Nationals.
He did so with apparent ease and handed the team their first overall national win in very challenging weather conditions which tested competitors and spectators alike.
The track and paddock area was bombarded with strong winds all day on Saturday, but that didn't stop plenty of spectators coming lining the sandy hillside circuit.
On Sunday the rain, which started as a light drizzle, turned in to a downpour as the Pro riders lined up for their first race.
The Pro action started early in the morning with timed qualifying where Elliott Banks-Browne and Kullas set the fastest times separated by just four-hundredths of a second.
Third fastest was Buildbase Honda's Josh Gilbert, on an MX2 machine.
Kullas got the holeshot at the start of the first MX1 and MX2 combined race from team-mate Dan Thornhill, the ever-improving Ryan Houghton, Mel Pocock – who has just moved up to MX1 on an ASA KTM – and Scotsman Tony Craig.
Team Green Kawasaki's Lewis Hall had an off-track excursion in the first turn while Banks-Browne was punted off the track by another rider.
He attempted another lap after picking himself up but pulled into the work area and went to the hospital with a suspected broken wrist.
Thornhill – who is not race fit yet – started to slip back into the pack while Pocock spent a lap in second place but was passed by a flying Josh Spinks on his MSR Redline Yamaha.
Pocock was in trouble a couple of laps later when he was taken so wide by another rider that he was nearly forced to go through the work area.
The collision broke off his left-side footrest but he struggled on to finish the race in eighth.
Gilbert had started eighth but with two laps to go passed Houghton for second on the track and first MX2 rider.
Kullas won the first race of the year by just over 28 seconds from Houghton, Spinks, Gert Krestinov and Luke Burton in the MX1s, while Gilbert won the MX2s by about the same margin from Martin Barr on his Crescent Yamaha, Ben Franklin, the injured Carlton Husband and Tom Grimshaw.
With the weather conditions getting worse Kullas again got the holeshot at the start of race two and cleared off for another comfortable win.
Spinks spent all race in second place while Houghton had to fight his way through the mud and other riders from eighth at the start, passing Tombs at the halfway distance for third, as Tombs hung on to fourth.
But the battle for the rest of the places could have been anyone's as Craig crashed out of fifth on lap one.
Gilbert had a big off on the same lap and dropped from sixth but recovered to ninth by the end of the race, despite a twisted knee.
Pocock had a less eventful race and benefited from the other's mistakes to finish fifth.
Jake Shipton fell off while in ninth and again a lap later to finish out of the points while Jamie Law and Barr started 11th and 12th but finished with Barr in seventh and Law one place behind him.
Overall it was Kullas from Spinks, Houghton and Krestinov in MX1 and Barr from Gilbert, Husband and Franklin in MX2.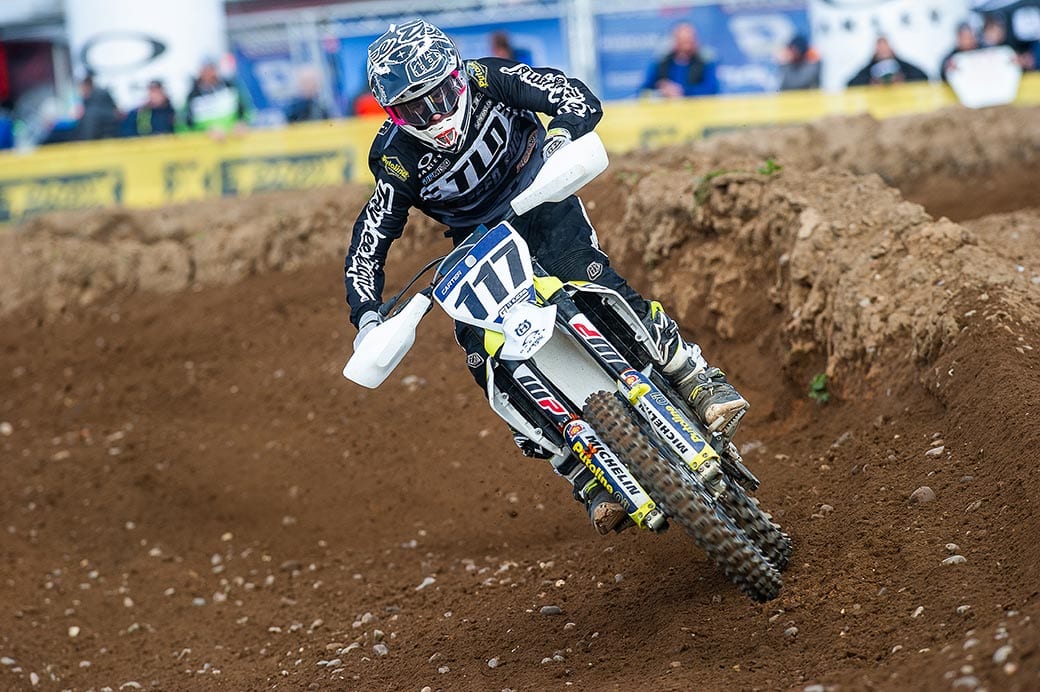 It was a Meara one-two in Expert MX1 as John Meara grabbed two wins to claim the overall from Jason Meara, who won the other two races.
The consistent Richard Bird finished third overall with Gavin Stevenson just missing out on a podium position.
It was very close at the top of Expert MX2 with race-two winner Ben Clark taking the overall by just two points from Rossi Beard whose two wins and a second were upset by a DNF.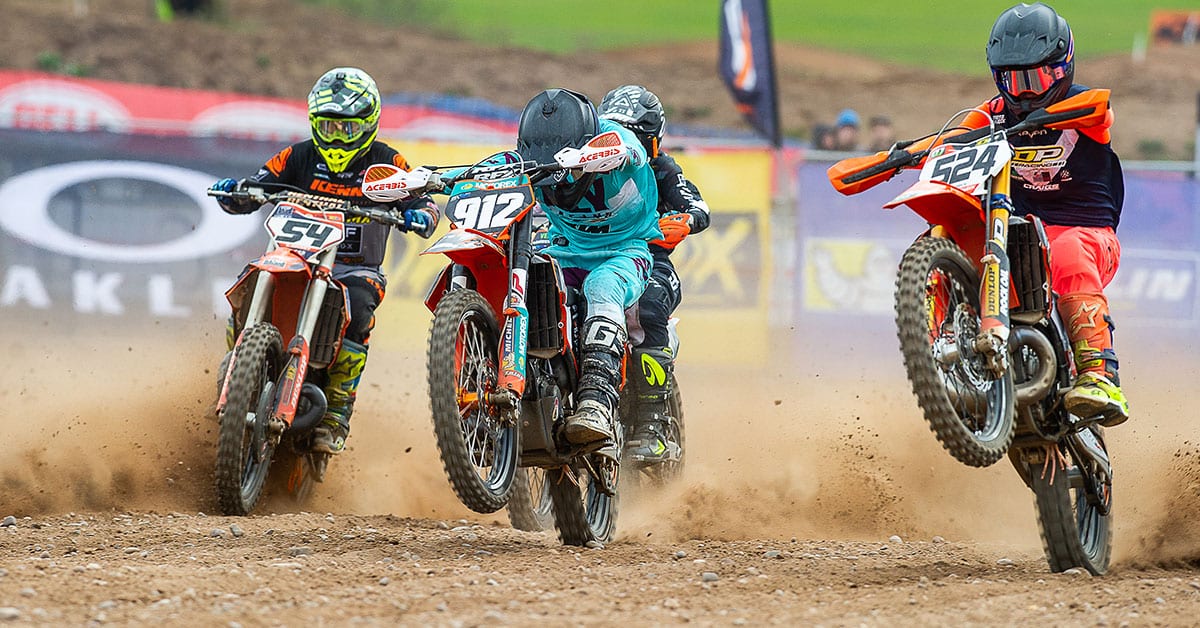 Joel Rizzi won the first race of the weekend but also had a DNF in race two but two strong second places in the wet conditions of Sunday gave him third place as Henry Williams and Josh Coleman tied on points for fourth.
Aiden Christie seemed to like the dryer conditions of Saturday as he won both the Clubman MX1 races and did enough on day two to secure the overall first place. Race four winner Kris Rea was second, just three points of the win, with Adam Hayward third.
Harry Fletcher won all four Clubman MX2 races in fine style, chased over the finish line in each race by Brad Thornhill, while Tallon Aspden and Toby Lightbown fought over the last step of the podium.
With two wins and two second-places Ike Carter was the man to beat in the combined MXY2 and MXY125 event.
Race three winner Kacey Hird was second to Carter in the 250f side, with race-two winner Kyle McNicol third.
In the 125 James Smith won three of his races but crashed out of second place in race three with a couple of laps to go.
He had still done enough for the overall, though, as Ryan Mawhinney won race three to nail second overall with Oliver Beamish just one point behind in third.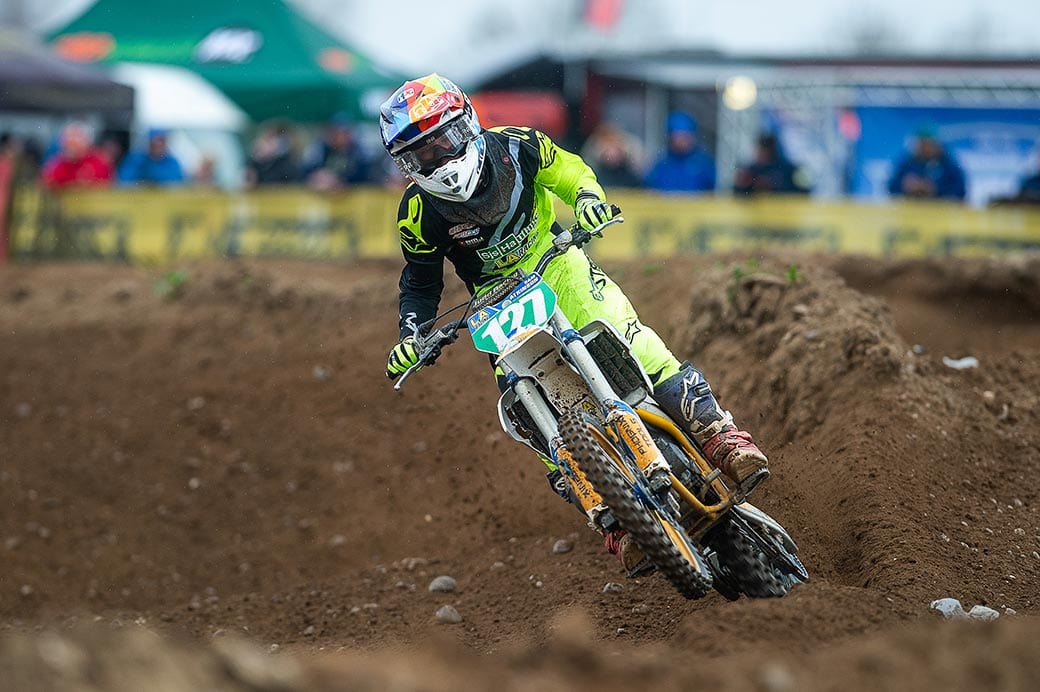 Sam Atkinson with three wins to his credit took the Big-Wheel 85s from race-two winner Bailey Johnston. Joe Brookes was third ahead of Thomas Harris.
Finlay Boxall didn't finish out of the top two all weekend for his overall win in the Small-Wheel 85s but three-race winner Tyla Hooley had to settle for second overall after a DNF in race two.
Beau Brown was third on the podium while Joshua Vail was fourth.
What's Next?
Round two will be at Hawkstone Park on April 20-21.
[more-from heading="Latest News" category="news"]