With the heat on to secure third position in the MX Nationals Pro MX1 Championship, Rob Hooper Racing Yamaha's Ryan Houghton responded with his best performance of the year at the perfectly prepped Cusses Gorse circuit in Wiltshire.
Having increased in speed and confidence as the season has progressed Houghton fended off the attack of the sports big guns to finish a fantastic second overall on the day, which in turn landed him third place in the series.
With fallen riders hindering his speed, and lacking a clear clean lap, Ryan went to the line with the fifth gate pick for the first moto after qualifying, with his team-mate Kristian Whatley looking smooth in seventh.
The rush to the first corner in Moto 1 was intense, with both RHR riders emerging from the first bend in the top five. A small mistake early in the moto demoted Houghton to fifth but he was in a determined mood and by lap three he was up to third.
And with a comfortable lead over the 2018 champ Jake Nicholls he stayed there to the finish.
Whatley had a three-lap flourish where he started gaining places, but his lack of race time showed and he dropped right back through the field to 23rd in the joint Pro group.
Houghton was the lone RHR rider to make it to the line for moto two with Whatley pulling out of the meeting, and he came through the first bend hustle and bustle in third position behind the hard-charging Graeme Irwin and Jake Shipton.
Ryan hounded Shipton for five laps before moving through to second but with Nicholls and Elliott Banks-Browne behind him it was time to get his head down and put in some fast lap times, and that's just what he did.
Notching a succession of quick laps he edged away from the chasing trio of Nicholls, Banks-Browne and Shipton. He managed the race and his pace fantastically to finish second in the race for second overall ahead of a host of big name racers.
Going into this round Ryan was joint third in the standings with Estonian racer Gert Krestinov, but with Houghton finishing second on the day it gave him a well-deserved third place in the MX Nationals Pro MX1 overall standings.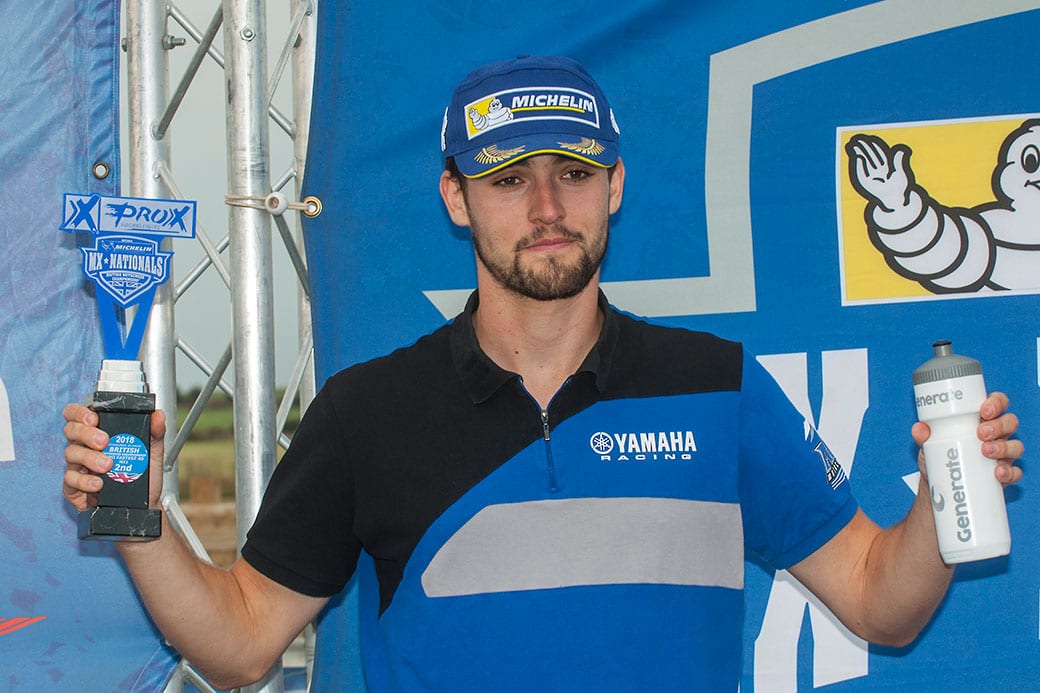 Team boss Rob Hooper was delighted with Ryan's performance. "One of the best days of the year for Ryan," said Hooper.
"He rode fantastic in the first race and even better in the second race. He was under pressure from Jake Nicholls, who has won the championship and Elliott Banks-Browne who was second in the championship. They were both on the back of him and he withstood that pressure and finished a fantastic second.
"Ryan is now getting his confidence. He is improving in his riding, his fitness, and in everything, but the biggest thing we can see is that confidence of being at the front with those boys. I did say to him after the race there were a couple of times he looked behind but he didn't need to, just keep looking and going forward.
"He rode fantastic and to finish out the championships in third place with the quality of riders in it, is a really good result for the season."
"A mint day, I don't know what to say really," said a beaming Houghton.
"In qualifying I was fifth. I messed up my laps to be honest so I was happy with that. I knew I had more speed, so I was pretty calm ready for the race.
"I knew I had to make a start as it's pretty hard to pass round here. In moto one I nailed the start and was second but I made a mistake and that dropped me back to about sixth, and I pulled back to third, put my head down and got on with it.
"Then in the last race I had Jake [Nicholls ] and Elliott [Banks-Browne] behind me and was in second, and I knew I had to beat Jake to stay on the podium, so I just kept my head down, kept focussed, and broke him in the end and pulled clear.
"I woke up this morning and said to myself, 'I'm gonna make the podium today'. It was nice to end the MX Nationals in third place, and the day in second, so it's been a good day."
What next for Rob Hooper Racing?
The team will return to Cusses Gorse on September 16 for the final round of the Bridgestone British Masters where Ryan sits second in the MX1 Pro standings, 22 points behind the leader Elliott Banks-Browne – it's all to race for.
[more-from heading="More From Latest News" category="news"]