What a difference a day makes! Day two of the Michelin MX Nationals British Championship opener enjoyed brighter conditions, rays of sunshine, a well-worked track, close racing and a full line-up of riders across all classes.
Following a week of tough decisions and a last-minute change of venue, the MX National organisers were eventually gifted with the tools to put on a full programme of top-notch British motocross racing at its very best.
Full gates, a great turn out of spectators and cracking racing were the order of the day.
Former MXGP rider Jake Nicholls gave a rough-track masterclass, taking both MX1 Pro wins by a considerable margin.
"The track was really good considering the weather," said Nicholls. "It was technical, but I felt really at home on it and the bike worked really well.
"I had a good start in the first race and then, once in the lead, worked away from the field. In the second race, I got a holeshot-to-flag win, which was great. It was a strong field and so it's great for my confidence going forward. Even better – I really enjoyed myself!"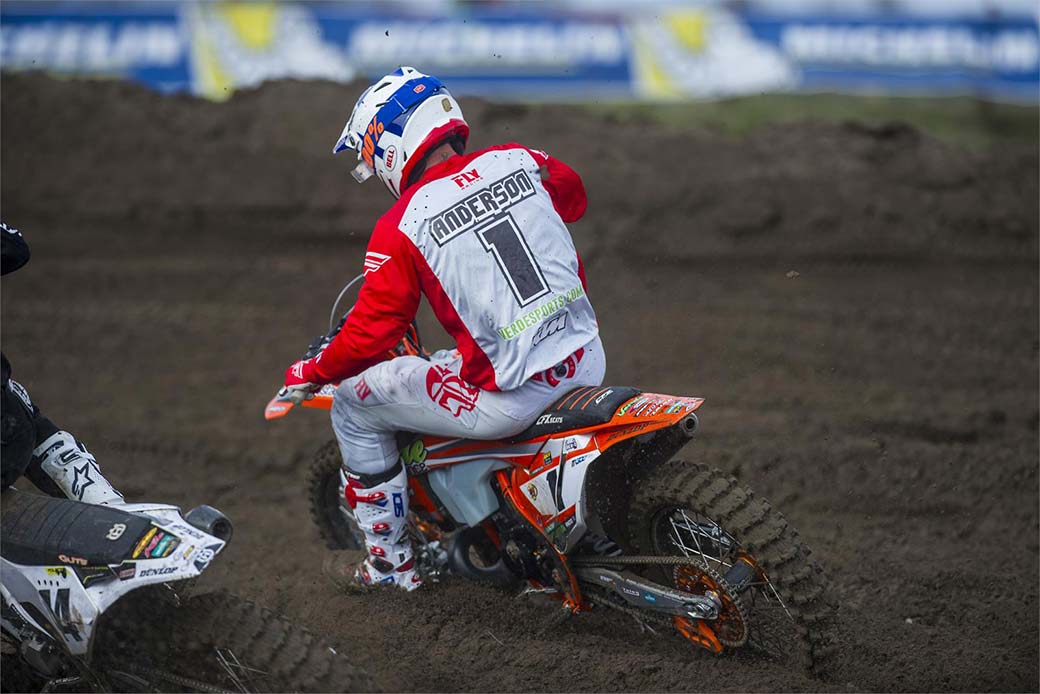 Lone 250 two-stroke rider Brad Anderson cleaned up in the Pro MX2 and gave the 450s a run for their money.
"We were testing the new engine for EMX300, and it couldn't have gone better," revealed Ando. "Two good starts and two good wins. The team did an awesome job on the track.!"
In the Expert MX2 class, and having travelled the Irish Sea, Jason Meara enjoyed a successful couple of days. "This weekend was a success for me. I've entered this season with little preparation and have had only two races under my belt, but we've slowly been getting better.
"Yesterday's race was just a battle to survival after a terrible start and a small crash, I managed third. Today was much better although my starts weren't great, the riding was a lot better and I got two wins!"
Rossi Beard appeared to have an easy couple of days in MXY2. He was noticeably better than the rest of the field, at times lapping six seconds over the next placed rider.
He's a fine example of how the MX Nationals nurtures racing talent; MXY1 champ last year, and already making his mark in MXY2.
RFX Crescent Yamaha's Joel Rizzi also showed his talent. Four out of four race in-class wins and highly-placed against the 250s.
Jack Grayshon and Ryan Mawhinney enjoyed wheel-to-wheel battles in the Open 85 class big-wheel, but they had young small-wheel rider Bailey Johnston nipping at their wheels. "Pleased with my results. The weather conditions didn't affect my overall performance. Can't wait for round two, it's such a great event."
2018 Michelin MX Nationals Preston Docks Overall Results
Pro MX1
Jake Nicholls 50 points
Micky Eccles, 44
Elliot Banks-Browne, 40
Gert Krestinov, 33
Stuart Edmonds, 30
Ryan Houghton, 28
Liam Knight, 27
Jamie Law, 25
Kristian Whatley, 24
Nathan Dixon, 23
Pro MX2
Brad Anderso, 25
Mel Pocock, 22
Alexander Brown, 20
Gavin Stevenson, 18
Josiah Natzke, 16
Taylor Hammal, 15
Jay Hague, 14
Lewis Tombs, 13
Michael Ellis, 12
Jake Millward, 11
Clubman MX2
Harry Foster, 66
Brad Thornhill, 65
Adam Pierce, 54
Toby Lightbrown, 49
Fabio Rizzi, 45
Michael McAlister, 44
Clubman MX1
Harry Fletcher, 65
Guy Prince, 64
Aiden Christie, 61
Joe Roberts, 45
Matt Nash, 45
McCarthy, 35
Open 85
BW
Jack Grayshon, 72
Ryan Mawhinney, 69
Vinnie Guthrie, 54
Buster Hart , 54
Sam Atkinson, 50
Callum Baldwin, 39
SW
Bailey Johnston, 72
Ollie Colmer, 69
Ben Mustoe, 58
Charlie Reynolds, 50
Arai Elcock, 48
Boston Gilbert, 44
MXY1 overall
Joel Rizzi, 75
Dylan Spenser, 58
Kyle McNicol, 53
Aaron Colley, 48
Oliver Beamish, 47
Tom Murphy, 43
MXY2 overall
Rossi Beard, 75
Aaron-Lee Hanson, 62
Ryan Thompson, 53
Cailum Mera, 52
Denny Rapson, 49
Callum Green, 47
British Expert MX2 overall
Jason Meara, 70
Tom Grimshaw, 67
Ben Clark, 49
Josh Coleman, 45
Henry Williams, 45
Ryan McClean, 43
British Expert MX1 overall
Ryan Crowder, 62
Richard Bird, 57
Zac Stealey, 57
Brad Cavill, 54
Will Orritt, 45
Jake Edey, 38
[table "23" not found /]