Round two of the Michelin MX Nationals British Championship headed for Preston Docks last weekend and there was plenty of hard-fought racing in glorious sunshine.
The Pro Fastest 40 MX1 and MX2 riders put the newly reworked track to the test for the first time on Sunday, with two 25-minute-plus-two-lap motos.  Jake Nicholls and Josh Gilbert claimed the wins in their respective classes, with Elliott Banks-Browne, Micky Eccles, Ryan Houghton and Lewis Tombs all in the mix.
It was nothing short of a Nicholls masterclass in the first Pro race as he rocketed away from the gate and never looked back, holding a 35-second lead over Banks-Browne at the flag after 16 faultless 16 laps.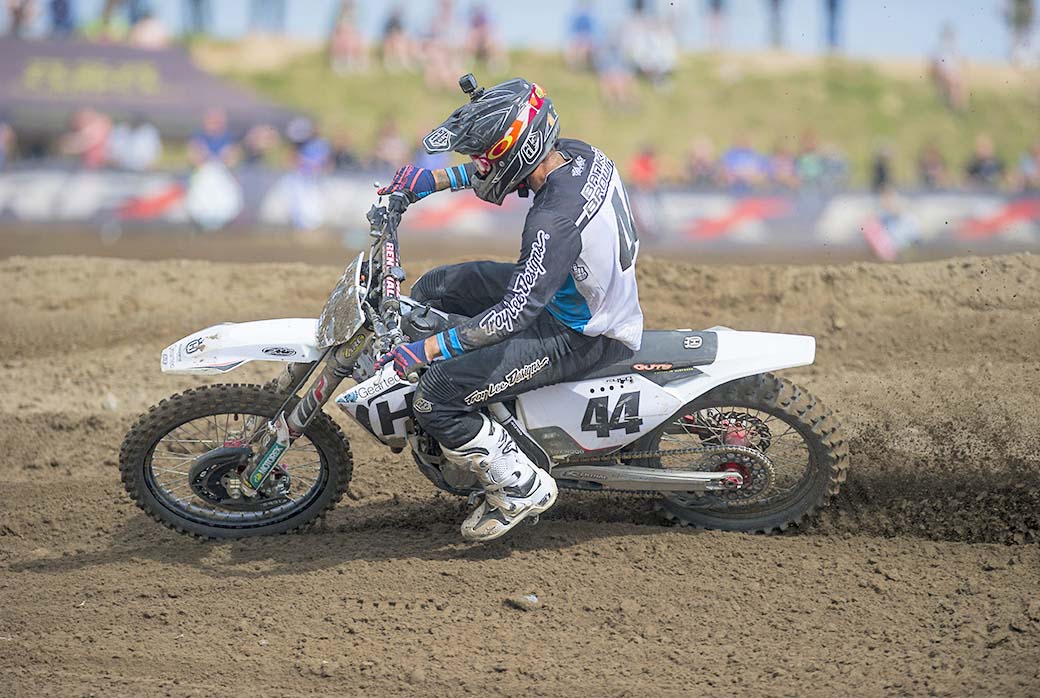 Behind him Banks-Browne had an eager MX2 runner in the form of Josh Gilbert to contend with and in the closing stages he was all over the back of EBB's Husqvarna. Brad Anderson rode a lonely race in fourth, while behind him the battle was on between Eccles and Gert Krestinov. Krestinov, who was on Eccles' case until a crash halted his progress, leaving Tombs and Dan Thornhill to keep Eccles company to the flag.
The immaculate Nicholls was again on top form in moto two, nailing the holeshot, the fastest lap, the win and the overall, with his winning margin 30 seconds, this time over MX2 rider Gilbert. His margin over the next-placed MX1 contender – Ryan Houghton, who was fourth in the race – was a whopping 52 seconds.
Krestinov and Carlton Husband followed Nicholls out of the gate and kept him in sight for a couple of laps. Bradshaw came home third, with Houghton fourth and Banks-Browne, a casualty of a first corner pile up, fifth.
Nicholls said: "I had a good day, two good starts and enjoyed the track, even though it was challenging, really tough, dry and sketchy.  "I rode really strong in first few laps and pushed on. The track was quite bumpy but I liked the new layout and fair play to the MX Nationals crew for changing it round and giving us a new track.
"I'm looking forward to Hawkstone next weekend."
Banks-Browne said: "I had a big crash in practice and set myself back. It was a good start in the first race but in the second one got I caught up in a six-rider pile up off the start and struggled to get back on the pace. "I aggravated a wrist problem, which I'll need to get checked out, and I need to practice my starts if I'm to reel in Jake."
The rest of the packed-out classes had already put in two races apiece on the previous day and the Experts were first away in both blocks of racing. In the MX2 class, 15-year-old Rossi Beard, who had just moved up from the MXY2 class, put in a great performance to take pole, the race-one win and third overall.
Jason Meara, who was leading the class prior to round two didn't fare so well as holding a strong third in the first race, he clashed with Jamie Wainwright immediately before the finish line and ended up fourth.
In the second moto, he came off the worst of a six-rider pile up off the start line and with his throttle hanging off his race was over. The MX1 group was all about Richard Bird and Ryan Crowder, who were out front in both races. Bird was on the pace, setting the fastest lap in each race and winning the first one by over 13 seconds.
A packed Clubman group saw over 40 riders behind the start gate for both MX2 and MX1 categories and wildcard MX2 rider Lewis Parkinson took both race wins. He was kept honest by full-series-rider Fabio Rizzi, while Jamie Hall set the fastest lap in both motos.
Aiden Christie, Jamie McCarthy, Guy Prince, and Harry Fletcher featured highly in MX1 with Christie and McCarthy taking a win apiece. Experts and Clubmen completed their third and fourth sets on Sunday and Bird again put in a strong performance in the Expert MX1 class to take two moto wins ahead of Brad Cavill and Zac Stealey in the first, and Crowder and Steve Bixby in the second.
The MX2s proved to be a mixed bag with Meara the only rider to feature on both race podiums but he didn't make it to the overall top three. In the third Expert MX2 race Meara pulled an eight-second advantage over Josh Coleman, with Tom Grimshaw in third.
Race one winner Beard was on something of a learning curve, when having recovered from a bad start and charging through the field, he was caught out on a line with nowhere to go and finished in an unaccustomed 16th.
In the final MX2 race Ben Franklin held the lead from the first lap, with Beard on his rear wheel. Franklin looked to take the win but back-markers came into play in the final lap and Beard took advantage to win with 3.753 seconds to spare over Franklin. Meara followed them home in third.
Christie and McCarthy dominated Clubman MX1, with Fletcher third in race three and Prince taking the place in race four. Wildcard Lewis Parkinson was on top form in MX2 with Foster and Kristopher Rea second and third in the early moto, then switching places for their final race.
The Youths put in four races over the two days, on a rutting-up and challenging track and the MXY and 85cc classes were put through their paces.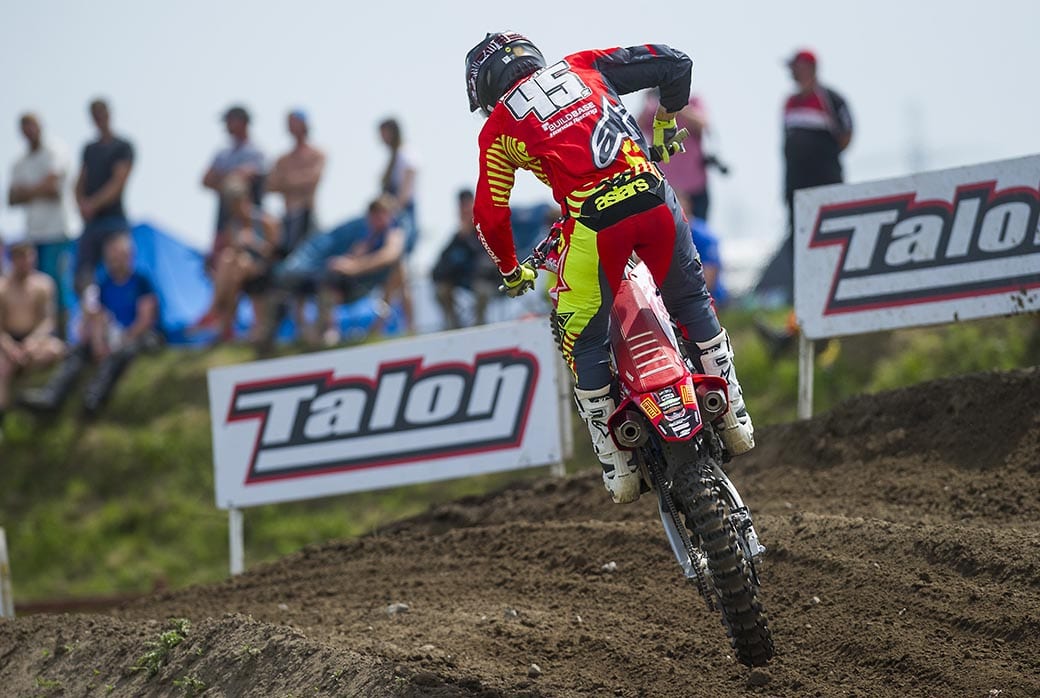 Callum Green and Aaron-Lee Hanson shared a win and second in each MXY2 race on the first day and each set the fastest lap time, with Josh Peters rounding out the podium in both.  Joel Rizzi was on fire in MXY1 and not content with merely taking both wins and setting the fastest lap he was all over the back of 250cc-mounted Green in the second race.
He kept the pressure up lap, after lap but Green handled it well, blocking every attempt to pass. Rizzi said: "It would have been a great boost to take the overall and there was a time when I believed I had him. "But tomorrow's a new day and I'll be right back on it."
The youngest group, combining Big and Small-Wheel 85s, were as entertaining as ever. Ryan Mawhinney made the trip from Belfast worthwhile to net first and second and joint overall with Jack Grayshon, who finished second and first. Vinnie Guthrie and Buster Hart each took a third.
Currently second in the championship, young Ollie Colmer had a hefty off in the first race and at one stage it looked as if his day was over. He was having none of it, though, and was determined to get back out for race two and that proved to be a rewarding decision as he battled hard with Baily Johnston to finish second with a margin of just over one second.
On Sunday Hanson and Rizzi blitzed the pack in the MXY2 and MXY1 classes, taking a clean sweep and leading their respective class championships. Sam Price and Bobby Bruce took second and third in MXY1, with Price and Kyle McNicol taking those positions in the last race of the day.
Grayshon's Big-Wheel dominance was blighted slightly when he stalled his machine within sights of the finish line on the opening lap of the last race, he recovered though to take fourth and was awarded the overall on the day. Sam Atkinson and Jude Morris finished second and third in the third race, while Mawhinney, Hart and Sam Atkinson took the top positions in the fourth.
In the Small-Wheels Bailey Johnston led all the way, with Boston Gilbert putting in a consistent performance to take two thirds and third overall on the day. Arai Elcock was the filling between the Johnston and Gilbert sandwich in the third and Colmer, who had battled furiously with Johnston in the last race, took a hard-earned second, keeping his championship hopes alive in second overall.