Super-fast Harri Kullas remained unbeaten at round three of the Michelin MX Nationals at the sandy hillside track at Lyng in Norfolk to make it six championship races and six wins.
But while Kullas was doing his thing in the pro MX1s disaster struck in the pro MX2s for the series' top two runners Martin Barr and Josh Gilbert, as they were involved in a first-turn pile-up in race two and failed to score any points.
A battered and bruised Barr managed to walk away while Gilbert looked as if he had just lost 10 rounds with a heavyweight boxer, sporting what looked like a broken nose, a badly-cut lip and a black eye.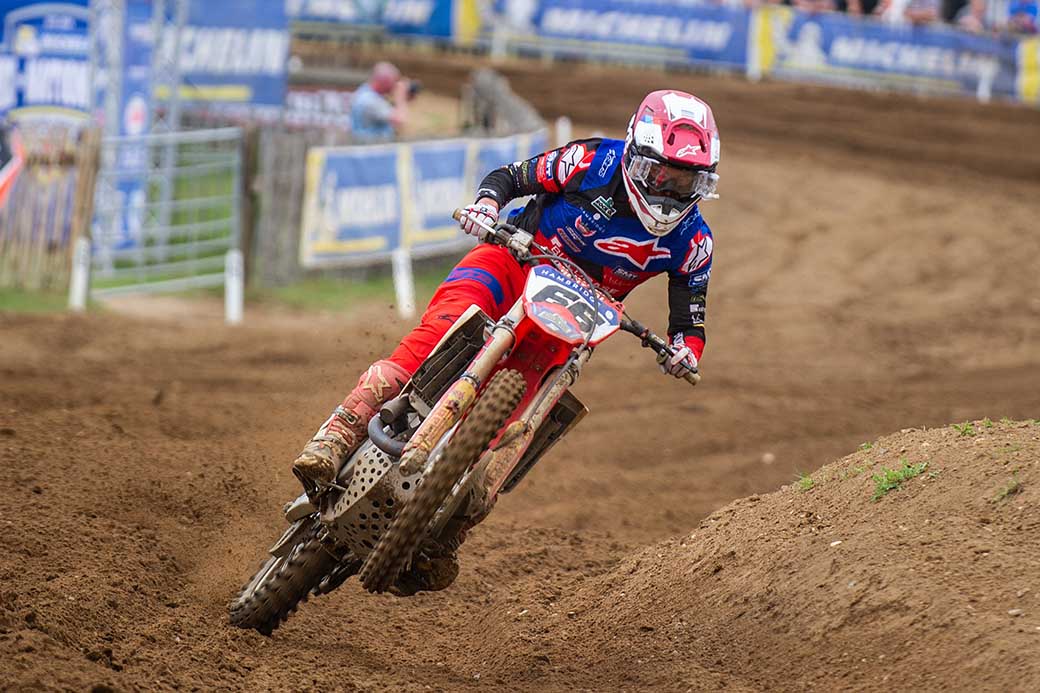 The Norwich Vikings Cadders Hill track was in prime condition but with the number of riders competing over the two-day event it was always going to get cut-up and bumpy. A lot of work on Saturday evening and first thing Sunday meant it was as flat as it could be at the start of racing – but that didn't last long.
The power-sapping sand and the length of the start straight meant the MX1s would always have a significant power advantage over the MX2s. Jake Millward set fastest qualifying time from Gert Krestinov and Kullas, with MX2 man Gilbert nestled amongst the MX1s and within a second of the fastest time.
At the start of the first combined Pro MX1 and MX2 race Lewis Tombs got the holeshot from Nathan Dixon, Kullas, Jake Shipton and James Dunn. Kullas had passed Dixon for second by the end of the first lap and had settled in to watch Tombs' lines for a couple of laps.
On lap four Kullas made his move and took over at the front, opening up a comfortable margin over the rest of the riders and cruising to a 14-second win. Tombs hung on in second place but a fast Krestinov, who gated eighth, was closing him down and if there had been another lap it could have been a different story.
Jake Millward was a distant fourth from Dixon and Shipton, with Ryan Houghton – who has missed the last three weeks' racing because of a virus – a creditable seventh. Of the power-disadvantaged MX2s Gilbert gated tenth and finished seventh on the track and first in his class, while his chief rival for the championship Barr had to work a bit harder as he came from 15th to 10th and second MX2 home.
Ashton Dickinson got swamped at the start of the race and dropped four places on the first couple of laps but he managed to fight his way back to finish as third MX2 rider home ahead of Glenn McCormick.
The fast-starting Millward got the holeshot at the start of the second Pro race, with Kullas followed by Tombs, Shipton, Houghton and Krestinov. By the end of lap three Kullas was back at the front, though, and he cleared off for yet another win.
Krestinov slowly picked off rider after rider and with four laps to go was in second but by this time Kullas was out of reach and a chance of snatching the win was out of the question.
Millward hung on to third from Houghton, Dixon and Shipton.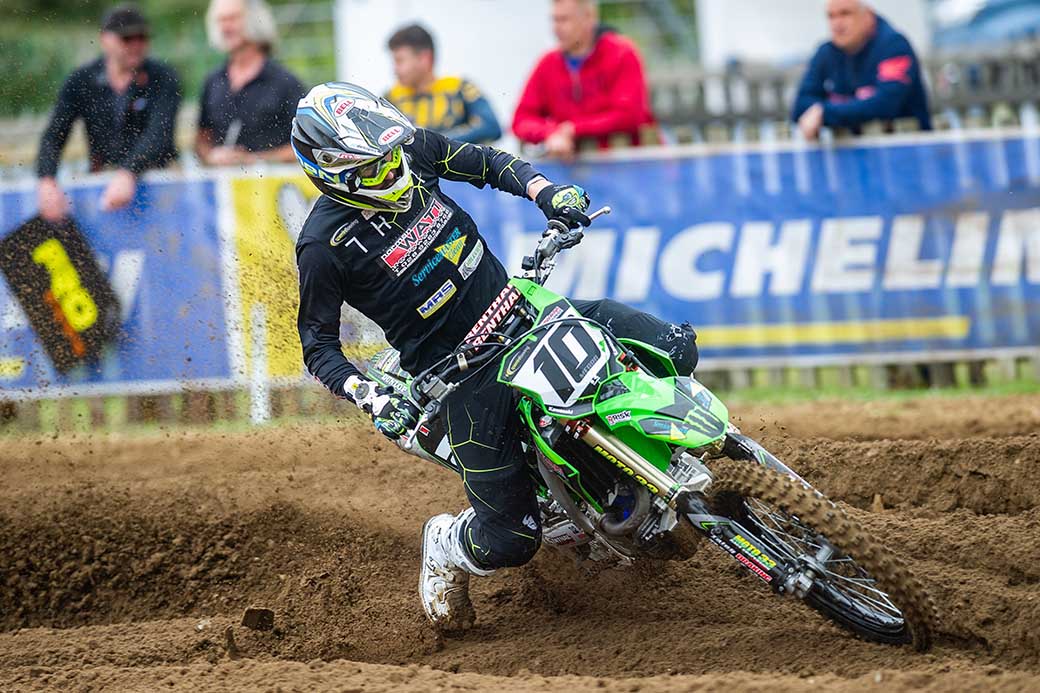 Overall in MX1 it was Kullas from Krestinov, Tombs, Millward and Dixon, while in the championship the unbeaten Kullas has a 38-point buffer ahead of the chasing pack led by Krestinov, Tombs, Houghton and Shipton.
"It's a perfect weekend going one-one in the races and extending my championship lead," said a happy Kullas. In the first race I thought I had the holeshot, but Lewis (Tombs) came past me. We touched in the first turn at quite high speed but we both stayed up.
"I then had to make two passes for the lead. I just took it easy and took my time as I didn't want to take any risk as my back is still not right from a crash three weeks ago. I just followed them and made the pass when it was good.
"In the re-started second race, it was really sketchy in the first corner. I saw Jake (Millward) was in the lead and thought I would go inside but lost traction and went really sideways.
"I knew Gert (Krestinov) would be coming on strong and pushing till the end, so I did just enough to take the win."
Krestinov was also a happy man after his podium finish and said: "My starts were not to bad today as I think I came from eighth in the first race and in the second I came from fifth.
"I should have done better in the first race as my speed was good for the whole race. In the second I saw that Kullas was gone and there was no point in really pushing because I didn't want to make a mistake as I wanted to get on my first podium of the year."
Third-placed Tombs admitted he struggled a bit and said: "I couldn't get going in qualifying, and that didn't help. I got a good start in the first race and led for about 15 minutes, and that was good as I haven't led a race since I was on a 125.
"In the second race, I just didn't get into it but halfway through I had a little fall, and that got me wound up and I started riding as I should. I managed to re-take Ryan (Houghton) for a podium, which is always good."
With the two leading contenders going out at the start of the first attempt to run the race, the re-started MX2 side was up for grabs.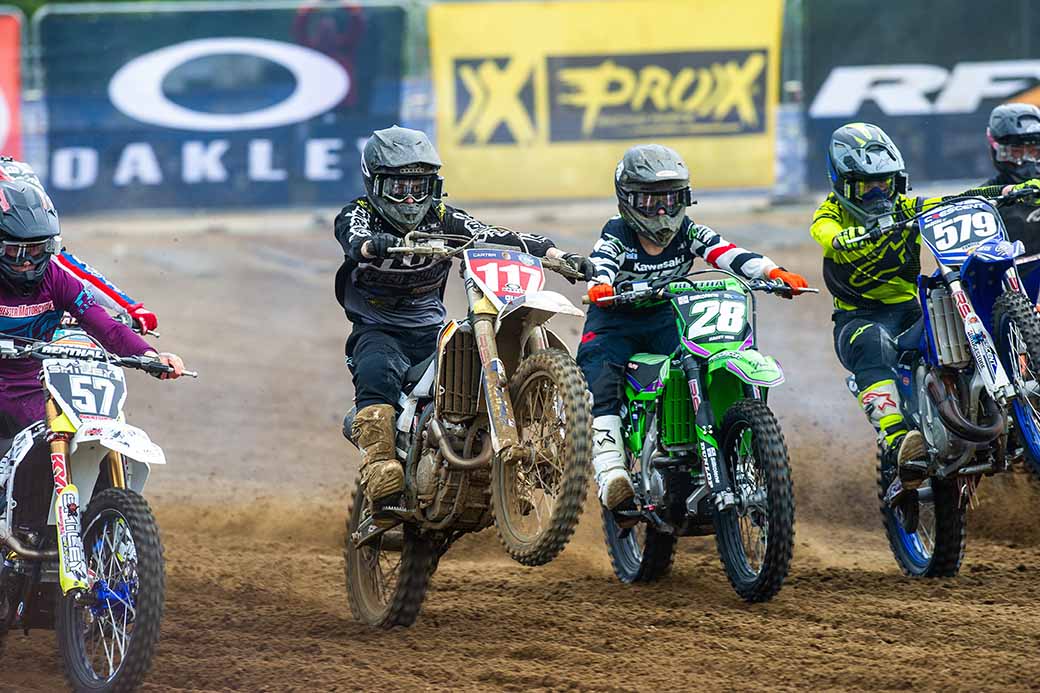 Ashton Dickinson started in 10th and spent most of his time swapping places with the MX1 riders to finish in 12th and first of the MX2 boys, with Michael Ellis and Glenn McCormick his closest rivals. "I am very happy with my first pro win," said Dickinson. I know Martin and Josh crashed out but I put in two consistent races, and it paid off."
Jason Meara was again unbeaten in the Rekluse Experts MX1 class, taking four wins from four starts. That's not to say he had things easy as Gavin Stevenson and Richard Bird gave him a run for his money, with the closest finish coming in race three as Bird chased him over the finish line with the pair separated by less than a second.
Stevenson finished the weekend second overall ahead of Bird, with George Simmutch just missing out on a podium. It was the Ben Clark and Joel Rizzi show in the Bell expert MX2s as Sam Nunn had a disaster on the second day.
In race one Clark and Rizzi were separated by just over a second at the finish flag with Nunn a distant third. The trio were separated more in race two but finished in the same order.
Nunn led for a couple of laps in race three until a problem dropped him down to sixth while Clark and Rizzi crossed the finish line almost together.
In the last race of the weekend Nunn crashed out of second place for a DNF as Clark took a comfortable win from Rizzi. Clubman Stephen Kelly was unbeaten in the Moto Connection clubman MX1s, while behind him Bradley Maddever and Harry Foster were separated by just two points.
Overall winner Toby Lightbown showed consistency pays off as he won the first of the RFX clubman MX2 races from Elliot Cook and Fabio Rizzi. Brad Thornhill went on to win the next two races but a ninth-place finish robbed him of the chance of the overall and he had to settle for second behind Lightbown, with Cook third.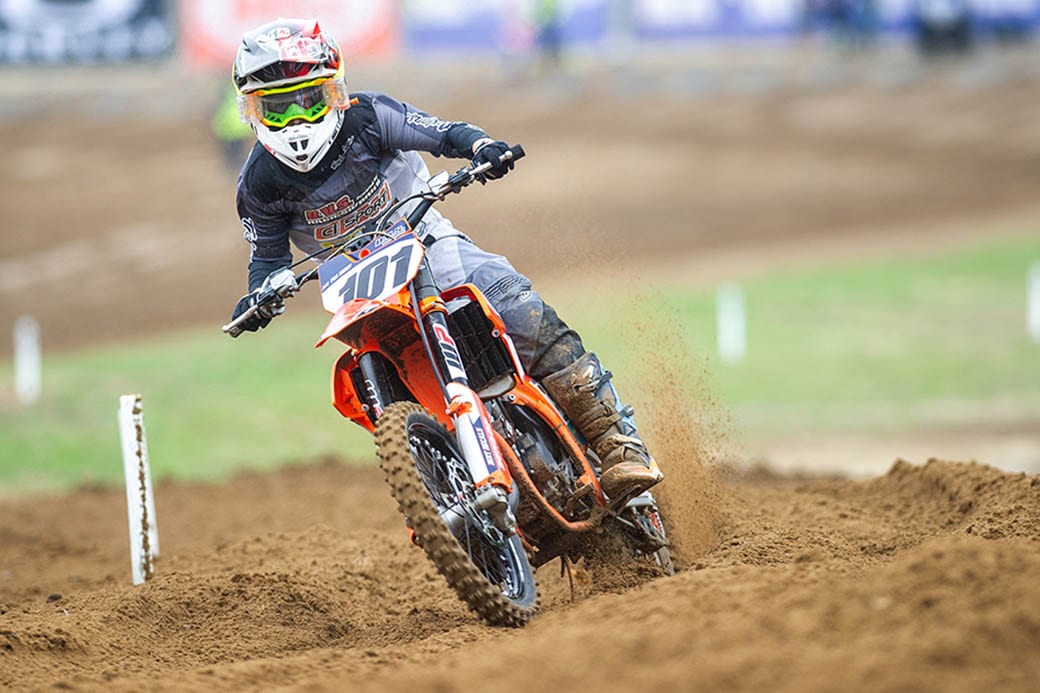 In the 250f side of the combined Talon MXY1 and MXY2, Kyle McNicol passed Ike Carter in the first race to take a well-earned win. Normal service was resumed in the next outing as Carter took that one and the remaining two races for the overall to extend his championship lead.
McNicol followed Carter over the finish line each time for second overall with Kacey Hird a distant third and Ryan Thompson just missing out on a podium by two points.
In the 125cc two-strokes Bobby Bruce took top spot with two wins and two second-places, with race-one winner Ryan Mawhinney and Louie Kessell joining him on the podium. Race-two winner James Smith's bad first-race result spoiled his chances of a top-three finish.
Sam Atkinson won three out of his four Wiseco Big-Wheel 85 races and finished second in the other for a comfortable overall ahead of race-three winner Bailey Johnston and the battling Ollie Colmer.
Things were close at the top of the Gaerne Small-Wheel 85s with a single point separating overall winner Tyla Hooley and Keelan Hope. Beau Brown and Ben Mustoe were separated by the same margin in third and fourth.
[more-from heading="More Motocross" category="motocross"]