The last day of the final round of the 2018 Michelin MX Nationals series welcomed a packed grid of Pro MX1 and MX2 riders to Cusses Gorse, which included 2017 Pro MX champ Graeme Irwin (Hitachi AXA KTM) in its mix.
While Irwin won both MX1 motos, a determined Jake Nicholls (Buildbase Honda) dug deep and, with his eyes set firmly on winning the championship title, posted fourth and third place finishes which were enough to secure the 2018 title for both rider and team.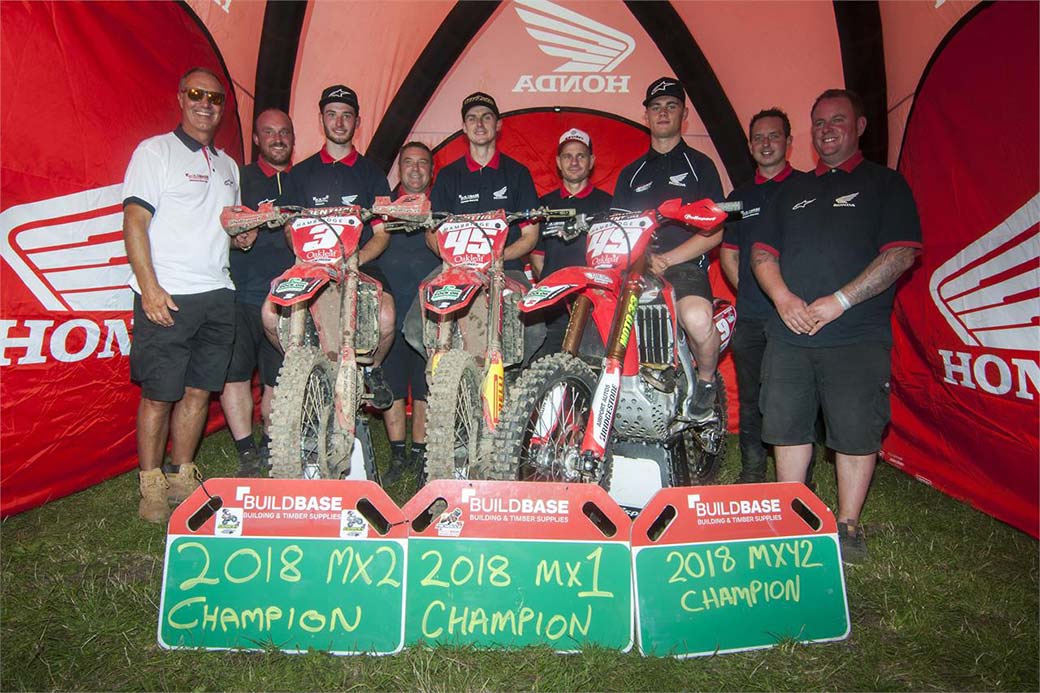 In the Pro MX2 group, Buildbase Honda's Josh Gilbert took the first race win and was then second in the afternoon race. Those results were enough to net the 20-year-old the overall, and the championship title.
While the Expert MX2 class had already been won by Northern Ireland's Jason Meara, the MX1 category went all the way to the wire, with Richard Bird emerging victorious.
Both Clubmen races were decided today, with Harry Fletcher taking the MX2 crown and Aiden Christie cleaning up in the MX1 group.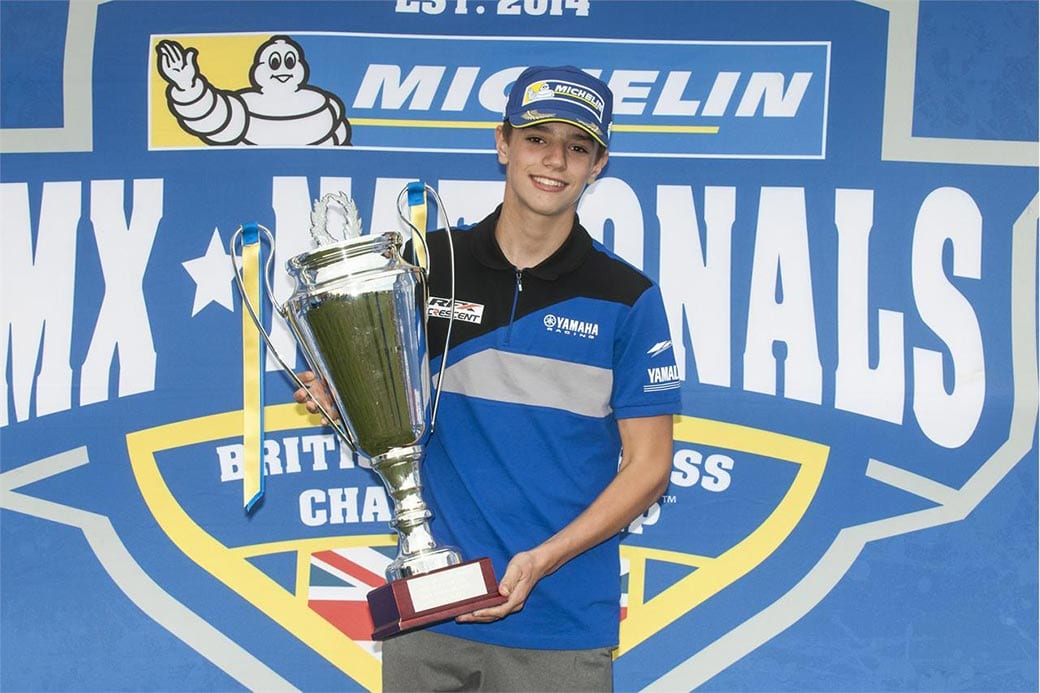 In the youth ranks; Callum Green took the MXY2 class title, while Joel Rizzi (MXY1), Ryan Mawhinney (BW85) and Ollie Colmer (SW85) had already secured their championship wins.
MX Nationals – Cusses Gorse Sunday Results
Pro MX 1
Race 1; Graeme Irwin, 2. Elliott Banks-Browne, 3. Ryan Houghton
Race 2; Graeme Irwin, 2. Ryan Houghton, 3. Josh Spinks
Champion: Jake Nicholls
Pro MX2
Race 1; Josh Gilbert, 2. Brad Anderson, 3. Josh Spinks
Race 2; Brad Anderson, 2. Josh Gilbert, 3. Josh Spinks
Champion: Josh Gilbert
Expert MX1
Race 1; 1. Ryan Crowder, 2. Steve Bixby, 3. Edward Briscoe
Race 2; 1. Ryan Crowder, 2. Luke Smith, 3. Edward Briscoe
Race 3; 1. Ryan Crowder, 2. Richard Bird, 3. Luke Smith
Race 4; 1. Richard Bird, 2. Ryan Crowder, 3. Edward Briscoe
Champion: Richard Bird
Expert MX2
Race 1; 1. Callum Green, 2. Joel Rizzi, 3. Aaron-Lee Hanson
Race 2; 1. Jamie Wainwright, 2. Charlie Putnam, 3. Ryan McClean
Race 3; 1. Jamie Wainwright, 2. Ben Franklin, 3. Finley 'Rossi' Beard
Race 4; 1. Finley 'Rossi' Beard, 2. Jamie Wainwright, 3. Ryan McClean
Champion: Jason Meara
Clubman MX1
Race 1; 1. Harry Fletcher, 2. Aiden Christie, 3. Joe Roberts
Race 2; 1. Aiden Christie, 2. Harry Fletcher, 3. Ashley Watt
Race 3; 1. Harry Fletcher, 2. Aiden Christie, 3. Joe Roberts
Race 4; 1. Aiden Christie, 2. Joe Roberts, 3. Alex Christopher
Champion: Aiden Christie
Clubman MX2
Race 1; 1. Jordan Moxey, 2. Brad Thornhill, 3. Fabio Rizzi
Race 2; 1. Alex Hamer, 2. Jordan Moxey, 3. Charlie Razzell
Race 3; 1. Charlie Razzell, 2. Jordan Moxey, 3. Alex Hamer
Race 4; 1. Alex Hamer, 2. Jordan Moxey, 3. Fabio Rizzi
Champion: Harry Fletcher
MXY2
Race 1; 1. Aaron Lee-Hanson, 2. Denny Rapson, 3. Callum Green
Race 2; 1. Aaron Lee-Hanson, 2. Ryan Alison, 3. Callum Green
Race 3; 1. Kacey Hird, 2. Callum Green, 3. Ryan Alison
Race 4; 1. Aaron Lee-Hanson, 2. Denny Rapson, 3. Kacey Hird
Champion: Callum Green
MXY1
Race 1; Joel Rizzi, 2. Bobby Bruce, 3. Sam Price
Race 2; Joel Rizzi, 2. Bobby Bruce, 3. Ollie Beamish
Race 3; 1. Joel Rizzi, 2. Bobby Bruce, 3. Sam Price
Race 4; 1. Joel Rizzi, 2. Sam Price, 3. Louie Kessell
Champion: Joel Rizzi
BW85
Race 1; 1. Charlie Heyman, 2. Sam Atkinson, 3. Trystan Williams
Race 2; 1. Charlie Heyman, 2. Ethan Sills, 3. Sam Atkinson
Race 3; 1. Charlie Heyman, 2. Sam Atkinson, 3. Tyrstan Williams
Race 4; 1. Sam Atkinson, 2. Callum Baldwin, 3. Charlie Heyman
Champion: Ryan Mawhinney
SW85
Race 1; Wal Shane Beaney, 2. Ollie Colmer, 3. Tyla Hooley
Race 2; 1. Ollie Colmer, 2. Wal Shane Beaney, 3. Tyla Hooley
Race 3; 1. Wal Shane Beaney, 2. Ollie Colmer, 3. Charlie Reynolds
Race 4; 1. Wal Shane Beaney, 2. Ollie Colmer, 3. Jake Randall
Champion: Ollie Colmer
[more-from heading="More From Latest News" category="news"]