The final round of the 2018 MX Nationals series welcomed a record number of rider entries, some 10 per cent up on last year.
The first of the two-day action-packed weekend of racing saw the recently reworked Cusses Gorse MX track providing a technically challenging circuit with plenty of passing places.
Three champions – Jason Meara, Joel Rizzi, Ryan Mawhinney – were crowned prior to the weekend, with Revo Husqvarna's young SW85 pilot Ollie Colmer putting in the pace today to take the title, with two races in hand.
Callum Green was also crowned champion on Saturday as the Buildbase Honda pilot secured the MXY2 title with two races in hand.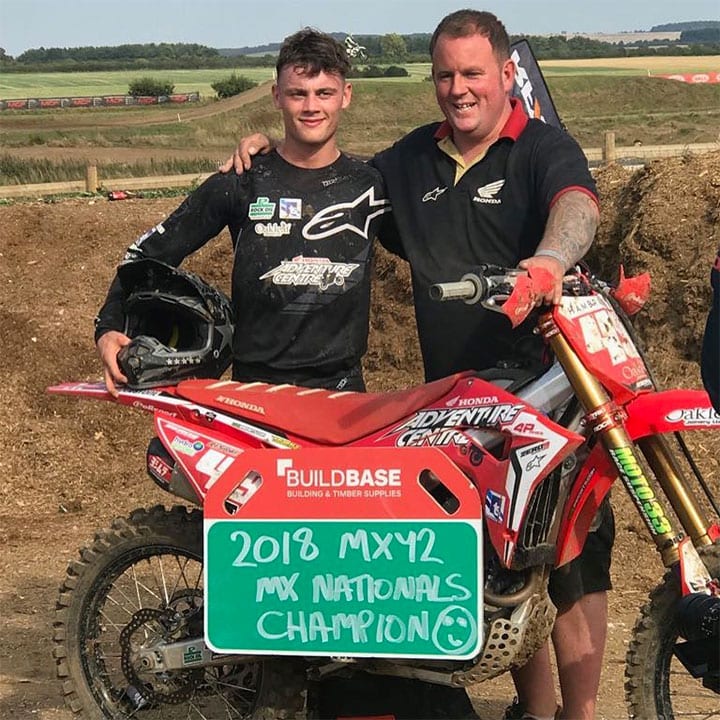 With both Pro MX1 and MX2 championships and another two classes still to be determined, tomorrow's day of MX Nationals racing is set to be tense and fast-paced. The action kicks off at 9am with Fastest 40 practice and qualifying.
MX Nationals – Cusses Gorse Saturday Results
Expert MX1
Race 1; 1. Ryan Crowder, 2. Steve Bixby, 3. Edward Briscoe
Race 2; 1. Ryan Crowder, 2. Luke Smith, 3. Edward Briscoe
Expert MX2
Race 1; 1. Rossi Beard, 2. Ryan McClean, 3. Jamie Wainwright
Race 2; 1. Jamie Wainwright, 2. Charlie Putnam, 3. Ryan McClean
Clubman MX1
Race 1; 1. Harry Fletcher, 2. Aiden Christie, 3. Joe Roberts
Race 2; 1. Aiden Christie, 2. Harry Fletcher, 3. Ashley Watt
Clubman MX2
Race 1; 1. Jordan Moxey, 2. Brad Thornhill, 3. Fabio Rizzi
Race 2 ; 1. Alex Hamer, 2. Jordan Moxey, 3. Charlie Razzell
MXY1/2
Race 1; Joel Rizzi, 2. Bobby Bruce, 3. Aaron-Lee Hanson
Race 2; Joel Rizzi, 2. Bobby Bruce, 3. Aaron-Lee Hanson
BW85
Race 1; Charlie Heyman, 2. Sam Atkinson, 3. Trystan Williams
Race 2; Charlie Heyman, 2. Ethan Sills, 3. Sam Atkinson
SW85
Race 1; Wal Shane Beaney, 2. Ollie Colmer, 3. Tyla Hooley
Race 2; 1. Ollie Colmer, 2. Wal Shane Beaney, 3. Tyla Hooley
[more-from heading="More From Latest News" category="news"]