The highs and lows of top-flight motocross were perfectly illustrated at round three of the Michelin MX Nationals at Lyng on Sunday where Buildbase Honda's Lewis Tombs took third overall in Pro MX1 and Josh Gilbert won the opening Pro MX2 moto before ending the day in A&E.
The old-school, mostly natural Cadders Hill circuit always cuts up rough and with the series' Fastest 40 format pitting MX1 and MX2 machines together in a pair of 25-minute plus two lap races that are scored separately the opening stages of both motos were hectic.
After qualifying seventh, Lewis didn't have to concern himself too much with the early chaos as he took the holeshot in the opening moto on his CRF450R and led until just before half-distance when he was demoted to second which he held to the flag.
In race two he got another good start but following a small crash he dropped back from third to fifth before a late pass gave him fourth at the line which earned him the final step on the podium and moved him up to third in the championship.
"It's been good," said Lewis. "I didn't have the greatest of qualifications which I'm a bit disappointed about but I holeshot the first race and led until about halfway but Harri [Kullas] was right behind me so I ended up second.
"In the second one I had another good start and was running third but I didn't really settle in that well – it took me a little while to get going – and then I had a small tip-over and dropped to fifth but I came back strong towards the end and got up to fourth which was good enough for third overall.
"It's always nice to get on the podium and it's good to be consistent. I just need to keep it going."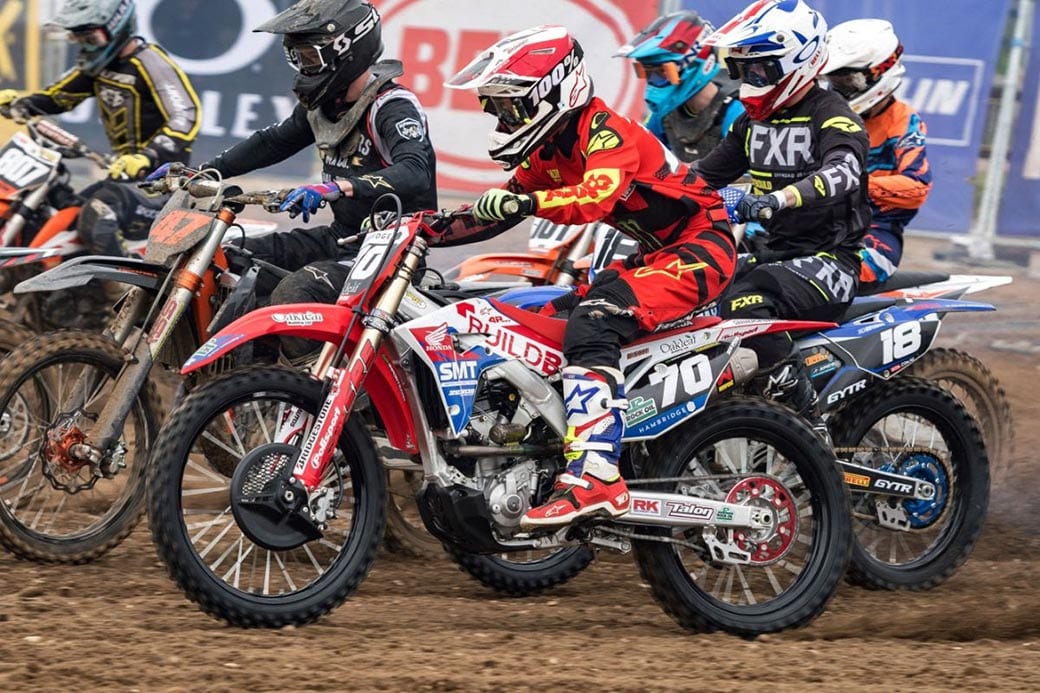 Josh topped qualification on his CRF250R by a massive 2.2 seconds and dominated MX2 in the first race to win by an impressive 19 seconds but went down hard in the super-fast left/right kink at the start of moto two in a pile-up that brought out the red flags.
Bleeding heavily from a facial injury and with a badly damaged bike, Josh was forced to sit-out the restart. However, with his main championship rival Martin Barr also out of the restarted race, by virtue of his first moto win Josh has closed to within three points of the series lead.
"I felt really good today," said Josh. "I topped qualification and the opening moto went perfectly to plan but the start of race two was like a war zone and I went down hard. I was bleeding but still wanted to get back behind the gate for the restart but the bike was too beat-up for me to continue."
The team's Japanese guest rider Shiaru Honda was racing in the MXY2 class and he showed continued improvement to score solid points in all four of his races.
Team spokesman Ryan Thorpe was quick to point out the positives.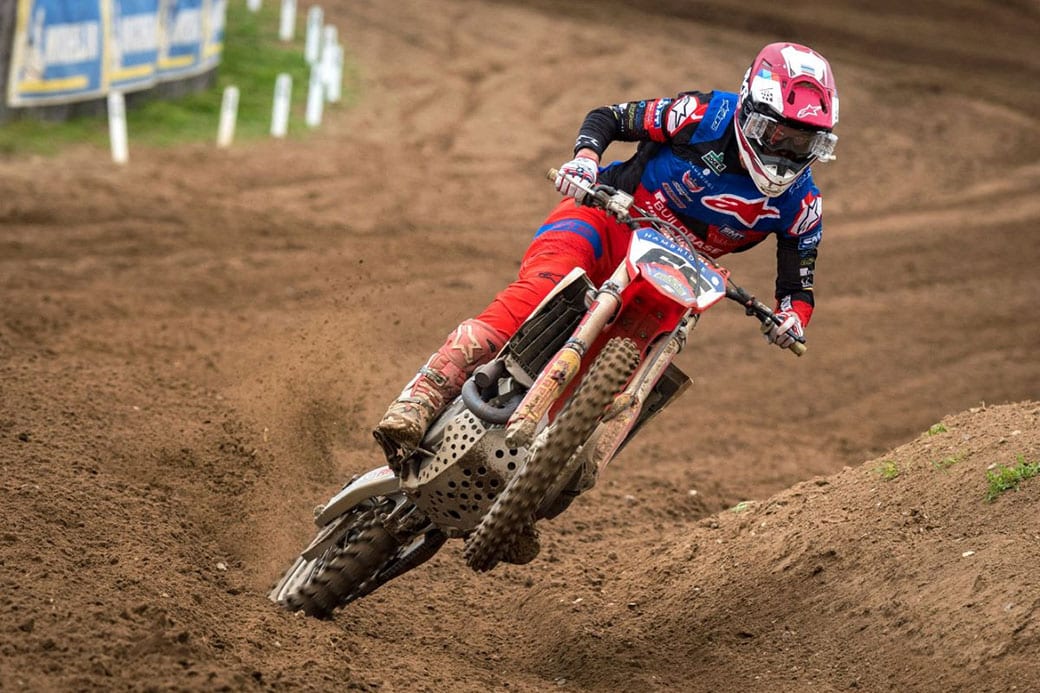 "It was great to see Lewis on the podium and now up to third in the championship. He was on it today and he led the first race for a good few laps and was looking smooth.
"Josh was unstoppable in the opening moto but there was a big pile-up in the first corner of race two which wasn't anyone's fault and the race was red-flagged. Josh got up but he was bleeding quite a lot and the bike was too beat-up for him to make the restart.
"Martin didn't make the second race restart either and with Josh finishing the first moto as best MX2 rider he's now just three points from the championship lead
"Shiaru had a good weekend and scored in all the races so all-in-all, despite Josh's crash, it's been a solid weekend for the team."
[more-from heading="Latest News" category="news"]