Buildbase Honda's Josh Gilbert sewed up the 2019 Michelin MX Nationals MX2 championship on Sunday at Cusses Gorse with a dominant double win. With one round to run he can't be caught and retains the title he won last year.
Competing in the MX1 class, Lewis Tombs ended the day fourth overall with a 3-6 scorecard on his CRF450R. With the championship now out of reach, he goes into the final round next month holding down a strong second.
The series runs an exciting 'Fastest 40' format which mixes the top 20 from both the MX1 and MX2 classes together in two 25-minute plus two lap motos but scores them separately.
After qualifying third in class on his CRF250R, Josh quickly slotted into the top 10 in race one as lead MX2 rider and picked off a couple of places to come home in seventh.
With his sole series rival Martin Barr crashing out of the opener and breaking his collarbone, Josh lined up for race two knowing that the title was his for the taking. Starting just outside the top 10, he worked his way up the field and claimed another 25 points as first MX2 rider across the line in eighth to secure the championship.
"It was a bit unexpected," said Josh. "At the end of the day I'm happy that I've got the championship but I'd have liked to have won it straight up against Martin. It's never nice for someone to get injured and hopefully he'll be back soon.
"The day went pretty much perfectly for me and it's been a good, solid championship defence. I won the first race this year but crashed in the second and tweaked my knee quite badly so Martin had the overall there. At Hawkstone I was leading both races and crashed in both which gave him the win and at Lyng we both crashed out of race two.
"I finally got the red plate at Canada Heights and I've got the job done today. A big thanks to the team for the incredible support they've given me this season."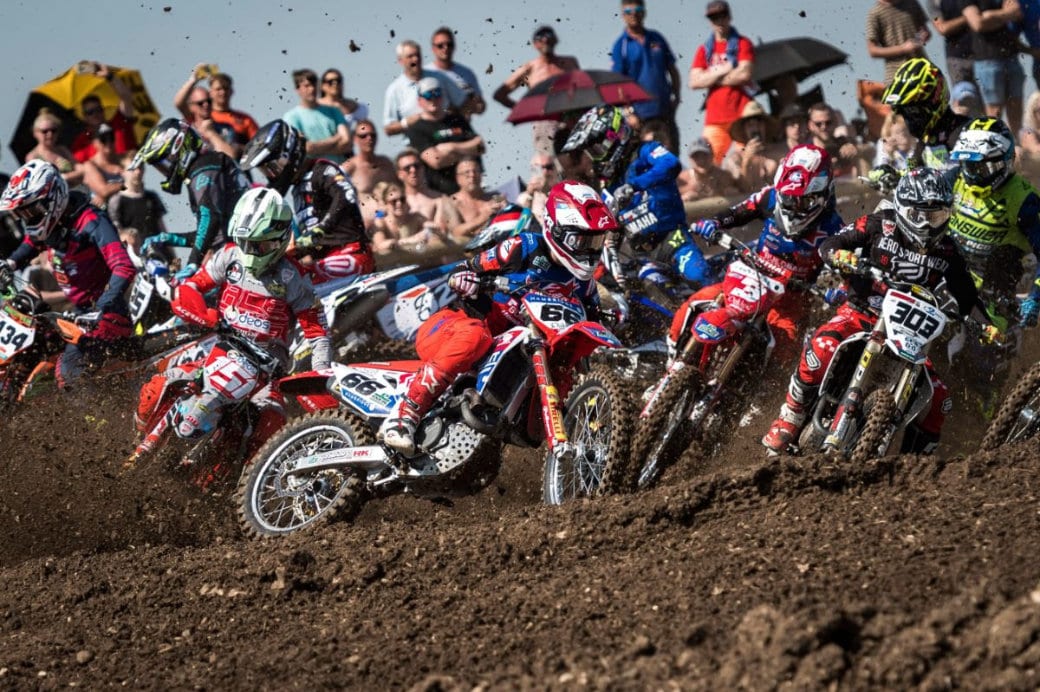 After qualifying fourth, Lewis led the opening race for a lap before getting pushed back to third. A crash at the start of race two put him outside the top 20 following lap one but he charged through the pack for sixth at the flag.
"It would have been nice to take it to the last round but Harri [Kullas] was always going to win," said Lewis. "Now I've just got to hold onto second.
"Today has been good though and I'm feeling fit again. I was fourth in qualifying and then I holeshot the first race but it took me a little while to settle in and I finished third.
"In the second race it was probably the best I've ridden all year. I crashed at the start and came through from pretty much last to sixth and just missed out on the podium which is a shame but it shows how fast I'm riding."
Crew chief Ryan Thorpe was delighted to see Josh retain his title.
"Josh got a great start in race one and was lead MX2 rider for the whole moto," he said. "In race two he had another good start and made a couple of passes to again take the MX2 win and the championship.
"Lewis holeshot the first race, rode really well and came home in third. In race two he got caught up in a first-turn crash and charged all the way back to sixth.
"The championship is now out of his reach but it's been a great day for Honda with both Pro titles secured."
[more-from heading="More Motocross" category="motocross"]