Buildbase Honda's Jake Nicholls returned to top-flight domestic racing at round four of the Michelin MX Nationals at Canada Heights on Sunday and promptly stuck his CRF450R on top of the box to complete an epic comeback.
To cap off a great day for the team, Josh Gilbert took maximum points on his CRF250R to move into the MX2 championship lead and Lewis Tombs made a solid return after breaking his hand at the start of June.
Jake broke his leg just before the final round of the 2018 Maxxis ACU British Motocross Championship in October while holding a commanding lead in the MX1 class. Since then he has suffered a series of setbacks but has never given up and his fortitude was rewarded when he ran 2-1 at the Kent track.
"I need to race," he said. "It's the only way to get that extra bit. I didn't know what to expect but I honestly didn't expect to come back with a win. I've had such a mission that I was fully in tears when I rode back to the truck. I've had such a mission just to get back on a bike, let alone to be in contention and to find out that I can still do it.
"I'm proper made-up to be fair. More than anything because now I know I can still do it and, honestly, I've been questioning it. I'm just so pleased that I can still be at the sharp end of things."
On a hot, humid day at the notoriously tough track, Josh was in great form to top MX2 qualification by over a second and he then ran 5-4 in both mixed-capacity motos to score maximum points as first 250cc rider across the line in each to move into the championship lead.
"I've had a really good day," he said. "I was fastest in qualifying and then got two race wins so I'm very happy but I'm a lot happier with the second race than the first race just because of the way I was riding.
"I was almost riding at 80 per cent in the first race because I couldn't get into my rhythm. I was catching the 450s up and then losing my rhythm but I still got the race win in the 250s.
"In the second moto I didn't actually get a very good start and had to come from about 14th and then ended the moto in fourth out of everyone and first 250 so I was real happy with that.
"The track was amazing and it got rough so you had to pick your way around in the second moto. I felt really good – my fitness is there so hopefully I'll take that into Hawkstone next weekend."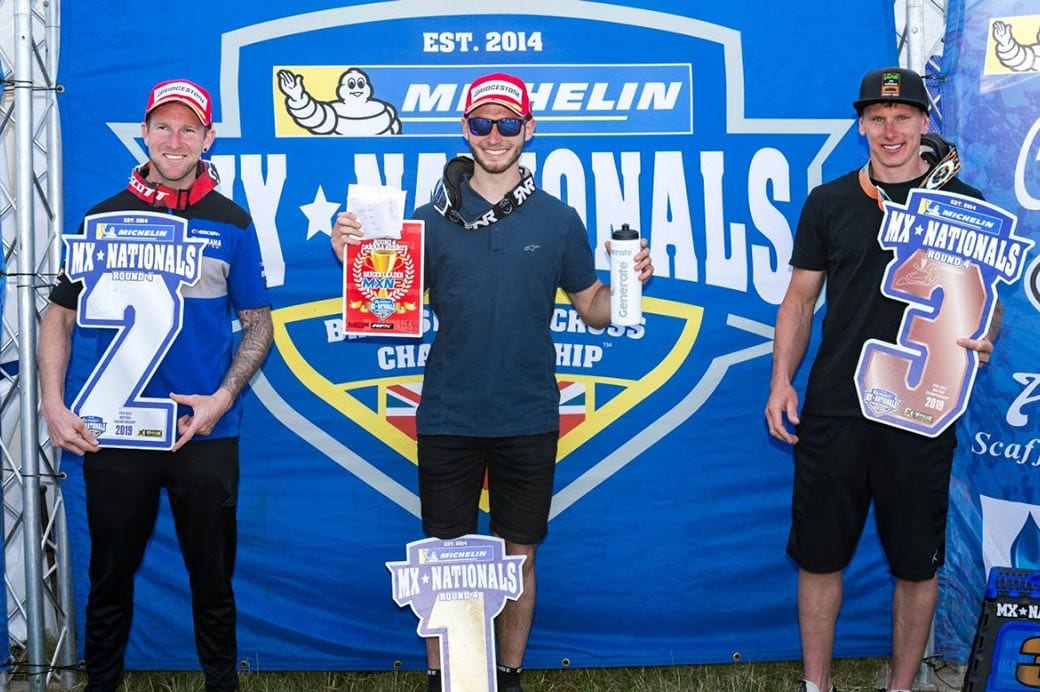 After breaking his left hand in a huge first-turn pile-up at Blaxhall, Lewis was making a tentative return to racing but he showed his fighting spirit to end the day sixth overall in MX1 with 5-5 moto finishes – even after falling in the second race.
"I'm still not 100 per cent after the crash," he said. "My hand's not great but I wanted to give it a go today just because I need to try to get back into the swing of things.
"I was fourth in qualifying and then fifth in both races which was good although I had a little tip-over in the second one which put me back a bit but other than that it was a solid day considering the last six weeks and how my hand actually is."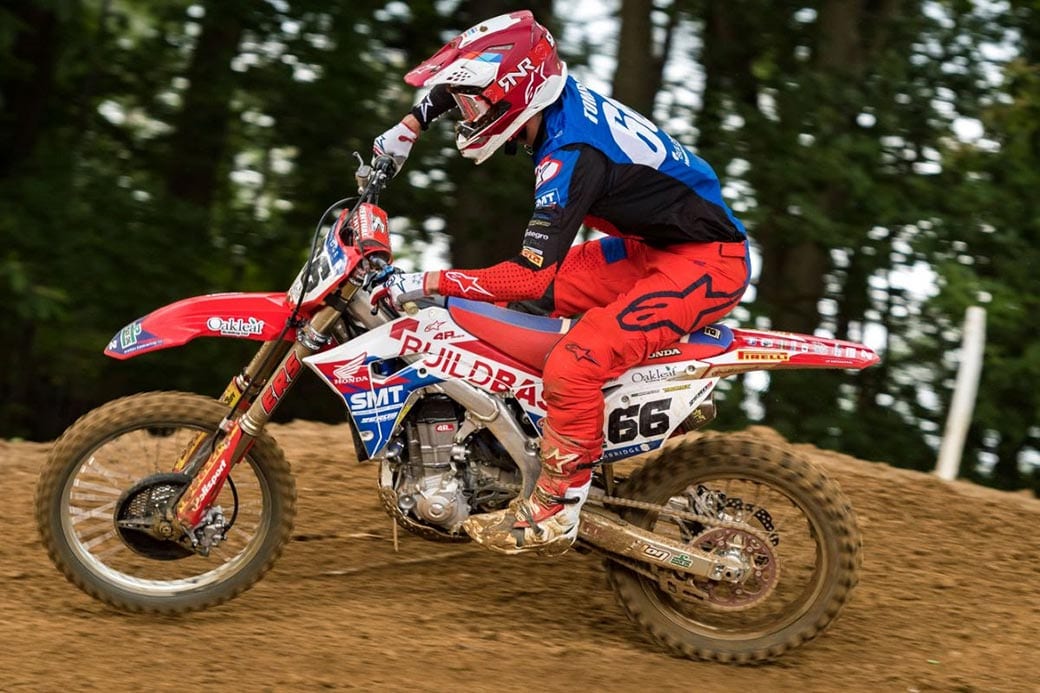 The team's Japanese guest rider Shiaru Honda raced in the MXY2 class and he continued to improve, ending the weekend in 10th overall with four strong rides over the two days.
Team boss Dave Thorpe was delighted with the way his whole team performed.
"What an amazing day," he said. "You don't get any better than two wins! Jake's been the best part of 10 months with no racing and he's had some massive highs and lows so for him to come back and win is a fantastic result.
"In the first race he was a little bit tentative but once he got into second he slowly inched in on the leader and I think that gave him the confidence to attack the second race and he controlled it with ease.
"Josh has been working a lot in Lommel this week to prepare for the EMX round and I think that showed a bit in the first race – there's a difference between heavy sand and the sort of high-speed sand today. He was a little bit disappointed with his speed but he still won and in the second race he'd got himself dialled in and he was really on the pace.
"I didn't know what to expect from Lewis because of his hand. Anyone who races motocross knows that if you can't hold on you can't do anything and he rode amazing. One little mistake in the second race cost him a couple of places early on but he battled away – on Monday it was doubtful he was going to ride so I'm chuffed to bits for him.
"It's been a great team effort for the whole day."
[more-from heading="More Motocross" category="motocross"]