In the 30-degree heat of round five of the Michelin MX Nationals both Pro championship titles were decided as Harri Kullas on his Cab Screens Deos Honda clinched MX1 with Buildbase Honda rider Josh Gilbert taking MX2 – both with a round in hand.
But the heroes of the weekend were the dedicated Cusses Gorse track team that not only seemed to spend most of Friday and Saturday night watering but also spent all of both days spraying the track between races keeping the venue dust free.
Two other titles were also decided over the weekend in both big and small-wheel 85s as Sam Atkinson is now unbeatable in the big-wheels and Tyla Hooley claimed the small-wheel title with the overall.
Lewis Tombs (Buildbase Honda) got the holeshot at the start of the first combined Pro-MX1 and MX2 from Elliott Banks-Browne (Geartec Husqvarna), Kullas, Stuart Edmonds (Apico Husqvarna), Jake Millward (Chambers Husqvarna) and Mel Pocock (ASA United KTM).
By the end of the first lap, Banks-Browne was in the lead and settled into a nice flowing comfortable looking pace while Kullas took four laps to find a way passed Tombs for second place.
Meanwhile, just behind Edmonds, Millward and Pocock were hard at it and swapping places till Millward got the upper hand and made fourth place his own. Pocock got the better of Edmonds for fifth with six laps to go.
In the MX2 side of the race, the new champion Gilbert was mixing it with the big MX1 bikes going into turn one and coming out in ninth and first MX2 rider. He didn't see another MX2 rider the whole race and finished seventh but first in his class.
Disaster struck for Martin Barr (Crescent Yamaha) in the whoops before the finish as the championship contender lost control and went down hard. He walked away holding his left arm and was later diagnosed with a broken collarbone and now faces surgery.
Carlton Husband (Phoenix Tools Kawasaki) had a great race as after a poor start in19th he fought his way up to 11th place at the flag, but second MX2 rider home. In contrast, Tom Grimshaw (HCR Yamaha) had to work for his third place, having gated 15th he seemed to spend all race passing or being passed, and in the last couple of laps it looked like he was going to challenge Husbands second place but ran out of laps and had to settle for third.
At the start of race two, Kullas got the holeshot from Jake Shipton (Crescent Yamaha) Pocock and Millward and the top for spent all race and crossed the finish line in that order with Kullas clinching the title.
Race one winner, Banks-Browne crashed on the opening lap but fought his way back up to 10th before a reoccurring engine problem made him slow and eventually pulled out of the race.
Jamie Law (Apico Husqvarna) had gated fifth but was riding to protect his damaged knee which caused him to drop back to 10th in the closing stages of the race while Tombs after a first turn pile-up with Tony Craig came from almost last to sixth.
In the MX2 class, Michael Ellis had the best start, putting his 250f in ninth but would get passed by a couple of riders to push him down to 11th at the chequers but he retained second behind Gilbert in MX2.
Gilbert started the race in 13th with Husband just behind him as the 250s were outgunned up the up-hill start straight by the 450s but as the race went on Gilbert worked his way forward to eighth at the flag, but first MX2, while Husband seemed to struggle a bit in the opening laps and slipped down to 18th place.
As in the first race, if there was a major battle on track, Grimshaw was in the middle of it as he started 16th made passes and was passed ending his race just behind Ellis giving him third MX2 home.
Overall in Pro-MX1, it was Kullas from Pocock and Millward with Tombs just missing out on the podium by a single point. But in the championship with Kullas already champion Millward closed in on Tombs's second place.
"I think this year has been crazy with the number of injuries there has been," said new champion Kullas, "I have had two injuries in a row. First, I broke my back but managed to be back racing quite quick but then at the GP in Latvia I broke my shoulder blade so had two injuries and I had to miss Desertmartin.
"It was nice to get back to racing the MX Nationals at Canada Heights and get some points, and I think that was important as coming away from the I had a 47-point lead, and today I just had to ride smart to clinch the title."
A happy Mel Pocock said from the second step on the podium, "A fifth and a third for second overall. That's nice. We came here today with the idea of getting on the podium, and we have done that. It was a hard track to race on, and I mean by that it was hard to make a pass as everyone was going at the same fast pace. Having said that the track preparation was great considering the heat of today."
From third, a thoughtful Millward said, "I struggled a bit today and didn't get the starts I have been getting lately. At the first start, I looked over as we went up the start straight and there were some riders well in front of me, and I think that perhaps the gate wasn't dropping fairly. Faster in the middle. But I was in the top three or four going into the first turn, so that's OK.
"I just struggled all day to get my speed up, but the track was really good, but I just found it hard to push on. But I am on the podium, so that's all good".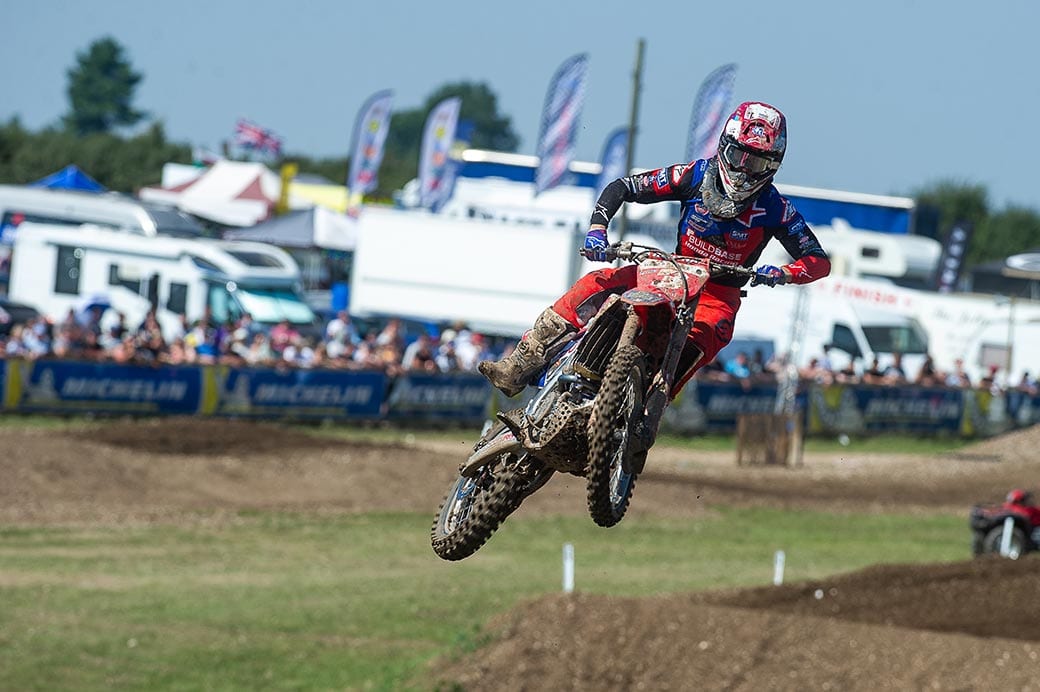 Overall in the Pro-MX2, it was champion Gilbert from Grimshaw who was having his first Pro podium, and Ellis. However in the championship, Ellis has closed in on Barr and may snatch second place depending on when Barr gets back.
"It's always nice to get a championship won early, but it's not really the way I wanted to do it, with Martin (Barr) getting hurt," said champions Gilbert, "I would have liked to have beaten him by racing not being out injured. But it's still nice to win.
Grimshaw said, "Today has gone a lot better then I thought it was going to go as I have been struggling with racing in the heat the last couple of weeks and I thought as we got here we were going to be getting more of the same. But with two good starts and managing to go with the leaders, I started to feel strong. I liked the track, and the bike was going well, so it's been a good day."
Ellis, from third, said, "In the first race I had a good start and was up the fount. I was not that far off Josh (Gilbert) for pace for the first couple of laps but the tightened up a bit which was a bit frustrating and ended up fifth.
"In the second race, I was the second MX2 at the start and caught and passed Josh. I Led the race for about six laps, but I could feel him coming, and I knew he was going to get me at some point, so I just brought it home for second place."
Despite not winning any of the four Expert MX1 races Brad Cavill took the overall win from Richard Bird. Gavin Stevenson crashed out of the lead in the first race which spoilt he weekend but re-grouped and finished the rest of the weekend with two wins and a second for third overall.
Race one winner George Simmutch had a DNF on his second race on Saturday and seemed to struggle with his two Sunday races which dropped his down to ninth overall.
With three wins and a fourth-place, Charlie Putnam won the Expert MX2's from Jorden Keogh who didn't finish out of the top three all weekend and with race two winner, Josh Coleman third overall.
Luke Oldfield won three out of his four races for the overall in the Clubman MX1s with a bad start in race three spoiling his perfect score. Jordan Moxey was second with Bradley Maddever and race three winner Luke Coker tying on points in third. Maddever got to the podium by virtue of his higher place finish in the last race.
Ben Thomson notched up four-second places from four starts in the Clubman MX2s but still managed to take the overall. Race four winner Troy Jones was second with race three winner Fabio Rizzi third while the winner of both Saturday's races Patrick Gilligan didn't race Sunday.
Ike Carter won all four of the MXY2s and had Tom Murphy chase he over the finish line on each occasion. Callum Scott was a distant third from Ben Clayton, Ryan Thompson and Kyle McNicol.
In the MX125 side of the combined race, James Smith with three wins and a second took the win from race two winner Jude Morris and Oliver Beamish.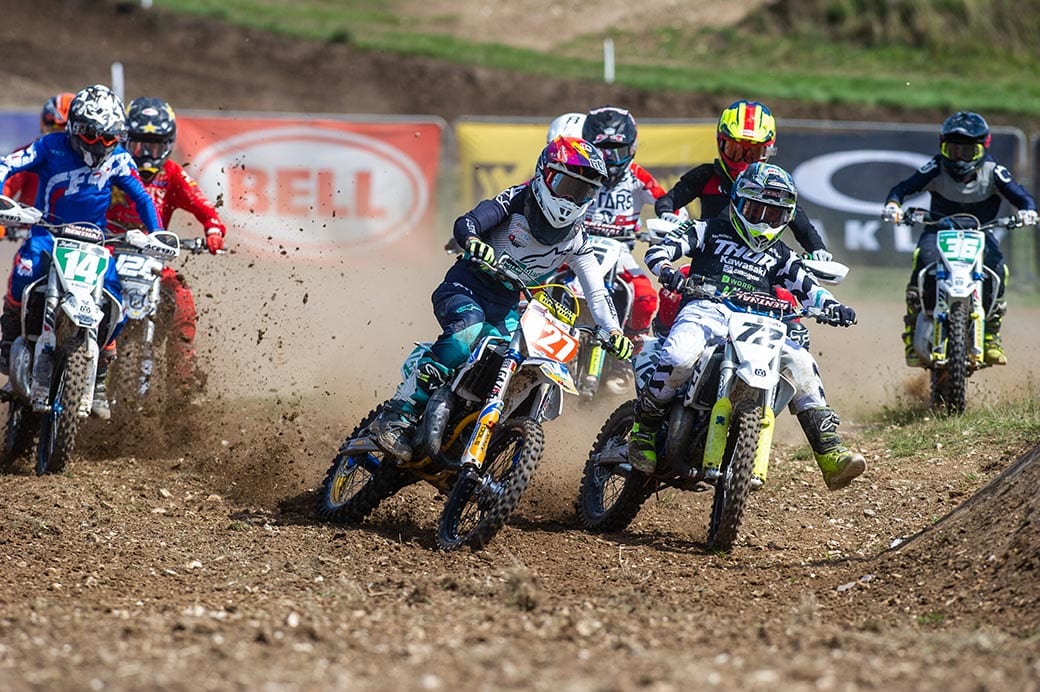 Ollie Colmer won the Big-wheel 85s, winning two out of four races. A slide off in race two spoilt that race and a charging Sam Atkinson pushed him down to second in the last race. Atkinson's weekend was spoilt in race one with a bad start and a problem that dropped him down to 12th place, but two strong wins and a second-place gave him second overall and the championship, with Charlie Palmer third.
Tyla Hooley and McKenzie Marshall tied on points at the top of the Small-wheel 85s with Hooley's last race win giving him the overall and the championship win. Race three winner Billy Askew was third.
[more-from heading="More Motocross" category="motocross"]