Buildbase Honda wrapped up an amazing Michelin MX Nationals triple crown at the sixth and final round of the series at the spectacular Cusses Gorse circuit in Wiltshire on Sunday with team riders Jake Nicholls, Josh Gilbert and Callum Green nailing the MX1, MX2 and 250F MXY2 titles.
Having led the series from the get-go, Jake went into the deciding round in pole position and sewed up the title in the opening race when he crossed the line in fourth place. With passes difficult to make on the hard-pack circuit, he came home third in race two.
"It's nice to get the championship under my belt," he said. "It's a really good track and there are loads of ruts but just one fast one so it was a bit one-lined.
"The first race I got a bad start and struggled like mad so it was a mission and in the second race I didn't get a great start again. I got into fourth and was riding really well but I couldn't make the pass into second. It was quite frustrating but wrapping up the championship after the opening moto was really good and it was a great day for the team."
After winning race one from his main championship rival, Josh had to wait until moto two to bring the title home with a solid second.
"My first pro title feels good," he said. "It all went to plan although it went down to the last race. I beat Brad Anderson in the first one which stretched the gap out to 11 points but then I had to finish in the top seven in race two.
"I caught Ando up in the second and I wanted to pass him because I wanted to win the race but my dad and mechanic Will kept putting on the board 'settle for second' so I backed off and let him have it.
"To be honest the first race was worse because going into the weekend the gap was only eight points so if Brad had beaten me in the opener then I would have been more nervous so when I passed him and pulled away quite comfortably it made the second one easier."
The team's weekend was completed when Callum, despite still suffering from an injury, ran 3-3-2 to take the 250F MXY2 title before wisely deciding to sit out the final moto of the season.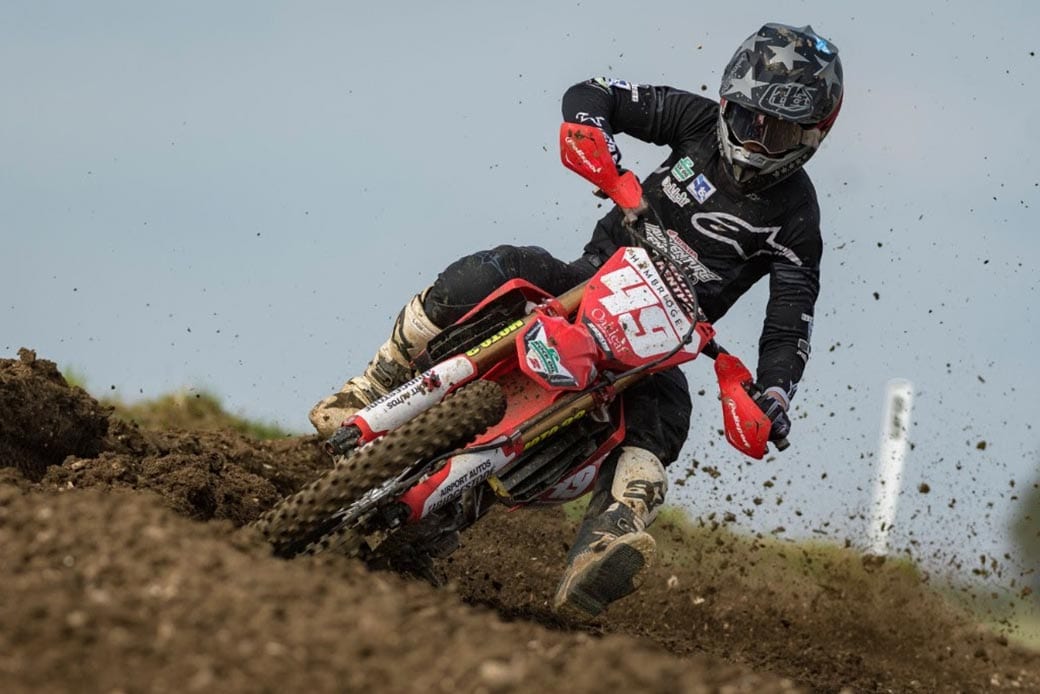 "It's been amazing, absolutely amazing," said team boss Dave Thorpe. "I'm so chuffed for all of the team and Honda and Buildbase. It's been a great result all round and it's surreal to think that after everything Jake's done that it's his first pro title.
"The start was everything and that cost us, especially for Jake, when it came to overall wins but both Jake and Josh did what was needed to win the championships which was what really mattered.
"Callum is still battling on with his shoulder injury so his performance was amazing because he is still in a lot of pain. He's a tough kid, he's gritty.
"I know how hard the riders work, I know how hard the mechanics work and when you see all of that it's so nice for them to get a result. It's a complete team effort and they're a great group of people to be around."
[more-from heading="More From Latest News" category="news"]