REVO Husqvarna UK's full MX2 team of Martin Barr, Mel Pocock and Dylan Woodcock along with SW85cc rider Ollie Colmer travelled to Hawkstone Park for round three of the Michelin MX Nationals.
Following a weekend off and with new parts to test, Martin was on fire all day on Sunday and topped the mixed-capacity qualification session on his FC 250 against the 450s of the MX1 class.
After a steady start the Irishman pulled through to second MX2 finisher in the opening moto, one place ahead of Mel. He crashed out of race two while running first in class and second in the race but Mel upheld team honour with his second in class earning him the runner-up position on the podium with a 3-2 scorecard.
Dylan showed a good turn of pace in the first race to finish 14th in class but he DNF'd race two with a mechanical issue.
In the SW85cc class Ollie had a stand-out weekend with his final score of 1-2-2-1 good enough to give him the overall on a tie-break following a fierce final race.
Next stop on the schedule is this weekend's MXGP of Great Britain at Matterley Basin with Martin and Mel sitting 1-2 in the EMX250 standings.
"We'd had a week's break to give everyone time to recover," said Team Principal, Mark Yates. "It also gave us a chance to test the new 2019-spec engine components – which we're trying to get some hours on ready for the British Grand Prix – that are brilliant.
"I think that's the first time an MX2 rider has taken a pole position for the Fastest 40 which was great for Martin. It was a solid day for him – a mistake in the second race cost him a podium but he was really pleased with his speed and the bike and he hasn't hurt himself so he's looking forward to Matterley.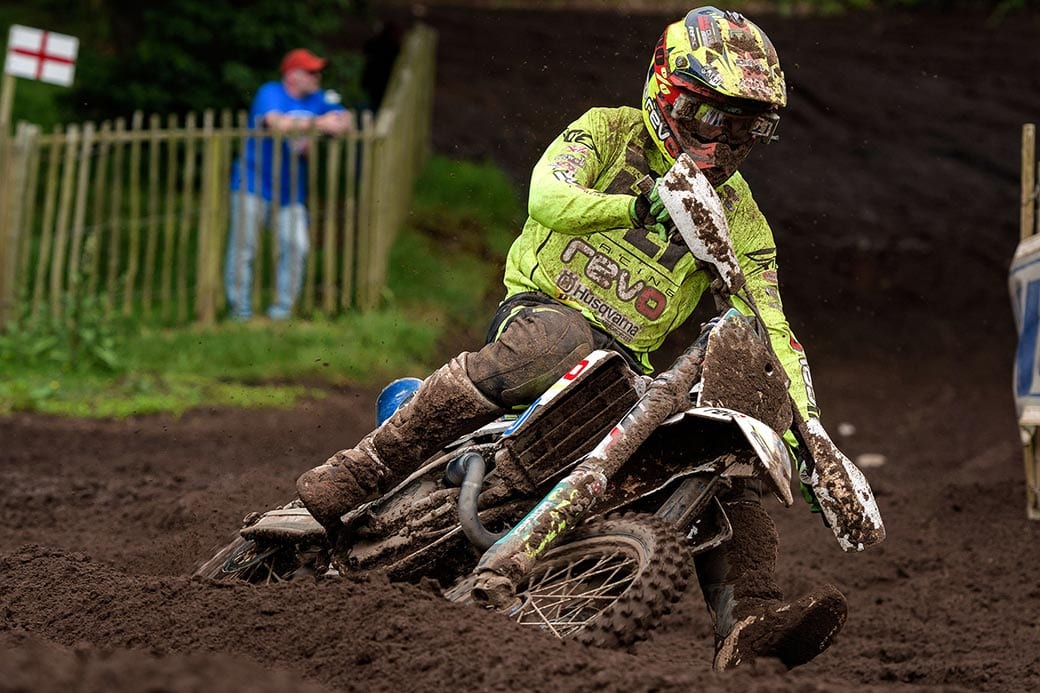 "Mel's the same. He's pleased with where he's at and, obviously, he was second on the podium which is a good performance.
"Dylan is continuing to make progress and yesterday was a step in the right direction for him. He had a couple of good starts and some great battles but, unfortunately, a mechanical problem in race two caused a DNF.
"It was a great ride for Ollie – he needed to win the final moto to take the overall and he came through well to catch the leader and pass him."
Mel Pocock
"It was a good day's racing for me," said Pocock. I had a third and a second which was solid riding. The track was super-bumpy and gnarly. In the second race the heavens opened and there was a complete downpour but it was just a good fun day's racing. I'll take second overall – happy days!"
Martin Barr
"It could have been a better day but my time in qualifying was mega and I backed it up with another lap which was just 0.2 slower," said Barr.
"I had a pretty decent start in race one but a rider went down in turn two and I had to go wide to avoid him and lost quite a few positions. So I put my head down and concentrated on coming through the pack.
"I've been nursing a cold and halfway through the moto I was struggling to breathe so I backed it off a little bit and towards the end put another charge on and was only four seconds off the lead.
"Race two didn't end the way I wanted it to but I felt like my old self. I got a really good start, quickly moved into third and was trying to hang on to Jake Nicholls and Elliott Banks-Browne. I'd just passed Elliott when I went over a jump and landed awkwardly and was catapulted off the bike. It was a pretty big crash – I'm okay but the bike was bent up.
"Still, everything clicked for me and I've got that feeling back, the way I know I can ride and I think I showed that in the second moto."
Dylan Woodcock
"Yesterday wasn't a bad day but it wasn't a good day," said Woodcock. "I struggled a little bit in the first race – I've got a bit of a cold and wasn't feeling 100 per cent. I was riding really well in the second race but I had a mechanical problem and DNF'd."
Ollie Colmer
A delighted Ollie said: "It was an awesome result. It's been a long time coming. I should have won three races – I came off when I was leading – but I got there in the end. It was a tough weekend but the bike was good and the whole team was there so it was a brilliant atmosphere."