If you thought the life of a pro motocrosser was a bowl of cherries then ask Rob Hooper Racing Yamaha's MX1 rider Kristian Whatley about that presumption.
This week has tested his mettle in more ways than one, as what was supposed to be a week-long training exercise in Spain ahead of the first round of the Maxxis British Motocross Championships, turned out to be a calamity of errors which has left him wondering what's going to happen next.
Kristian takes up the story: "To start with all was going to plan. I borrowed a van from one of my Dad's friends Steve Bunter for the trip to Spain as his is more fuel efficient than mine and I headed to the ferry which we got off at Caan at about 9.30pm on Tuesday night.
"We were cruising along nicely when about 120 miles from Lloret De Mar the van broke down with some sort of fault with the fuel pump.
"Luckily just before I left for the ferry Steve had updated his Green Flag membership to cover the van in Europe, but the garages over there were a joke. After waiting a good few hours someone turned up with a low loader, but that then broke down. Then we were sent a couple of jokers who towed us to Narbonne, but they just didn't really want to help and we were there sitting around for two days while they waited for a part to come.
"It was so frustrating having all of your kit and bike sitting there and not being able to ride it. The part eventually turned up but I was told it still wouldn't go, and that the engine was finished, but I knew it would go."
Luckily Green Flag put Kristian up in a hotel for two nights and on the Friday morning Kristian was picked up by a friend and they headed to the Spanish circuit of Videras to get that much needed track time.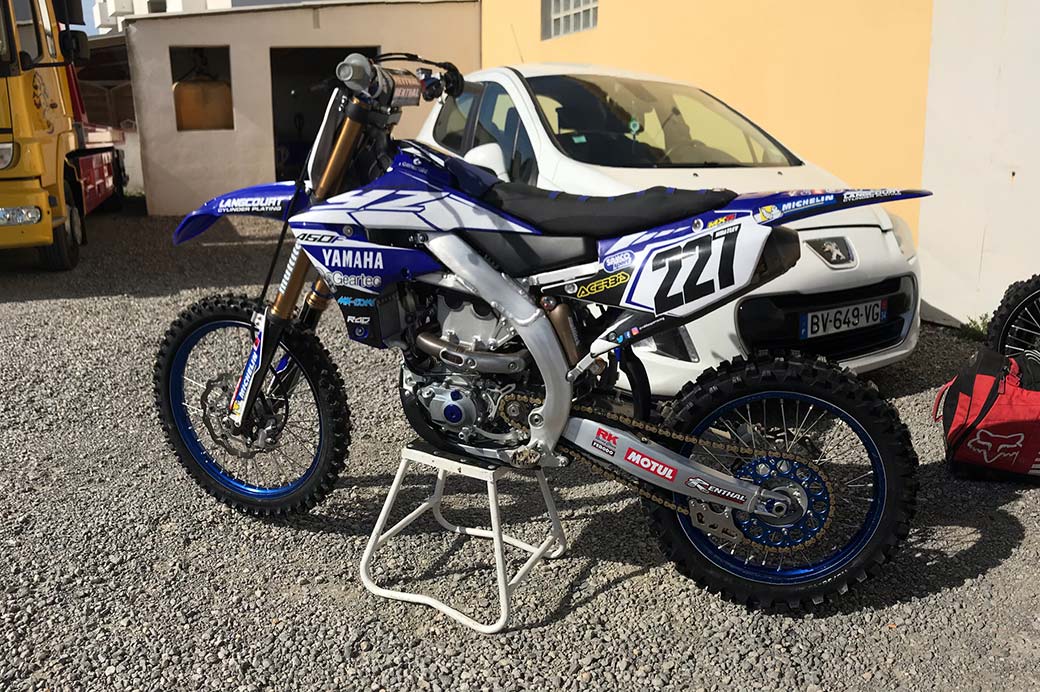 But that's not the end of the story for Kristian, as he explains. "I had two good motos, and when I came in from my second I took my helmet off and got stung by something.
"My throat started swelling, I was struggling to breath, and pimples started to show up all over me. We packed up and headed to the hospital, and I couldn't see anything, everything was blurry, and I fell asleep, which I know I shouldn't have done, but when I woke up I felt better and we headed back to the hotel.
"Really I should have continued to the Hospital but I did feel lots better, and I was looking forward to getting back on track.
"We got up on Saturday morning and the weather was horrendous, raining all day and the forecast was the same for Sunday so there was no chance of me getting on track, so after being away for nearly a week all I got in was two motos.
"I knew my friend had to go so he gave me a lift to the airport and Green Flag flew me back so I can't fault them."
The van is now on a tow truck heading back with all of Kristian's kit and bike so he can't even practice now he is back in the UK.
"It's just been one of those weeks, I just need to get back on a bike but after this week I am just going to ease myself in.
"I just keep wondering what's going to happen next, and after my injuries of the past few years I just want to get a good couple of races under my belt and get stronger as the year goes on."
Kristian will be making his first competitive appearance at the Mike Brown Memorial meeting in the Huck Cup on Good Friday (March 30) at Marshfield before he starts his Maxxis ACU British Motocross Championship campaign on Easter Sunday (April 1) at Culham.