Red Bull KTM's Tony Cairoli took the initial step to an 11th Italian title today by celebrating a comfortable win in his first race of 2019 in Sardinia. Jorge Prado also walked the top of the MX2 podium.
On a weekend when Red Bull KTM filled the top two positions of the AMA Supercross podium for the second meeting in succession, part of the MXGP team excelled through the sand of Riola Sardo – the customary opener for the Internazionali d'Italia and the traditional first fixture of the racing year.
Cairoli was second fastest in practice on his KTM 450 SX-F through bright and temperate conditions and just two-tenths of a second behind Tim Gajser. He took control of the MX1 moto from the Slovenian to secure the chequered flag. Later in the day the 33-year-old also claimed the 'Supercampione' moto by leading from start to finish and almost completed a 1-2 with his team-mate.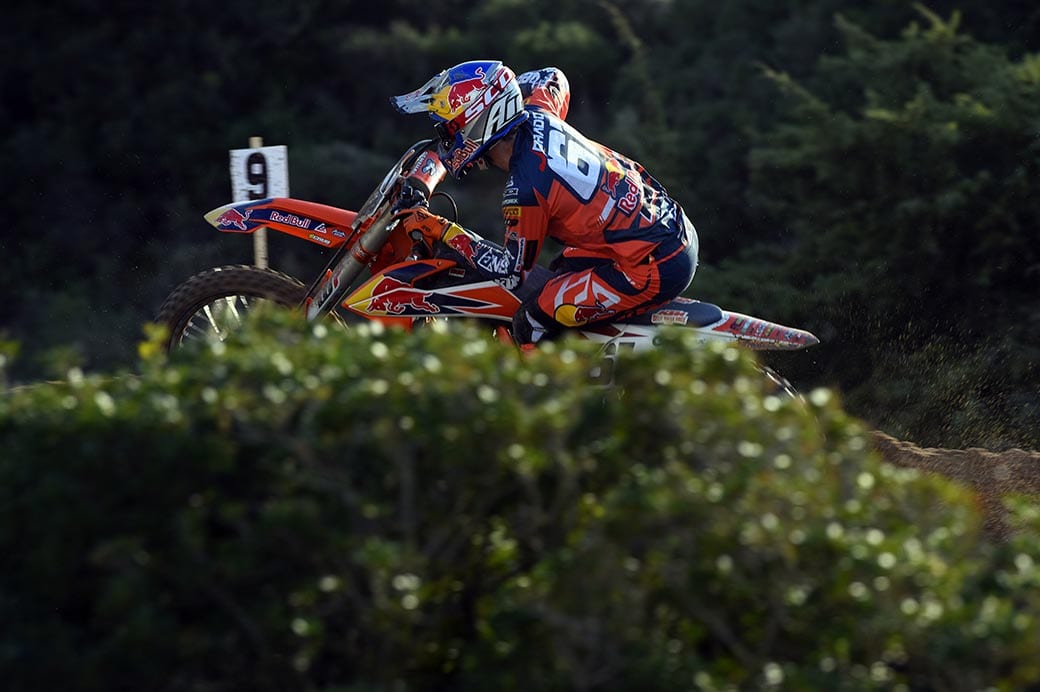 MX2 World Champion Jorge Prado owned the MX2 moto by almost 30-seconds. The Spaniard, who recently turned 18, seized of the race by mid-distance and ran free to defeat Mikkel Haarup. He used the power of his works KTM 250 SX-F to capture an impressive third position in the 'Supercampione' against the 450s and give Red Bull KTM a double podium haul for the day.
Tony Cairoli: "It is always good to race in Riola. We spend a lot of time testing around here. I'm really happy with how the bike is working at the moment and my feeling with it. This is just the first race of the year and we have another two to prepare ourselves before we are ready. It also means we have three races in the sand so we cannot test too much on hard-pack but overall I think we have a good bike."
Jorge Prado: "A very good first race and I felt great from the timed practice. We made a great bike this winter and it worked really well for me all-day – better than we expected. In the first moto I had a decent start and took seven laps to get to the front as a struggled a bit with my rhythm. Coming into the Superfinal I knew the start was super-important. I didn't have the best jump but I made a good pass into the first corners and was second behind Tony. He was pushing a lot and I tried to keep his rhythm. With three laps to go I made a mistake through the lappers and Tim came past me. I finished third and I'm very happy. This is all good preparation for the world championship."
The Italian series continues full speed with the second and third rounds taking place on consecutive weekends. Grand Prix venue Ottobiano (another sandy circuit and a site where Cairoli has taken MXGP spoils in 2017 and 2018) is up next.
Round One Top Five Internazionali d'Italia Motocross Results
MX1
Antonio Cairoli (KTM)
Romain Febvre (Yamaha)
Tim Gajser (Honda)
Gautier Paulin (Yamaha)
Arminas Jasikonis (Husqvarna)
MX2
Jorge Prado (KTM)
Mikkel Haarup (Husqvarna)
Mattia Guadagnini (Husqvarna)
Ben Watson (Yamaha)
Michele Cervellin (Yamaha)
Supercampione
Antonio Cairoli (KTM)
Tim Gajser (Honda)
Jorge Prado (KTM)
Romain Febvre (Yamaha)
Gautier Paulin (Yamaha)
[more-from heading="More International Italian Championship" tag="internazionali-ditalia"]