Steven Clarke knows how to rise to the occasion and he did that in fine style at Matterley Basin.
He took a convincing EMX250 win at the British GP – his race one win had the crowd on their feet but in race two, he had a battle that got the air horns blasting even louder.
We caught we Clarkey to find out all about it.
Dirt Bike Rider: I spoke to you yesterday after you won the first race and you said you wouldn't be satisfied with anything less than a win but did the overall come as a bit of a surprise?
Steven Clarke: No not really, I was a bit disappointed when Haarup passed me in the second race, I was upset with myself that I let him past.
I held him off for half a lap and was making some mistakes because I'd settled into my pace and was controlling the race and he just started charging and caught me off guard.
I was making a few mistakes and when he passed me I thought, 'don't be silly and blow it, let's take a second'. As much as I didn't want second, I knew it was good enough for a win.
DBR: You obviously knew that a win and a second would give you the overall because Haarup was way back in the first race.
SC: Yeah, I'm quite aware of what's going on around me and I knew he wasn't in the top three. I knew I would lose three points in the championship, but I'd gain an overall win, which was my goal. I can't say I'm disappointed with the overall, my riding was good, I'm healthy and safe, and on to the next one.
DBR: You were a close second to Adam Sterry here in 2015, you won in 2016 and now again 2018. Is it something about the British GP or this track that agrees with your riding style?
SC: Yeah, it's a big, jumpy, rutty, clay track with my name written all over it. You start putting sand in there and I get a bit on the edge, but I love this place. I rode it when it opened in 2006 and it's just got better and better since then.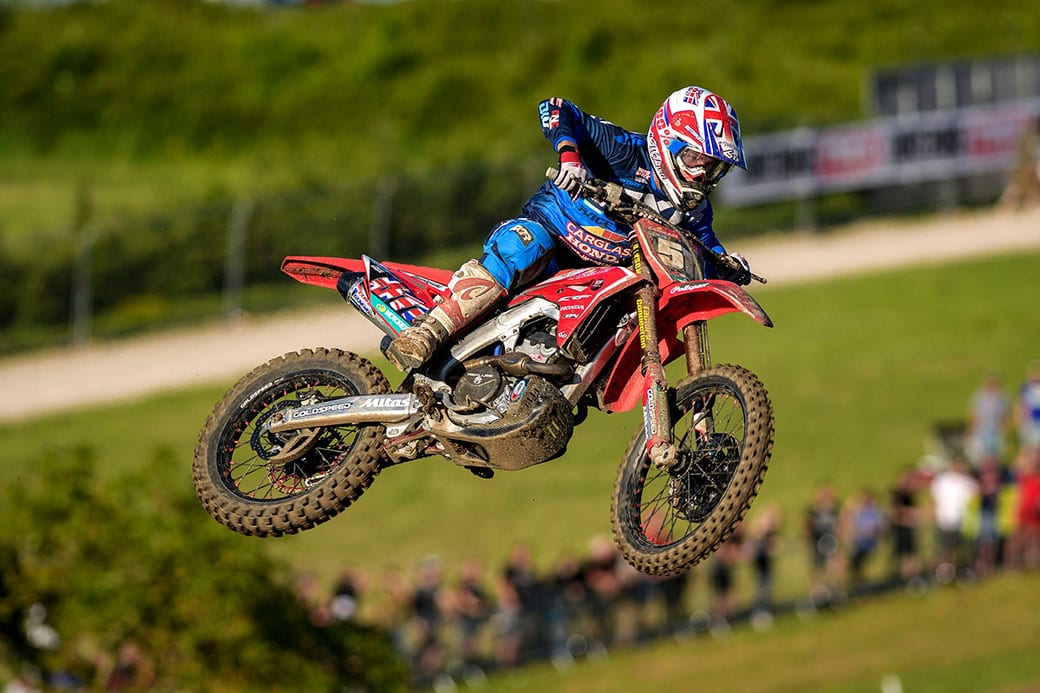 There's not one thing I'd change out there, the track is cool, it's good for the fans, there's good viewing and some big jumps where we can throw some whips so hopefully they enjoyed the show as much as I enjoyed riding it.
DBR: There was a great reaction to you on the podium, your home grand prix, and Ando won the EMX300 earlier, does that make it extra special being part of a winning weekend at your home GP?
SC: On man, you don't even know! This is the closest thing I get to the Motocross of Nations since no-one will pick me. The British GP with all the fans, I can hear them over my bike when I'm going around, all my family and friends here, people cheering me on, it's electric.
DBR: Just talking about the fans, when I came up just now you were taking pictures with a young lad and gave him your front number plate, I've seen you a few times really interacting with your fans, you seem to really make time for them like a British Travis Pastrana.
SC: You hit the nail on the head, since I was a kid my parents always told me 'be like Travis', I talk to everyone because when you ignore someone it's a fan lost. I don't care if I'm going to the gate, I'll take a last picture with the kids. They're the future of our sport and if they've come here to support me and I ignore them what kind of person would that make me?
DBR: Congratulations on a very popular win.