It was never a matter of if, but when an F4E Racing KTM rider would pick up his first EMX125 podium this year.
In the end it was former junior world champ Eddie Jay Wade (15) who snatched the first rostrum finish this weekend in Mantova while team-mate Guillem Farres (16) scored another top-five finish.
However who will come out on top when the seven-round EMX125 series concludes at the end of August is anyone's guess!
For every European moto when either Farres or Wade woulda, coulda, shoulda been on the box there was just one piece of the puzzle missing. Frustratingly one might add since Guillem – currently leading the Spanish 125cc championship – has been demonstrating his speed all season long. And the same can be said for British expat Wade who's sitting in fourth in Spain.
Both riders know each other well and have been pushing each other even more since they both joined the Belgian F4E Racing team in autumn last year.
Especially for Farres his Lombardian weekend had been bittersweet.
Only three weeks ago the protegé of rallyraid legend Nani Roma underwent an emergency appendicitis operation. Although Guillem missed two weeks of bike training his form seemed intact in Mantova.
"Finally I got a good start in the second moto," exclaimed Farres. "I ran second almost all moto long but I had bad luck with a lapper and crashed. In the end I finished third.
"My start in the first race was really awful, around 30th place so I know that I can make the podium if I have two good starts and I can be consistent.
"In the night after the last Spanish championship race in Calatayud I had a lot of pain in my stomach and it turned out that I needed appendicitis surgery right away. The timing was pretty bad because that week I had a school holiday and we had planned to come to Belgium to train with the team."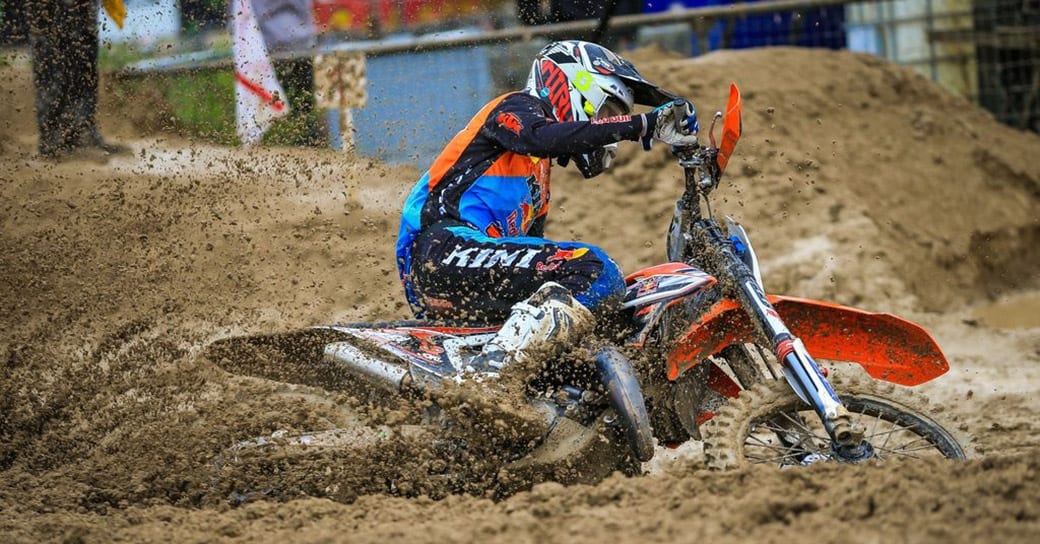 Unfazed by his lack of international experience, the #309 F4E Racing rider sits eighth in the standings now – only five points down on Simon Langenfelder in sixth.
Decked out in the same striking Kini gear and riding identical KTM SX125 machinery in the same series still doesn't make Eddie and Guillem "MX twins". Farres smoothness and bike control offers a contrast in style with the grit and determination so typical for Wade. Perhaps their complimentarity aids to push and inspire one another.
"I've had the speed all the time," said the Briton with a big grin.
"Eventually a smart race in the mud is what got the job done. I never got nervous or anything. The last lap was exciting because I knew I couldn't afford any mistakes and there was pressure from behind but I managed to stay calm.
"This is my first European podium, of course I definitely want more now! You always need a little bit of luck though. In the first race the speed was there but I didn't have the start. On Saturday I worked on my starts after the moto with my trainer Damon (ed. Graulus) and that seemed to pay off. I rode a lot in the mud when I was living in England however it's not so common to have these conditions in Spain!"
With Wade having experienced a breakthrough ride and climbing up to 12th in the series and Farres becoming more consistent things are looking up for Jimmy Verburgh's F4E Racing squad.
"Everyone is a bit torn in two on a day like this because Guillem put in a great performance and pulled of a near perfect start after messing up in the first moto," said Verburgh.
"On the other hand we're super-stoked that Eddie got on the box!
"He was riding well, kept his focus and made it happen. Now that Wade got his first podium I'm sure it will make Farres only more hungry to get his piece of the pie!"
"Remember that Guillem will find a track to his liking when we head to France for Saint Jean d'Angely. Last year he led several laps there in the second moto," enthuses Verburgh.
In France both EMX125 riders will be joined by EMX250 rookie Mario Lucas. Just like his team-mates Lucas has been on fire at home but needs a bit of luck in his European races
Who knows that Wade and Farres might have created the perfect tow for their older colleague. After all, success breeds success, right?
[more-from heading="Latest News" category="news"]