A win and a second gave Brad Anderson the overall victory and red plate in the EMX300 championship at Matterley as he snatched victory from the jaws of defeat.
Jaws of defeat? You ask. Well a serious knee injury in practice almost ruled him out of the points-paying motos. I sat down with Ando to hear the story of his weekend.
Dirt Bike Rider: Firstly, congratulations on the overall victory and getting the rad plate, but it hasn't been plain sailing, tell us what happened on Saturday.
Brad Anderson: I got one quick lap in, I always try to do two straight after each other. I was going for my second one and the back end slid out, so I put my leg out to save it and all I heard was a crunch.
I knew from the noise that I'd done some damage in me knee. That was the end of practice for me, but I ended up third with that one lap, so it wasn't too bad anyway.
I told the team what happened, and we thought it was game over, but we found a physio who looked at it and said what he thought it was. He strapped it up but said: "I'm not giving you the all clear to ride," I didn't want to go to the medical centre in case they said I couldn't ride. I strapped it up, put my knee braces on – it was tight as anything and I didn't like it, but I did the sighting lap. I came in and told the team there's no way I can ride like this. I said I'll do one lap and see how it goes.
Obviously I got a good start and ending up out front – it musta been adrenalin or something that kept it going. On the right-hand corners I couldn't put my leg out and had to keep my feet up and could hear Kras catching me. I was over the moon just to finish the race.
DBR: Was it painful after the race?
BA: Mel Pocock lent me his training bike, he's been in the same situation with his knee so he talked us through it. I did some cycling to warm it up and keep it moving cos once it seizes up its really stiff.
It was hard to sleep last night, I slept till about three then I was tossing and turning but I had to lie on my back. This morning I thought I'd be lucky to go out again, it was that stiff. I did the sighting lap and the track was so slippery.
DBR: It looked like they graded it and watered it quite heavily
BA: Yeah it made it more difficult cos I can't put my foot down. In the race I got a bad start and I had to nurse it round the slippery bits, I got held up but I couldn't push it. It took about seven laps to get by him.
DBR: You were in a good battle with a few guys and near the end Kovar passed you but you retaliated straight away. Did you think about taking a safe third and letting him go?
BA. I didn't know that Kras was out cos I was trying not to look at my pit board, that straight was getting gnarly. I knew Kovar was there and I could hear him catching me on the corners where I couldn't put my foot down. He overtook on the finish line straight where I couldn't be aggressive, so I give it the rev in the next corner and I think he panicked a bit. I ducked underneath him then it was a drag race and I squeezed him out. I knew if I got him there, the next two laps I could push a bit harder and he couldn't get me. But I didn't want to settle for third and him passing me.
DBR: But you would still have the overall without risking your knee.
BA: I think every position counts and every point helps. The team was probably thinking let him pass but I think different, I want to win every race I can. To be fair it was pretty clean with me and him, we respect each other and we're both in the fight for the championship.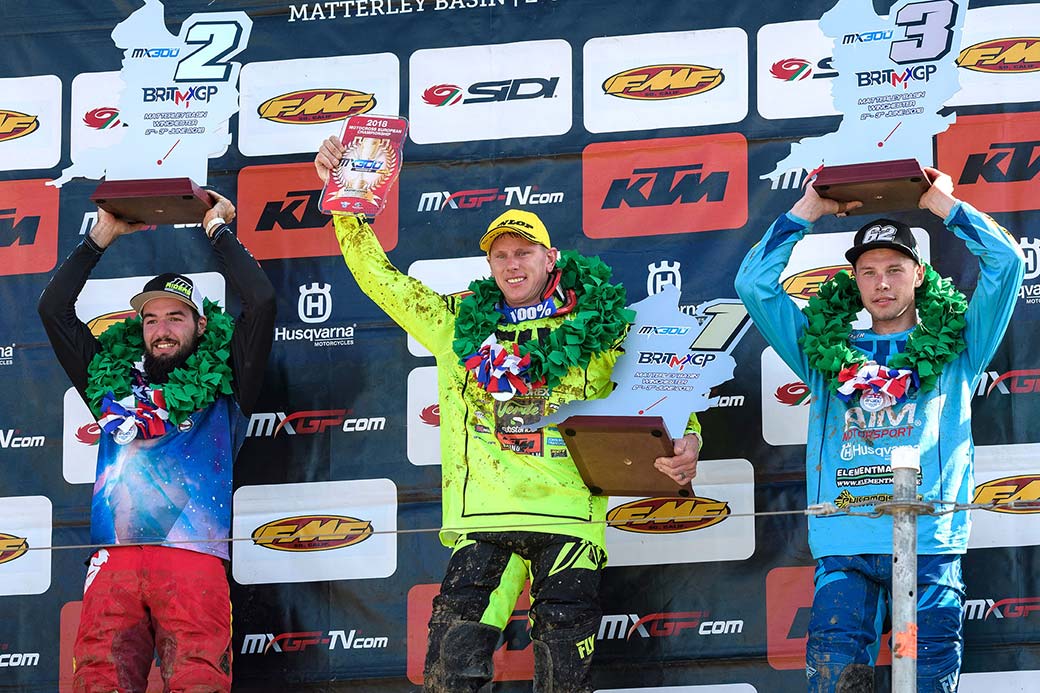 DBR: Looking at the championship now, you've got a 26-point lead over Lusbo and 39 over Kras. When we talked before you said Kras was your main rival but he had a double DNF this weekend. I know that's not how you want to win the championship, but he's given you a massive gift this weekend.
BA: Our goal was to come here, try to win and be closer to the red plate – we didn't expect to win, get the red plate and be 26 points in front. The only down side is my knee but everything else has come out tip-top. I just want to thank everyone who's put the effort in to get us here. They all support me and believe I can do it but there's not many people out there that would've rode with a knee like this.
DBR: What's the plan now with the knee?
BA. I've got about three weeks off now, so fingers crossed I can get a lot of work done on it and be back racing. Even if I've got to miss other races I want to concentrate on the Europeans, this is my main goal.