Brad Anderson arrived at round six of the EMX2T championship one place and two points behind series leader Mike Kras but Ando was fully fit and determined to get the red plate back.
The travelling had taken its toll on the 38-year-old at the last round in Latvia but he was fit and well in Imola and he got off to a flyer.
The Verde Substance KTM rider went fastest in both Free Practice and Timed Qualification, over half a second quicker than Kras. Confidence was high and he was looking forward to the points-paying motos.
Ando was unlucky at the start of race one, getting tagged by another rider. He managed to keep the bike upright but Kras was already ahead.
By the end of the opening lap Ando had moved up to seventh while Kras was in third.
Ando then came off on a slippery corner, damaged his brakes and dropped back to ninth. He couldn't settle and lost his rhythm – little errors started to creep in.
At the front of the pack, Kras had moved up to second place with Kellett charging behind.
With seven minutes to go, Ando moved back up to seventh while Kras was dropping back to fourth as Kellett and Deghi made their way past.
Three laps to go and Ando charged into fifth but luck didn't go his way. Kellett's gearbox went, which allowed Kras to move back up to third place. Ando tried to catch the struggling Kellett but he ran out of laps to get the job done.
Ando finished fifth and Mike Kras finished third giving the Dutchman a six-point lead over Ando as they went into moto two.
The Brit put the troubled moto one behind him as he pulled the holey. He kept the lead for the first four laps until Manual Lacopi made his way through. Lacopi had entered as a wildcard and had already won moto one.
Ando kept his pace to maintain a comfortable second place and as the laps clicked off no one was able to get close to the popular veteran motocrosser. In third place Deghi finished over half a minute behind Ando.
While Ando kept his head down to deliver a fantastic second moto he couldn't do anything about Kras. And although Kras had suffered with a poor start, leaving him in 20th place as he finished lap one, by lap six Kras had moved into the top 10. And by lap 10 he had moved into sixth. This would have given Ando a two-place lead over Kras but in the final lap Kras managed to pass Andrea Gorini to secure fifth place.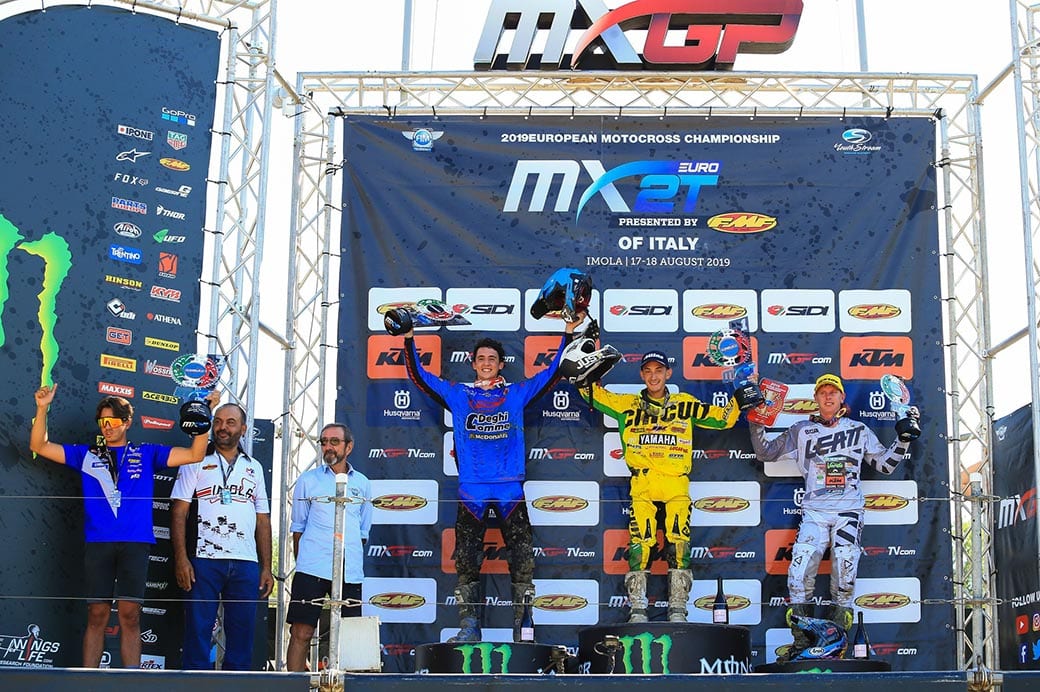 Ando got a 5-2 for a podium third while Kras scored 2-6 for fourth overall.
This gave Ando just two more points than Kras this weekend putting both Ando and Kras level on 235 points.
Ando got the EMX2T Red Plate back but the two rivals will go to Turkey, for the final round, effectively joint leaders.
"I was gutted yesterday [Saturday] at getting fifth place, especially as I was feeling good and had good times in practice. I just needed my luck to change and it did so today [Sunday].
"I got a better start and ended up second which gave me third overall and the red plate back. Me and Kras are on joint points now going into the last round in Turkey so it's game on now.
"Let the best man win."
Team manager Adrian Kirk: "A great job done by Ando this weekend. He has had some bad luck this season, with lots of first race crashes. But he has got the red plate back where it belongs in time for the final round."
[table "1407" not found /]
[table "1409" not found /]
[more-from heading="More Motocross" category="motocross"]