Brad Anderson is now a two-time EMX300 champion after defending his title in what turned out to be a very challenging 2018 season for the Verde Substance KTM rider.
A knee injury at the Matterley Basin round almost ended his charge but he toughed it out what turned out to be a pivotal weekend as he took the overall while his main championship rival Mike Kras had bike problems and couldn't capitalise on Ando's injuries.
Ando took what should have been a comfortable 27 point lead into the final round at Imola but as he explains below, it was a very painful weekend.
Dirt Bike Rider: Congratulations Brad, 2018 EMX300 champion. You didn't make it easy for yourself, when I spoke to your dad yesterday he said you broke your finger and would be happy to get the championship but wouldn't be able to go for race wins.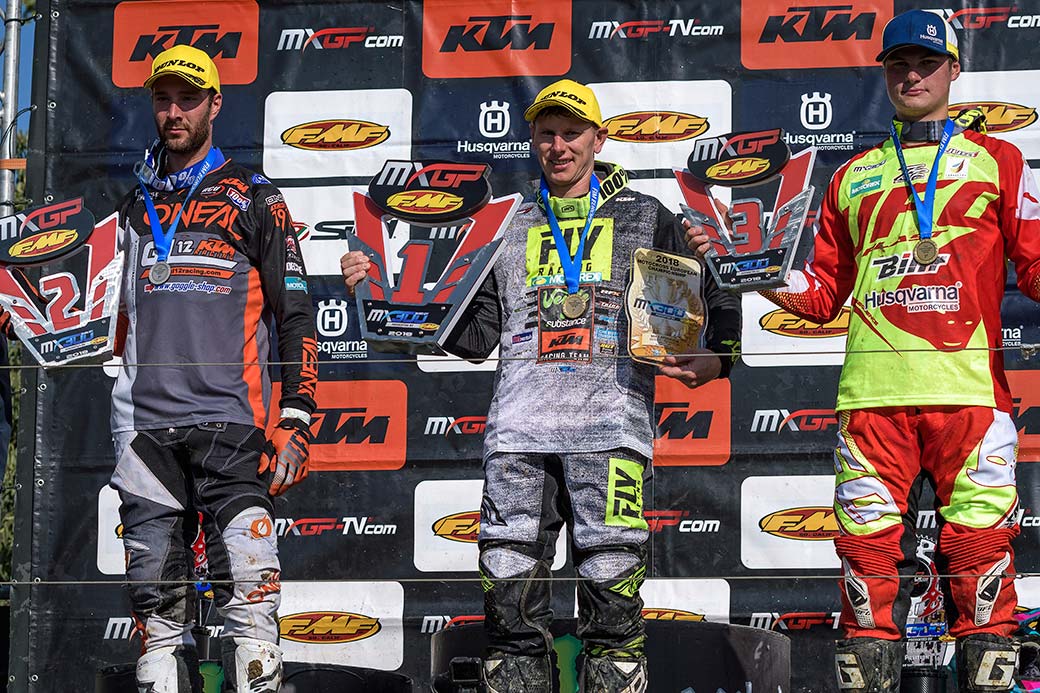 Brad Anderson: I've been cautious about going racing, just picking races where I didn't think I would hurt myself. I was meant to do Assen but I missed it to do another race to practice for this weekend and it bit us in the bum to be honest. I came off at Cusse's Gorse and broke my finger and done all my side in. That was two weeks ago and I haven't ridden since, so coming into this weekend I didn't know if I was gonna ride or not, I was in that much pain.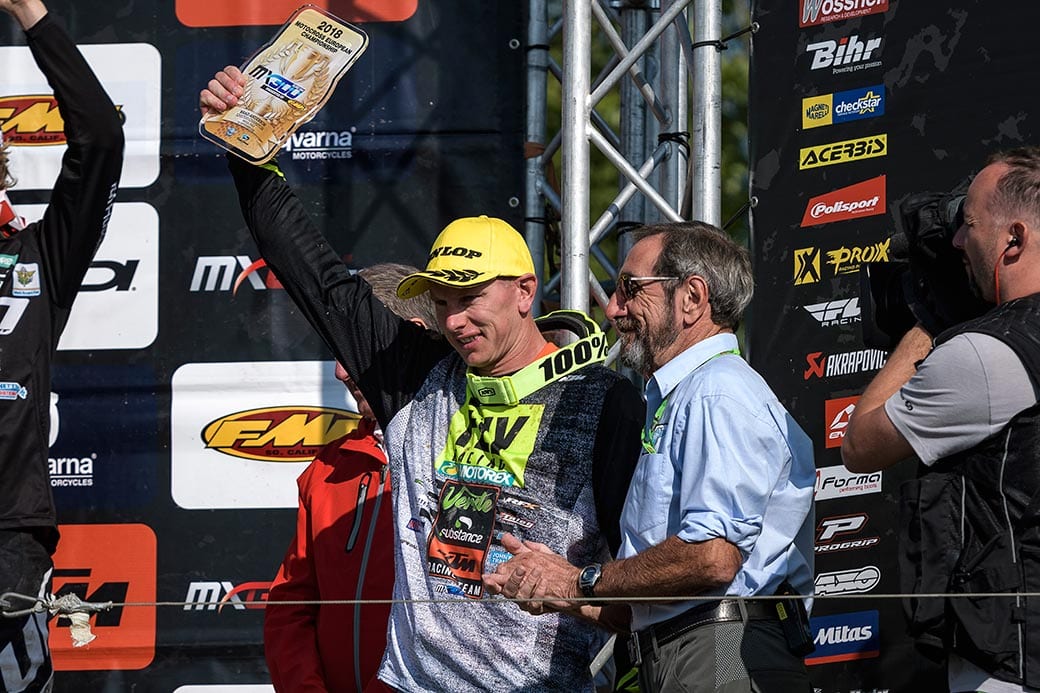 I saw a specialist and I knew today was gonna be tough. I did qualifying and thought it the pain wasn't too bad, the more laps I did it felt better as I was getting used to the pain but today was the opposite, the more laps I did, the more pain it was giving us.
DBR: In the first race you dropped back to seventh but had a bit of luck and also made a pass on the last lap to get fifth. Race two looked much harder, you were in ninth and it looked like your timing was off and your lap times were off, but you know how to manage the race and what results you needed. How difficult was it?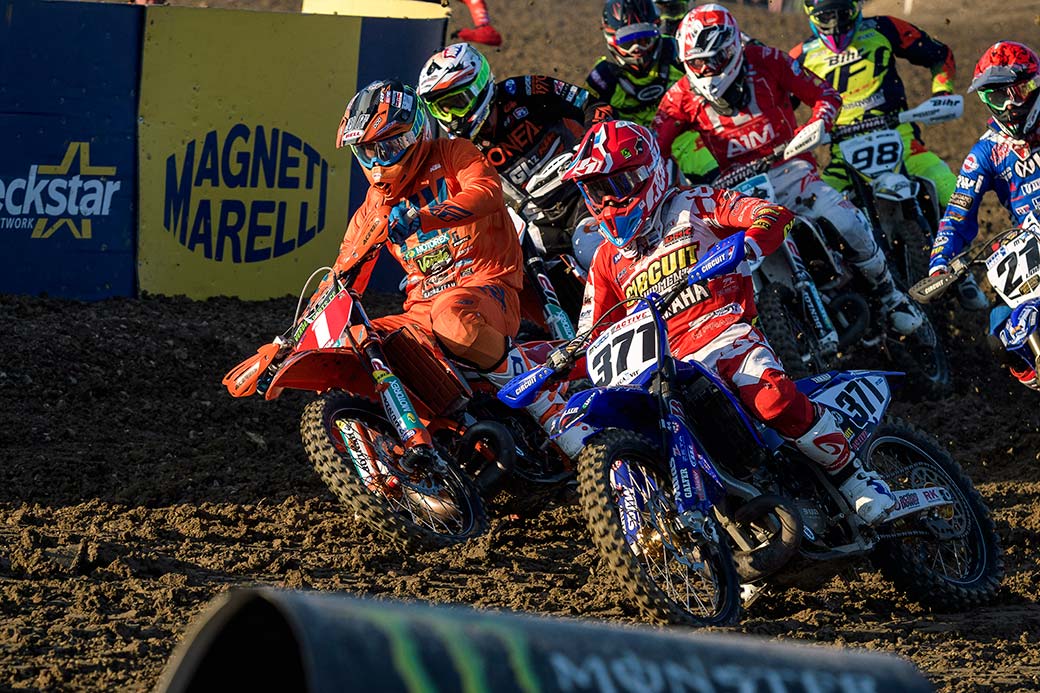 BA: I was lucky in race one, Kovar's chain snapped and Lusbo had bike problems. I wanted to get that guy on the last lap to make it easier today – I didn't want to come in today panicking too much. Last night trying to sleep was difficult, thinking about the championship especially when you're injured. But today I got quite a good start but couldn't get with it, every time I was jumping I was in pain and this is just supercross, not my kind of track.
Fair play to [Mike] Kras, he did what he had to do and I knew what I needed to do. It would've been nice to finish in the top three and be on the box but I had to manage the situation with my finger. A lot of people didn't know I was injured because we tried to keep it quiet. I'm just over the moon to get it done, it's been a long, difficult season. I did my knee at Matterley and that's taken a while and now my finger. Last year we were done early it this year it's gone on. I would like to be done then you can do a GP or other races.
DBR: Will you still ride at the last British championship at Lyng?
BA: We'll see how my hand is. I was planning to ride the two-stroke but we don't know yet, there's no point racing if I'm in this much pain.
DBR: It looks like they may not run the EMX300 championship next year, it may be a two-stroke championship within the EMX250 races. Would you look at racing in the EMX250?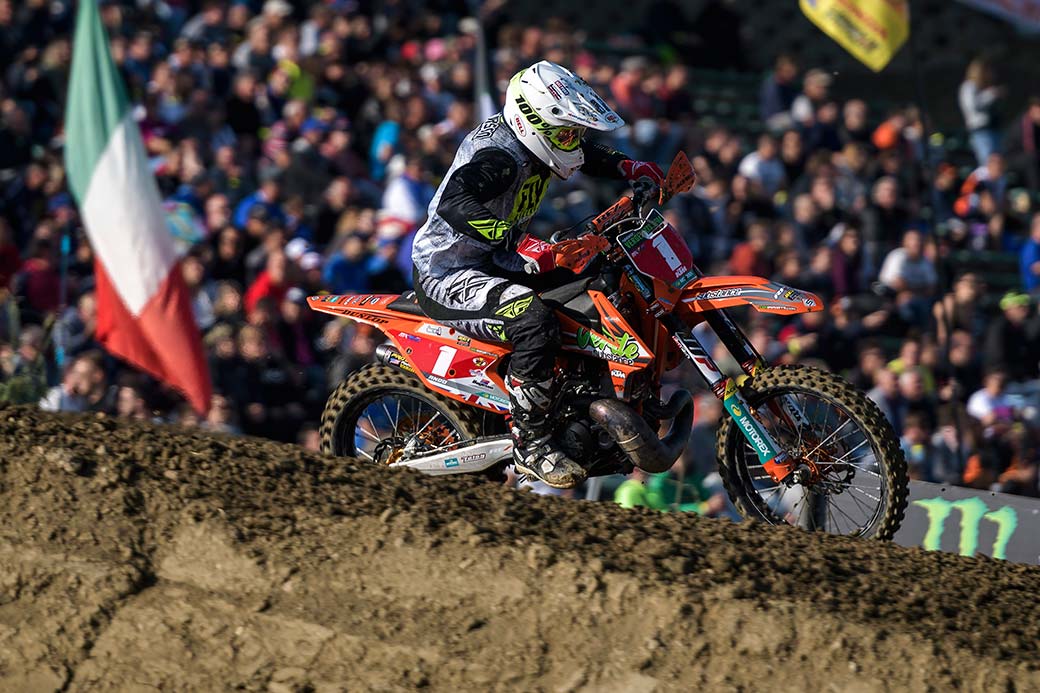 BA: We don't know yet, but we don't know what's happening in the British yet – if we can use a two-stroke in MX2. If we can I'll be doing that but no one knows yet. Hopefully, they will run the EMX300 again but if not we need to sit down and work out what we can do, the EMX250 would be more rounds and more cost, but I'd like to do one or the other.