With Liam Knight is still injured, Verde Substance KTM had just two riders competing at Blaxhall for the fourth round of the Maxxis ACU British Motocross Championship.
Dominic Lancett was racing in MX2Y and Brad Anderson was putting his two-stroke through its paces in MX1.
The Blaxhall track was dry, fast, relatively hardpack, quite tight with some good jumps and well prepped.
[inline-teaser article="shaun-simpson-blaxhall-injury" class="read-more" align="left"]
A bad accident on the first turn of MX1 Moto 1 put the racing behind by over an hour but apart from that, the day ran smoothly. Ryan Houghton took the brunt of the incident and the team wish all concerned in the crash a fast recovery.
Ando's qualifying times were never expected to be too good on his 250 two-stroke against the 450 SX-Fs but a 10th place gave him a decent gate pick, which led to pretty good starts for the rest of the day.
In Moto 1 Brad got an excellent jump out of the gate and was sitting in third when it was red flagged due to a horrific crash at the end of the start straight.
The race was restarted and once again Brad got a good start. He was on fire and definitely giving it 110 per cent, Ando-style. Every inch of his body showed that he wanted to win and he was giving it his best shot.
[inline-teaser article="blaxhall-results-maxxis-2019″ class="read-more" align="right"]
He got stuck behind Mel Pocock for a good few laps and it was only when Tommy Searle passed both riders that Brad pulled his finger out, got past and pulled away. Too late to catch Searle, Brad only managed fourth place. A damn good ride and by far the best Maxxis ride that Brad has had on his two-stroke.
After his awesome efforts in the opening moto, Brad pulled another great start in the second MX1 moto – out of the gate in sixth. Brad soon took Dixon and Dunn but in return Kullas and Krestinov passed Brad and checked out.
Brad was once again chasing hard behind Pocock but this time it was not to be and he would secure sixth place after a very solid race.
The two excellent motos secured an impressive third place for the 37-year-old and his first MX1 podium on the 250 two-stroke.
It's an excellent morale boost for his journey to Russia for the EMX250t this weekend.
"So pleased with Ando's performance today," said team manager Adrian Kirk. "Next job is to get the European red plate back in Russia."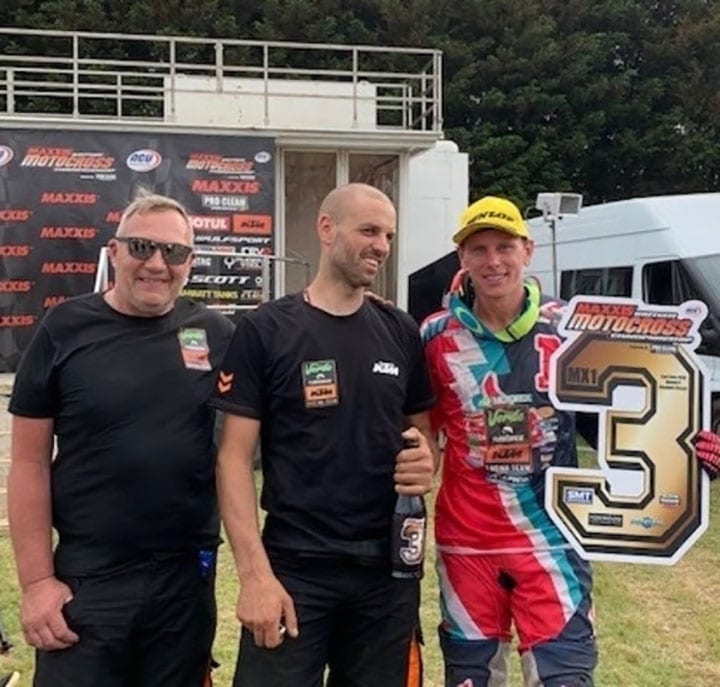 Dominic had a good qualifying time, coming third in the MX2Y on his KTM 250SX-F. Moto 1, however, just didn't go to plan. Although he got a good start, coming round in fifth, he then got caught in a cross rut while making a pass, came off and ended up back in 17th place.
With his head down, he pulled through to ninth place but his championship position was now hit hard. Moto 2 was much better. He still didn't ride as he knows he can, but a good start and a solid ride meant he came home with second place in Moto 2.
Dominic ended up with a 9-2 for fifth overall – just two points behind third meant his first race crash cost him the podium.
[more-from heading="More British MX Championship" category="british-motocross-championship"]