Just two weeks after a horrific first bend crash Rob Hooper Racing's Ryan Houghton is back home from the hospital and on the mend.
It was during Round 4 of the Maxxis ACU British Motocross Championships at Blaxhall that the incident occurred with 10 or so of the leading pack going down hard with a number of them going off track and into the trees – unfortunately for Ryan, he was in the middle of it.
After frantic treatment at the track, Houghton was airlifted to hospital where news emerged that he had broken his femur and a bone in his neck. Hundreds of get well messages were posted on the team's social media accounts wishing Ryan a speedy recovery.
Team Boss Rob Hooper went to see Ryan on Thursday and was amazed by what he saw. "Ryan has made a remarkable recovery. Having seen the crash, and how quick he has recovered from it, is a testament to his fitness and strength, and of course, he has a fantastic family and friends supporting him.
"On the day that I saw him, he went to the physio and actually took three steps without any aid at all, so we are very pleased that he is doing so well after what was a very worrying situation."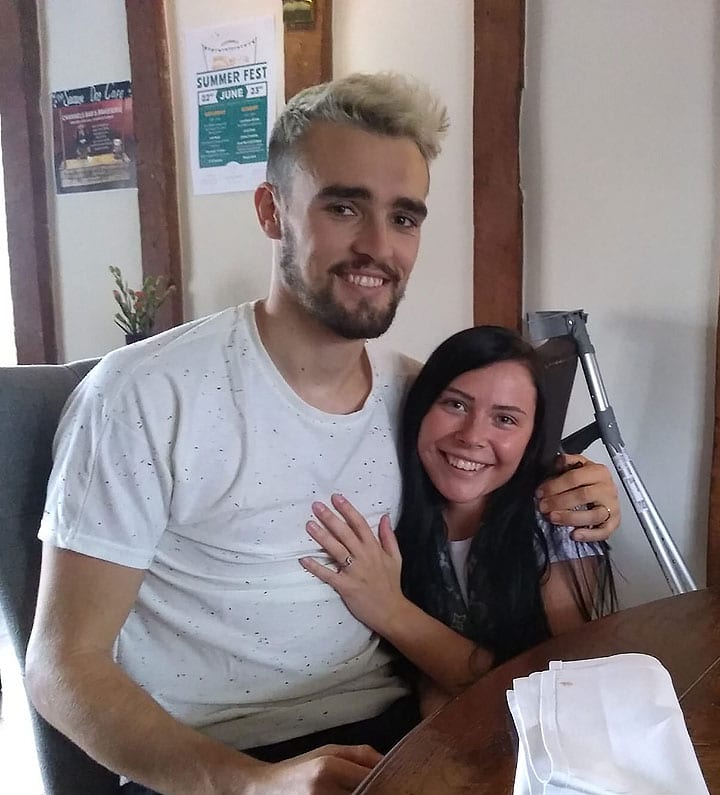 A fresh-faced Houghton has been humbled by the support of the Motocross community. "Thank you, everyone, for your messages it's been overwhelming to receive this much support.
"As you may know the operation on my femur went well, and day by day I am making progress walking with crutches.
"My broken C7 Vertebrae should heal up nicely. I am now out of hospital and enjoying resting at home and starting my journey to make a full recovery.
"Thanks again for the messages and concern you've all shown to my family and me."
While Ryan recovers off the track, the team's on track exploits continue this Sunday with Taylor Hammal competing in the third round of the Bridgestone British Masters at FatCat Motoparc. Hammal holds the joint MX2 series lead with Martin Barr, so he will be looking for a solid weekend with a clear points lead at the end of it.
[more-from heading="More Motocross" category="motocross"]