Jake Nicholls took his CRF450R to a commanding double win at round two of the Maxxis ACU British Motocross Championship supported by Pro Clean at an immaculate Canada Heights today.
The maximum points haul means he'll head to his home round of the series at Blaxhall in a fortnight's time with the red championship leader's plate on the front of his Buildbase Honda.
Third in qualification, Jake holeshot the opening 25-minute plus two lap race and was never headed as he stretched his lead out to almost half-a-minute at the flag. In moto two he hit the front on lap two and went on to win by more than 14 seconds.
"Perhaps I'm thinking a bit more that I used to," he said. "I've got a different mindset these days because I've got a different outlook on things.
"They changed something on my bike suspension wise from last week and that made a massive difference. The first race I holeshot and rode pretty good – the bike was amazing and I could go wherever I wanted.
"I just had fun to be honest and that makes so much difference. I'm really enjoying racing, trying my hardest and taking it as it comes which certainly worked for me today."
Competing in MX2 on his CRF250R, Jake's Kiwi team-mate Josiah Natzke got a great jump in his opening moto and led up the start straight into the opening turn before drifting wide. After losing a couple of places a crash dropped him down the field but he fought back from outside the top 30 to 15th at the flag.
In moto two he started inside the top 10 and maintained his race position before a late pass lifted him to seventh.
"In the opening race I got to the first corner first and I had the inside where the dirt was nice and hard but it was too tight and I over-shot it a bit," he said. "I was something like fourth when I fell over a berm and couldn't get going for ages so I was way back.
"I got a decent start in the second and just did what I could. I wasn't able to ride how I wanted to ride and was really timid. It was a bit of a rough day to be honest."
Racing for the satellite Honda Adventure Centre team, Josh Gilbert – who was second in the MX2 points at the start of the day – put in two solid rides, running 5-6 for sixth overall.
"I would have been really happy with that result last year but after the way Culham went I'm disappointed," said Josh. "I know that I've got the speed but I just struggled today with the track and the way it developed.
"But I'll take a fifth and a sixth on a bad day – I'm still third in the championship and only five points off second."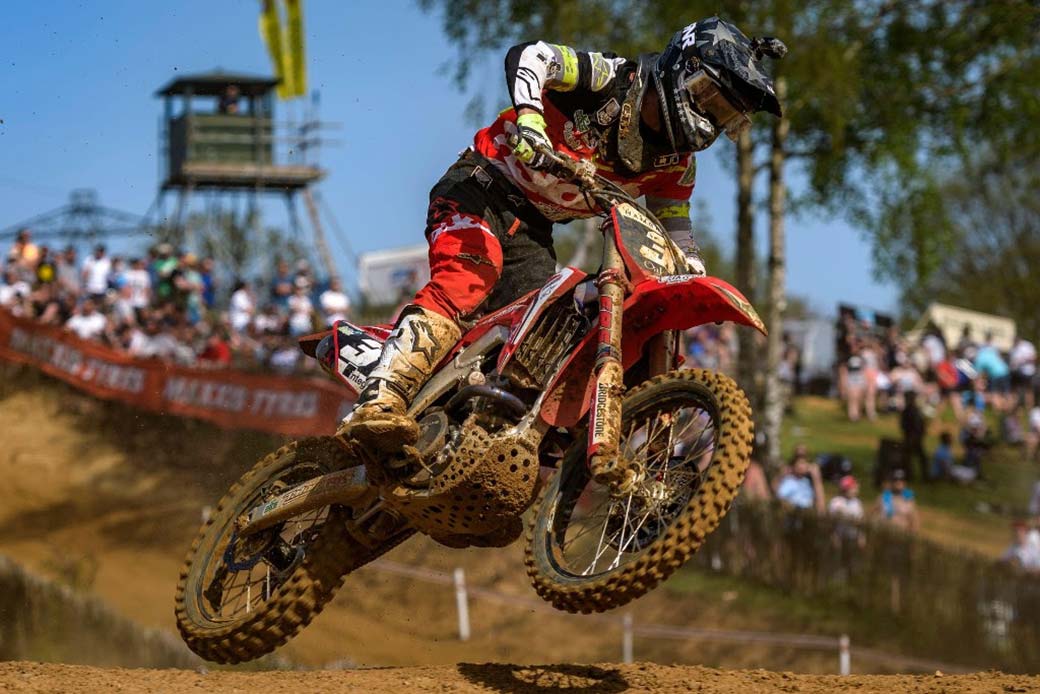 Team owner Dave Thorpe was delighted with Jake's performance.
"Jake was absolutely outstanding," he said. "He was everything that you could want from your MX1 rider. He was strong, pushed when he had to, had some amazing lines, his fitness was incredible in the heat – he was faultless – and the bike was amazing. Rob and Ryan have put so much work into it for Jake.
"It's lovely for him that he'll have the red plate at Blaxhall because it's his local race so I'm sure he'll get a lot of support."
Dave was also keen to emphasise the positives from his MX2 riders' performances.
"Josiah holeshot the first race but then fell down and showed fighting spirit to battle back. His start wasn't quite as good in the second but he put in a solid ride.
"Josh battled really, really hard in the first race but I think the heat got to him in the second. He was in a good fight for fourth and he dropped away in the last six or seven minutes but that's fine – it's all part of the learning curve for him.
"We're really pleased with our 250 engine – both riders had good starts all day – so there are loads of positives there too and I have to congratulate the Maxxis crew and the Sidcup club who put on a great event with a superb track."