Sunday saw the Phoenix Tools Apico Kawasaki team head to Blaxhall in Suffolk for the fourth round of the Maxxis ACU British Motocross Championship. Once again the sandy circuit was in fantastic condition during an extremely hot weekend.
The team arrived with just Gert Krestinov competing as Carlton Husband is still recovering after recently having an operation on his wrist after discovering he had broken his scaphoid earlier in the season. Morning qualifying saw Krestinov finish the session eighth fastest with just 0.5 of a second separating fifth to eighth.
The opening MX1 race saw a huge crash in the first corner which caused the race to be red flagged to allow for the medics to treat the injured rider. Following an hour and a bit delay the race was restarted.
After getting a less-than-desirable start, Krestinov was outside the top 20 after the opening corners. He quickly got his head down and scythed his way through the field and was soon inside the top 10 where he continued to push forward to finish sixth at the flag.
After a solid opening race Krestinov was hoping for a better start and this time he gated inside the top 10 and was in eighth after the first few corners. The better start saw Krestinov involved in the battle for the lead and work his way into top five and during the closing stages he moved passed Shaun Simpson to take third place and secure second overall on the day.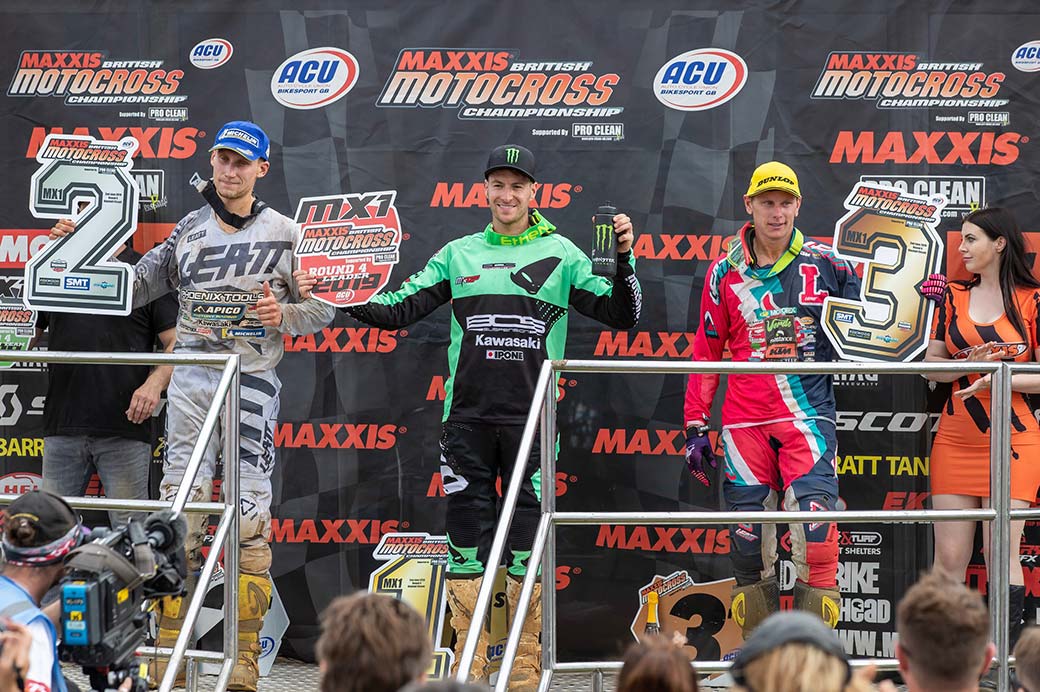 The result was the team's first Maxxis podium of the year and saw Krestinov move into third place in the championship as the series moves into the second half of the season.
Barry Moore: "This result has been coming for Gert, he has been very consistent and his speed has improved with every meeting. I was so happy for him and the team – even though it's going to cost me some bonus money. Hopefully we can have a strong second half to the season. Carlton and Ciara are not far away from returning to riding so we will be back to full strength soon."
Gert Krestinov: "I'm very happy with my second place overall at Blaxhall. In the first race I had to come from behind and finished up in sixth. In the second race I started inside the top 10 and worked my way to third, the last race was pretty tough as the warm weather cooked me up but I rode smart and it feels good to be third in the championship."
Also competing under the team awning was young Sam Atkinson in the 85cc support class, Sam had two fantastic results and finished the meeting taking the overall victory with a 1 -1.
[more-from heading="More British MX Championship" category="british-motocross-championship"]