Crendon Fastrack Honda's Tommy Searle continued the defence of his ACU British Motocross championship with an incredible clean sweep at round four of the series at the historic Canada Heights circuit in Kent on Sunday.
 
The 32-year-old set the fastest time in qualifying then won both races in dominant style on his Honda CRF450R, and set the fastest lap in both races. He's now won six of the eight motos this year, with one second and one third place finish. It's the second time this year he's taken a double win, has been on the podium at every round and he now has a 22-point lead as the half-way point in the series.
Searle was in unstoppable form despite being under the weather with a cold. After the opening moto was red-flagged due to an incident on the first lap, Searle made a fast getaway in the restart. He quickly moved into second place behind title rival Harri Kullas, a virtual replay of the last round. But this time Searle made an incredible pass to get by Kullas on the second lap and edged away. Although backmarkers slowed his last lap, he still crossed the line more than two seconds in front.
 
In the second heat Searle took command on the opening lap as Josh Gilbert, Shaun Simpson and Harri Kullas gave chase. But Searle rode wisely and spent time picking out some smooth lines as the track got rougher. He controlled the pace and took the win by almost three seconds from Gilbert and Kullas after Simpson ran off the track.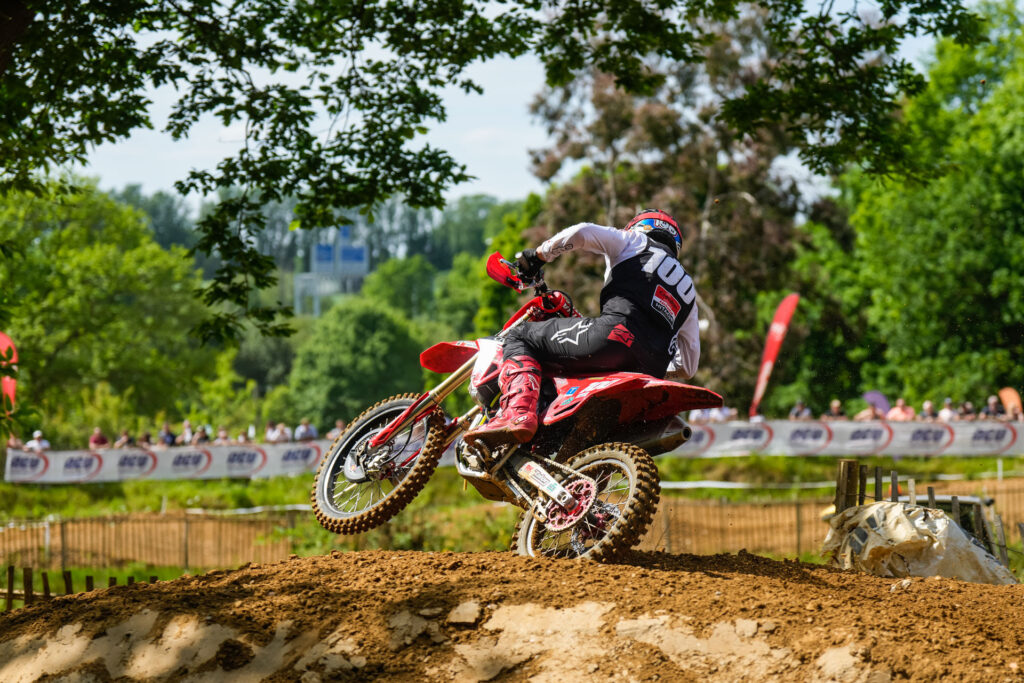 Searle said: "I managed to win qualifying and both races so had a great day. The bike felt brilliant, and I loved it. I've extended my championship lead and I would like to give a big thanks to the team.
 
"A lot of friends, family and fans come to this one as so it's local. I have actually had a cold and felt terrible all week. But I'd had a break – a holiday in Dubai – and it paid off as it was a nice break. I feel good and my riding's going well."
Team manager, triple 500 world champion Dave Thorpe, said: "Today was just an amazing day for not only Tommy but the whole team of Will, Rob and Ryan who have worked so hard this week to make sure everything perfect for this round.
 
"Tommy himself is in incredible form and rode so well with everything under control at all times. Both the rider and the bike were just perfect today and made it look almost effortless, a testament to how much of a team effort it is to win on such a testing track.
 
"It was very unusual to have just one rider under the awning this weekend with Tommy's MX1 team-mate Jake Nicholls getting hurt and retiring from pro racing, and our MX2 rider Jay Hague out through injury. Hopefully Jay will be back very soon and challenging for podium finishes."