REVO Husqvarna UK riders Martin Barr and Mel Pocock finished on the MX2 podium in second and third at round two of the Maxxis ACU British Motocross Championship supported by Pro Clean at Canada Heights on Sunday.
Martin – who's still not fully recovered from ligament damage in his right hand – qualified second on his FC 250, one place ahead of Mel. Dylan Woodcock, the team's third rider, went through in a comfortable 15th.
A poor start in the opening moto forced Martin to work hard in soaring temperatures but he fought through from seventh on lap one up to third at the flag, just behind Mel who had led for part of the race before slipping to second behind series leader Conrad Mewse.
After a much better start in race two it was Martin's turn to lead and a victory looked likely until just a few laps from home when Mewse was able to finally make a pass stick.
Mel had also gated well and at one point was second behind Martin but lost a place just after half-distance and had to settle for third.
With the team-mates tied on points for second, Martin got the decision thanks to his better finish in race two. The result lifts Mel to second in the championship while Martin moves up to fifth.
Dylan had been running a season-best ninth in the opener before a big crash with just three corners to go. He bravely started moto two but had to pull out.
Team Principal, Mark Yates, commented: "It's a great result with second and third on the podium. What a brilliant weekend. I'm pleased for Martin – he needed that confidence-building performance after having so much bad luck since Culham.
"Mel had two solid rides and was a lot closer to Conrad Mewse than he was at Culham and Martin also gave Conrad all sorts of problems in the second race.
"Dylan had an excellent first race and was holding down ninth until three corners from the end when he threw it on the floor and hurt himself which cost him a solid top 10. He tried to go out in the second moto but was forced to pull in but it was a very positive performance."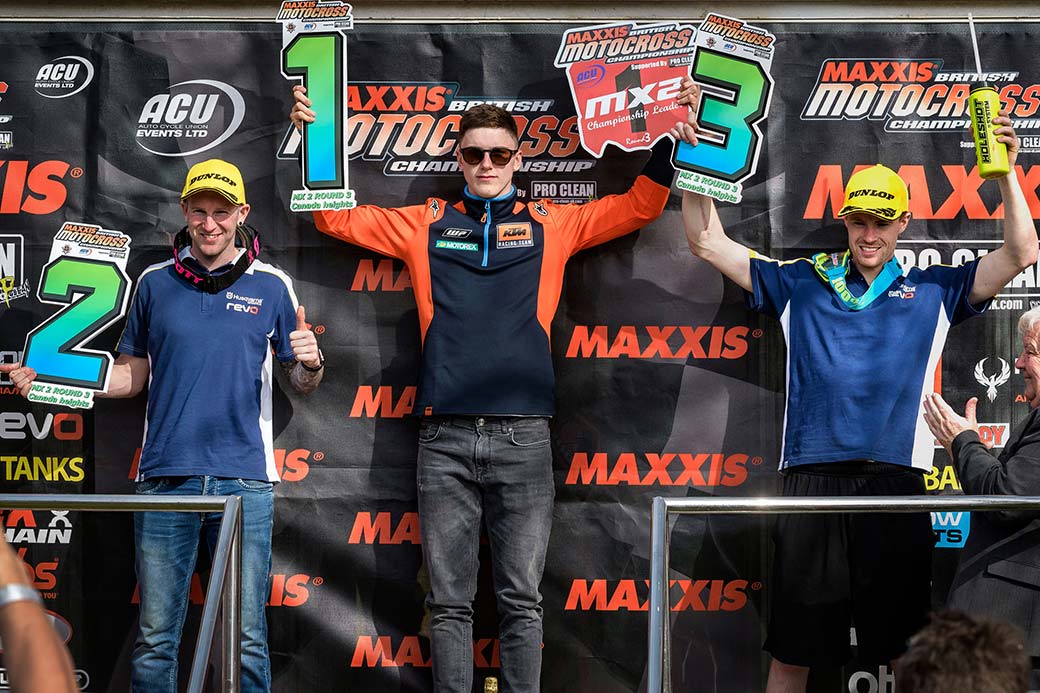 Martin Barr said: "My hand still isn't 100 per cent and I'm struggling a little but I'm just trying to forget about it and get on with the job.
"All-in-all it wasn't such a bad day – it's frustrating to come away with second overall but it's my first podium of the season so it's a step in the right direction.
"I fluffed my start in the first race which left me with a lot of work to do but I managed to get up to third and I got a better start in race two. Conrad passed me but I managed to re-pass him and pull away a bit but then I made a big mistake and lost my rhythm and was struggling to hold on in the last few laps.
"Hopefully I can keep the balling rolling now and I'm just looking forward to Russia."
Mel Pocock said: "First of all I need to say thank you to everyone who came to see me at my home race. I had two solid motos.
"The track was gnarly – in a good way – and I got a second and a third and tied on points with Martin. I'd have rather had a third and a second because that way I wouldn't have been bumped to third overall.
"The bikes are working faultlessly and that's my fifth podium this season and I've moved up to second in the championship. It was a good weekend and I had my daughter up on the podium with me which was nice."
Dyan Woodcock: "On the last lap of the first race with just a few corners to go I had a massive crash. It was a bit of a freak thing – I landed maybe five centimetres off the line I was landing on all race, went into a rut and there must have been something in there which kicked my back end out and I slammed into the floor.
"I came out for the second and got a good start but couldn't hold on so I pulled in but Blaxhall's next which is one of my favourite tracks so hopefully I can have a good run there."
What's next for REVO Husqvarna UK riders?
Martin and Mel now head to Russia for round three of the EMX250 championship on April 30/May 1 where Mel will be defending his series lead.