Tommy Searle (BOS Kawasaki) and Dylan Walsh (REVO Husqvarna UK) clinched the Maxxis ACU British Motocross Championship supported by Pro Clean MX1 and MX2 titles at the eighth and final round of the series at Landrake Moto Parc on Sunday as Joel Rizzi (RFX KTM powered by PAR Homes) collected the MX2 Youth crown.
Heading to Cornwall with a comfortable 35-point lead, Searle knew he could seal the deal in the first race and he did exactly what was required of him in the opening 25-minute plus two lap moto with a solid fourth easily enough to regain the title he last won in 2016.
"It was a good day," said Searle. "I knew what I had to do but it was made a lot harder because I injured my shoulder a couple of weekends before. I just had to do what was needed and I did that in the first race which took the pressure off.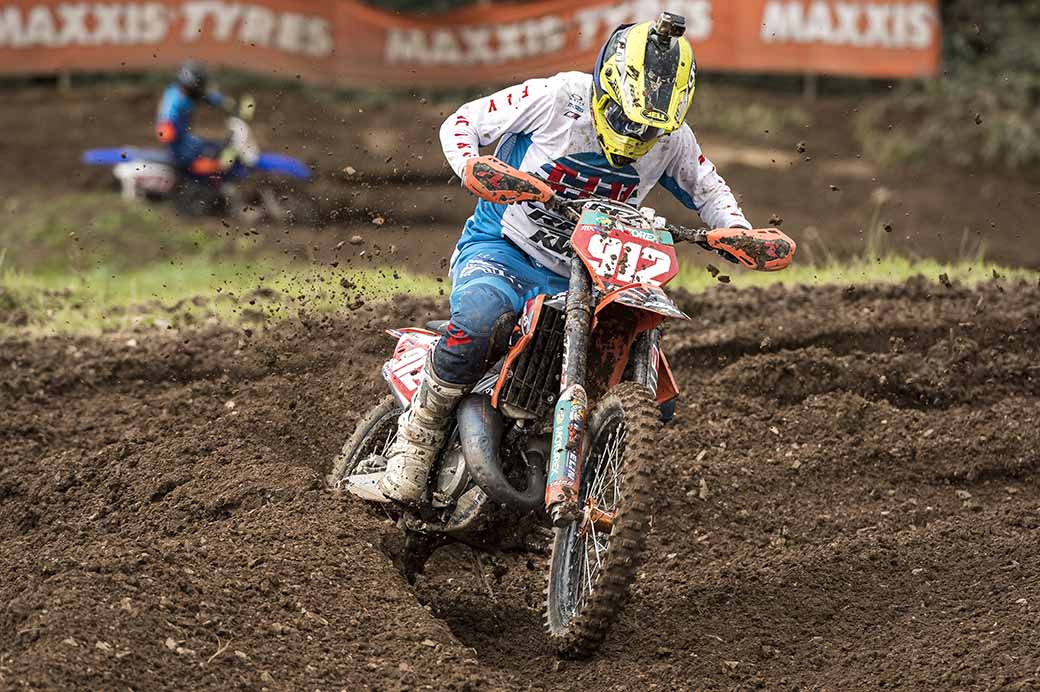 "I'm really happy and a big thanks to Evo-Tech – without those guys I wouldn't have been able to do it.
"They provided me with a bike that was faultless all year. We didn't have one problem so that was a key part of the championship and I have to mention Kawasaki as well."
Searle backed up his race-one result with seventh in race two to take the title by 22 points from Shaun Simpson (RFX KTM powered by PAR Homes).
Walsh started the day with an 18-point lead over his team-mate Alvin Ostlund and the Kiwi topped qualification before winning both MX2 motos to sign off in emphatic style.
"It's been a perfect day," he said. "Just perfect. In the first race I rode a little bit tight and nervous.
"In the second one I made a small mistake on the second lap and got passed but I got straight back into the lead and won both motos. It feels great to be British champion."
With a 28-point advantage over Ike Carter (PGVM Yamaha) in the new MX2 Youth class, Rizzi was in the driving seat from the start of the day and he clinched the title with a comfortable win in the first race.
Heavy overnight rain meant that the usually hard-pack track was wet at the start of the day but Harri Kullas (Cab Screens Deos Group Racing Honda) revelled in the conditions to top qualifying by just over two seconds from Elliott Banks-Browne (Geartec Husqvarna) and Simpson with Searle slotting into fifth behind Jake Millward (Chambers Racing Husqvarna).
Lewis Tombs (Buildbase Honda) holeshot the opening MX1 moto before being passed on the first lap by Simpson and Searle.
With the title realistically out of reach following his double DNF with mechanical problems at round five at Desertmartin, Simpson had a point to prove and he won by almost one-and-a-half seconds from Kullas with Millward taking a distant third ahead of Searle who crossed the line in fourth before receiving the obligatory champagne shower as new British champion.
Mel Pocock (ASA United KTM) was fifth ahead of Tombs who recovered from a crash that left him stuck in third gear with a bent shifter.
Brad Anderson (Verde Substance KTM), back on a 450 instead of his usual 250cc two-stroke machine, was seventh chased by Gert Krestinov (Phoenix Tools Apico Kawasaki) and Apico Husqvarna team-mates Jamie Law and Stuart Edmonds.
Kullas holeshot race two but this time it was Banks-Browne who was on a mission following his premature exit from the opening moto and he claimed his first Maxxis race win of the year by just under four seconds from the Estonian, with Simpson bringing it home in third for the overall more than half-a-minute behind following an early slip while leading.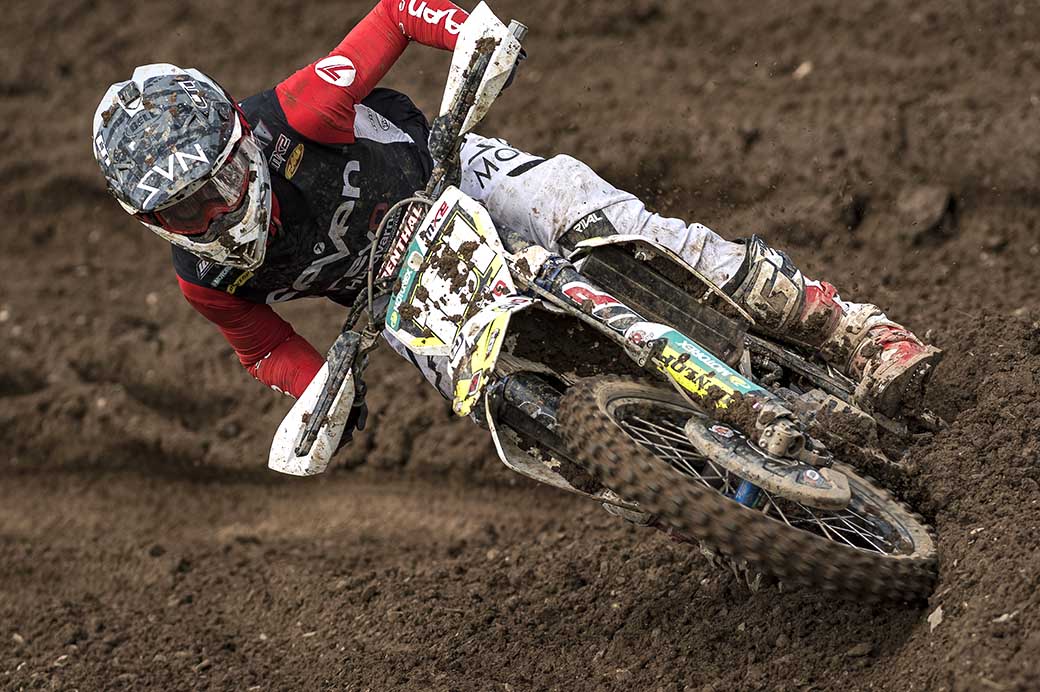 Anderson crossed the line in fourth after losing a place in the closing stages to Simpson with Tombs taking fifth ahead of Millward, Searle, Pocock, Jake Shipton (Crescent Yamaha) and Krestinov.
Landrake marked the return to action of defending MX2 champion Conrad Mewse (Hitachi KTM fuelled by Milwaukee) who had been sidelined since May with a wrist injury.
However, the day – and the championship – belonged to Walsh.
Quickest in qualifying by just under a second ahead of Alvin Ostlund, the Kiwi gelled with the track straight away and holeshot race one before leading every lap to record a narrow victory from his Swedish team-mate.
Mewse crossed the line in third with Liam Knight (Verde Substance KTM) taking a season-best finish of fourth ahead of Martin Barr (Crescent Yamaha) with home hero Josh Gilbert (Buildbase Honda) – the only rider other than Ostlund still with a mathematical chance of stealing the MX2 crown from Walsh at the start of the day – taking sixth following a crash.
Teenaged talent Tom Grimshaw (HCR Apico Factory Racing Yamaha) was next across the line followed by Ashton Dickinson (Craigs Motorcycles KTM), Estonian wild card Jorgen-Matthias Talviku (Husqvarna) and Taylor Hammal (Rob Hooper Racing Yamaha).
Mewse holeshot race two but Walsh was quickly into the lead and, after recovering from an early mistake that briefly dropped him to second, it was game over as he motored clear to sign off in style with a 13-second win from Gilbert who made amends for his disappointing finish in the opener.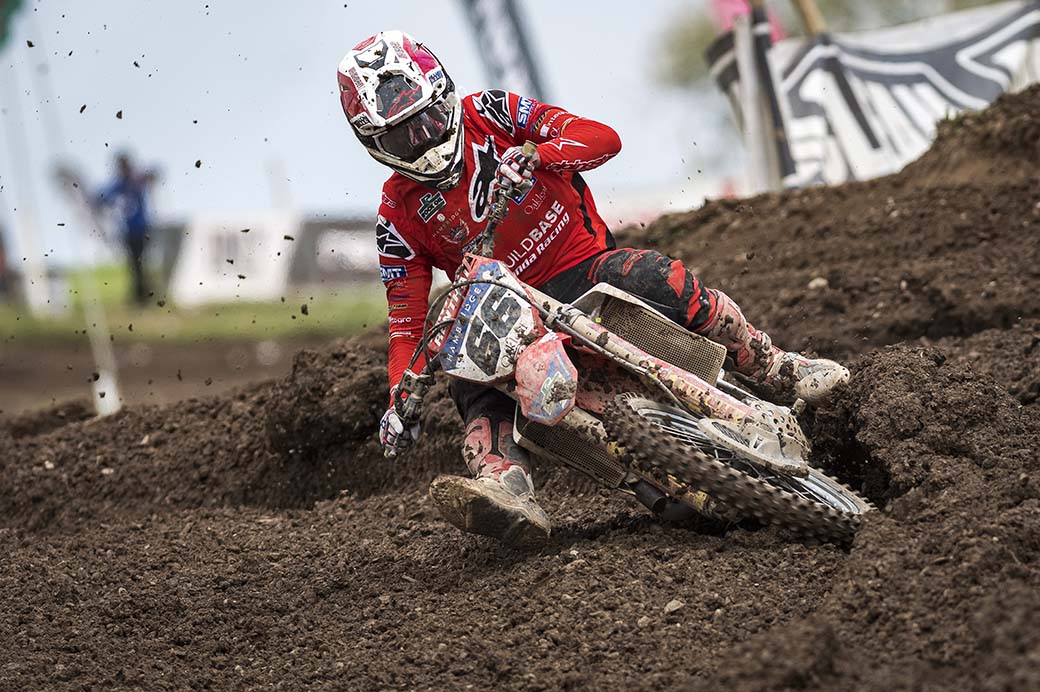 Mewse was third to make sure of second overall on the day with Talviku completing an impressive Maxxis debut in fourth from Knight with Ostlund recovering from a bad start that saw him back in 19th after the first lap for sixth.
Hammal, Robert Yates (IDS Transport Yamaha), Lewis Hall (Team Green Kawasaki) and Grimshaw rounded out the top 10.
The MX2 Youth class has been a two-man fight between Rizzi and Carter this year and it was the series leader who came out on top in qualification by almost half-a-second.
He then made sure of the title in race one with a comprehensive victory from Kyle McNicol (Manchester Motorcycles Husqvarna) and Preston Williams (Judd KTM) as Carter went out just before half-distance.
Carter struck back in race two with a one-second victory over Rizzi with McNicol a distant third.
[more-from heading="More British MX Championship" category="british-motocross-championship"]