Heading into the penultimate round of the 2019 Maxxis ACU British Motocross Championship sitting in third place, 34 points down on the MX2 series leader, Buildbase Honda's Josh Gilbert knew he needed to urgently make up ground but the cards didn't fall in his favour.
Topping qualification on his CRF250R was a great start to the day at the spectacular Foxhill circuit near Swindon and within a couple of corners of the opening 25-minute plus two lap moto he was up to third.
Just before half-distance Josh moved into second and three laps later he hit the front and at one stage looked to have the race under control until he was reeled in and then slipped back to second behind championship leader Dylan Walsh. On the final lap he made another bid for the lead at the bottom of a steep hill but there was contact, Josh lost all momentum for the following uphill section and he was demoted to third.
In moto two a crash on the opening lap left Josh dead last with a burnt arm after he got stuck under his bike but he staged a brave race-long charge that brought him all the way through to fourth at the flag and saw him only miss out on third overall on a tie-break.
"I'm disappointed," said Josh. "I felt like I was the quickest all day but little things have cost me.
"I didn't gate too well in the first race but by the second turn I'd got into third and then tried to bide my time a little bit. I managed to get into the lead but then lost it when Dylan passed me back.
"We were battling hard until the last lap when I went to the inside of him down one of the hills and got underneath him but then he kinda went off track and as he came back on he caught something, went sideways and I ended up hitting his back wheel. I lost all my momentum and Alvin [Ostlund] got me so I ended up third which was real disappointing because it should have been a moto win.
"I gated around eighth or ninth in race two, got up to about fifth or sixth and went to go underneath Ashton Dickinson. He had nowhere to go, lent on me and we both went down so I had to come from last to fourth.
"I'm looking forward to the final round at Landrake. The track's always prepped really well so as long as the weather holds up it should be a really good day. I haven't got a lot to lose now so I just want to go there and run 1-1."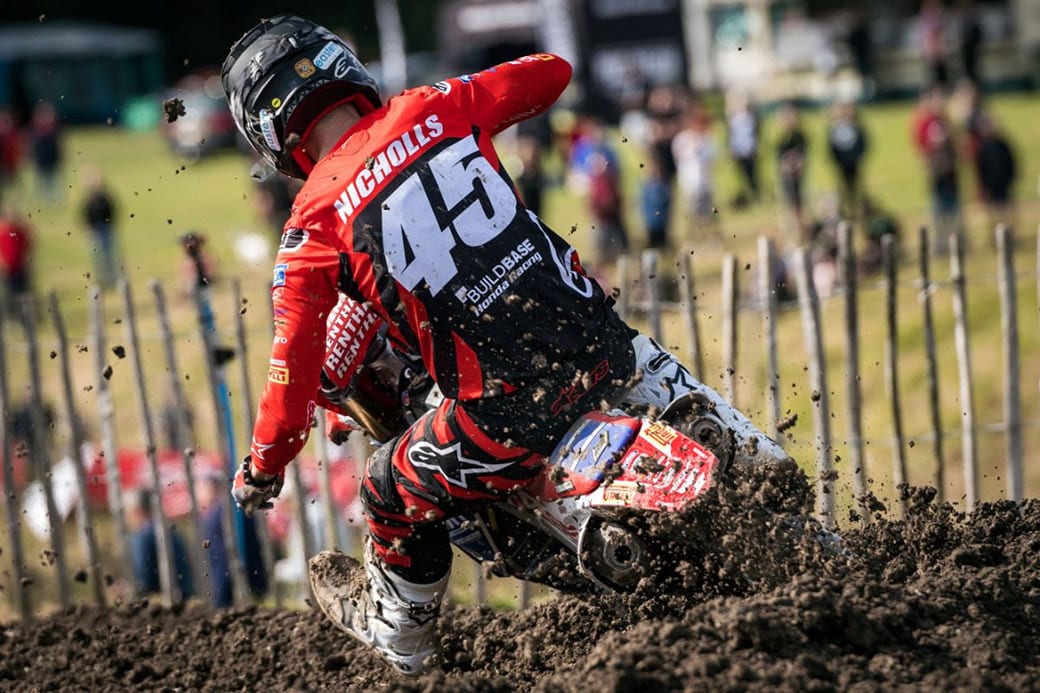 With Jake Nicholls opting not to compete in the MX1 points-paying races after he tweaked the leg he broke last season in the morning practice session, Lewis Tombs was the team's sole CRF450R rider. Qualifying in eighth, he never got a feel for the jump-filled hard-pack track and ran 7-9 for eighth overall.
Bag of sh*t today, dabbed my leg hard on the fourth lap of qualifying and by the time session was over I could barely walk back to the van," said Nicholls.
"Drove home and got an X-ray for the piece of mind which thankfully was all clear. Pleased nothing serious but annoyed as I love racing and wanted to be on the podium today and was feeling sharp!"
"It's not been a great day," said Lewis. "My riding wasn't that good and I did struggle a bit. It's hard to explain, I just wasn't really with it today but hopefully I can move on to the last round and end on a high."
Competing in the MX2 Youth class, the team's Japanese guest rider Shiaru Honda put in two solid rides to go 13-11 for 13th overall with his biggest score of the season so far.
"In the first race Josh started third and then went into second just before halfway," said team boss Dave Thorpe. "About five laps from the end he took the lead and gapped the front-runners a little bit but they reeled him back in and on the last lap Dylan Walsh passed him.
"On the final big downhill on the far side of the track Josh went for a pass on the inside and they got hooked up, he lost momentum and Alvin Ostlund got him. It was probably the best race this year for the public but, obviously, Josh was disappointed to finish third because he had the speed to win.
"Josh didn't start quite as well in the second race and on the first lap he went underneath another rider who then fell on him and he ended up stuck under his bike. So he came from completely last to fourth which was a great ride.
"Jake had a big dab in practice with the leg that he broke last year and felt a twinge from his fibula which got progressively worse so he decided to go home and get it checked. It was a shame because he was riding well but it was the right decision.
"It was a tough day in the office for Lewis and he never got to grips with the track."
[more-from heading="More British MX Championship" category="british-motocross-championship"]