Buildbase Honda's Jake Nicholls raced to the overall win at round six of the Maxxis ACU British Motocross Championship supported by Pro Clean at Hawkstone Park on Sunday and in the process stretched out his lead in the MX1 title fight to 39 points with two rounds to go.
It was a tougher day for Josh Gilbert who missed an MX2 podium finish on a tie-break. Despite this the 20-year-old, who's currently second in the championship, reduced the deficit to the series leader to just 14 points.
Heading into Hawkstone with a 12-point lead, after qualifying second Jake raced to a gate-to-flag victory in the opening 25-minute plus two lap moto on his CRF450R. He backed this up with second in a fiercely-contested race two, only securing the position on the very last lap.
"It's been a great day," said Jake. "Qualification went well and the first race was really good actually. It was hard not to make mistakes on the track and I made quite a few – I guess I felt the pressure a little bit as I had someone pushing me the whole race.
"The track is quite physical and I used a lot of energy and before the second race I felt a little bit flat so I knew it was going to be tough. For the first 10 minutes I was having a little bit of a battle against myself. Elliott [Banks-Browne] passed me but then I found a few lines that helped me flow and I came back.
"Obviously, [Evgeny] Bobryshev was behind me so the pressure was on and he passed me at the back of the circuit but I squared up the turn and got him back. It was a fight and although it was a bit of a drama at the time it was good fun.
"I'm trying not to think about the championship. I'm just focussed on the races and enjoying myself and I had one hell of a day today."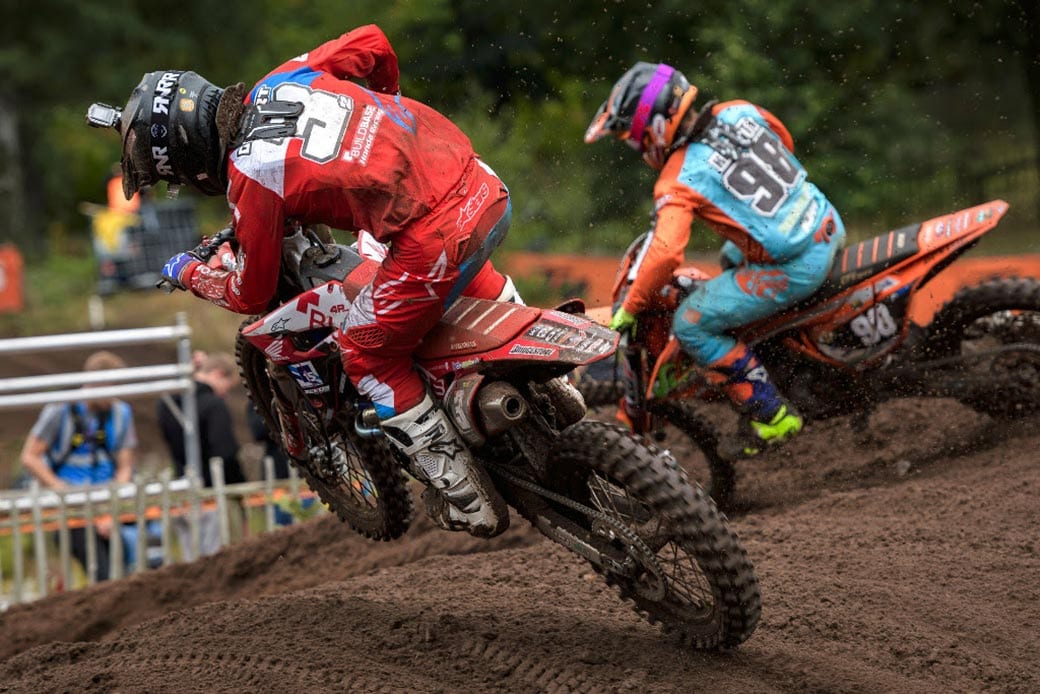 Josh Gilbert also qualified in second on his CRF250R but struggled out of the gate in both motos and after battling through to third in race one he span off the start in race two and was only 11th after the opening lap.
On the notoriously brutal deep sand circuit he again carved his way up the field but a mistake on the last lap while trying to make a pass for fourth dropped him down to sixth at the flag. However, with championship leader Conrad Mewse forced to pull out the result means Josh has slashed the gap to the top by 10 points.
"It's been frustrating because the speed was there all day," said Josh. "In the first race I went a bit deep in the first corner, hit a boggy patch and dropped to about 10th. I managed to work my way back up to third and tried to put the hammer down to get up to Mel [Pocock] in second but I think he saw me coming and just managed to hold me off.
"In race two I span off the start, went to one side, lost all my drive and I ended up getting buried. I also had a small mechanical issue so I had to think of the bike for most of the race. I was pushing for fourth on the last lap but made a silly mistake – I think I was trying a bit too hard.
"I'm still second in the points and have closed in on the leader but I could have been much closer to him if I'd had a better result."
The pair were joined at the iconic Shropshire track by Japanese guest Yohei Kojima and the 33-year-old former GP and AMA Nationals rider shook off the effects of jetlag to score in both motos.
"It's been tough for me because compared to the sand in Japan it's really rough here," said Yohei. "I just tried to focus and make no mistakes but in moto one after I got a good start I crashed three times. In the second moto it was harder because there were more ruts."
The team's MXY2 rider Callum Green was also in action. Struggling with the pain of a shoulder injury sustained last month, he gritted his teeth and ground out a gutsy 9-8-9 race card for eighth overall.
Team boss Dave Thorpe was delighted to see Jake pull clear in the championship standings with just rounds at Foxhill and Lyng to go.
"Jake rode amazing today," said Dave. "In the first race he was rock-solid and in the second he used his head after Tommy [Searle] went off fast. Jake slotted into second and when Bobryshev came up behind him it was like two heavyweights slugging it out. They put everything into the middle of that race and it was great to watch.
"It was a tougher day for Josh. I'm not a great fan of concrete starts and in the second race he went sideways out of the gate. I know he's bitterly disappointed but we live to fight another day. It was a massive opportunity with Conrad [Mewse] hurting himself but that's just how it is and he's still closed up on him in the championship.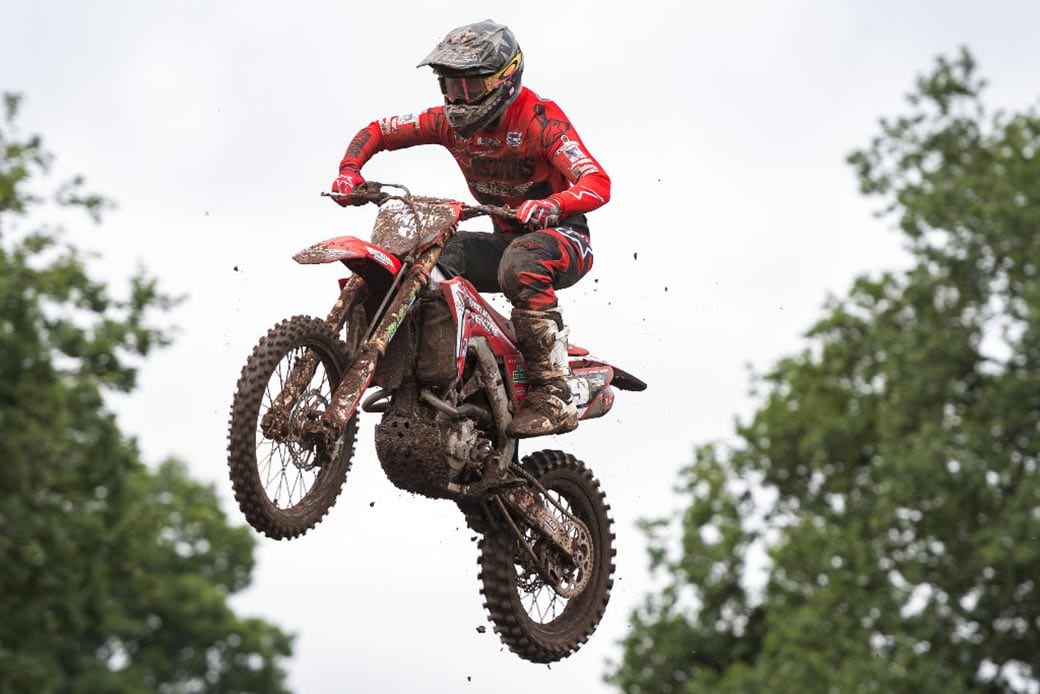 "Young Callum hurt his shoulder four weeks ago and he's suffering a great deal so we couldn't have asked any more from him. He dug in and did his best.
"Kojima San flew in on Friday – his flight was delayed, he's full of jetlag and he's come to one of the toughest tracks in the world and he's loved it. He's a lovely lad, we've enjoyed having him here and we're looking forward to having him again at Foxhill because he's going to guest for us there as well."