The full three-rider Buildbase Honda team travelled north to Duns in the Scottish Borders for the fifth outing of the 2018 Maxxis ACU British Motocross Championship supported by Pro Clean where torrential rain resulted in chaotic scenes and brought an early end to the day's action.
MX1 series leader Jake Nicholls ended the day in fourth as the 450 programme was halved to just one race but he still has a 12-point advantage in the standings on his CRF450R.
In MX2 Josh Gilbert took a career-first Maxxis moto victory in the day's opening encounter but a tough second race saw him also finish fourth overall, missing the top step of the podium by just two points. Despite this he's consolidated his second place in the title fight and has moved seven points closer to the series lead.
In the fiercely-contested MXY2 class Callum Green surrendered his series lead but remains firmly in championship contention as the horrendous conditions reduced racing to a lottery with deep mud on top of a hard surface making the track treacherous and, combined with low cloud, forced organisers to trim a moto from the three-race format.
"I had a good start but went a bit wide in the first turn," said Jake. "Passing was tough and I nearly crashed a couple of times. Because I'd been roosted so much my radiators had a lot of mud on them and the bike started to get hot so I backed off a little bit and then Brad Anderson got me.
"I picked up on some good lines following him but I couldn't push because the bike was hot so fourth place was all right in that going. It could have been a lot worse."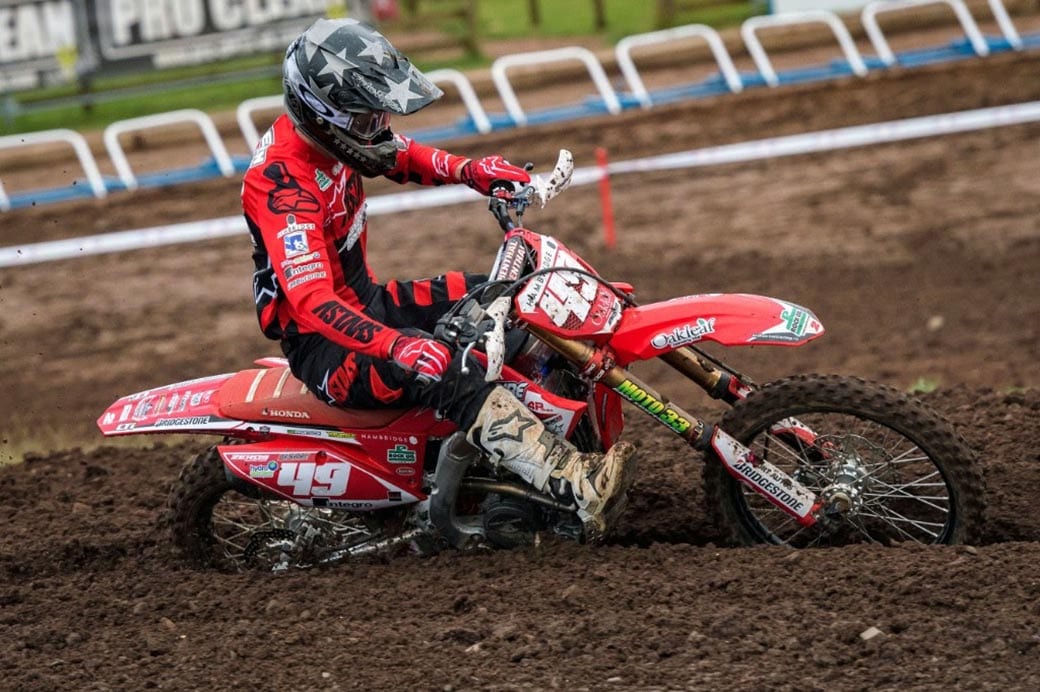 Callum won the opening round of the prestigious MXY2 series and was third in today's first race but could only manage eighth in race two in rapidly deteriorating conditions to end the day fifth overall after his final moto was cancelled.
"I feel for the organisers," said team boss Dave Thorpe. "Bryan MacKenzie and everyone else who is involved with this track have done an amazing job. We were all praying for a bit of rain but maybe we prayed too hard.
"In the first race Josh was outstanding. Just perfect. Holeshot and then gone but then the rain came in and to be honest the other races were just about survival.
"Jake nearly got the holeshot but got absorbed and then it was a tough race for him. In race two Josh had a great start but his front wheel came up on his second shift and he got swallowed up. Mud races are never easy – they can go either way – and Jake's dropped some points but it could have been a lot worse.
"Callum is still struggling with a shoulder injury. In the first race he rode really, really well and in the second race in the mud it was all about survival."