On his return to Maxxis ACU British Motocross Championship action, Buildbase Honda's Jake Nicholls narrowly missed out on a podium finish at round six of the series at Hawkstone Park on Sunday.
Racing his CRF450R, Jake – who broke his leg two weeks before the final round while dominating last year's series – qualified in fourth at the iconic Shropshire track. He then had to pick himself off the ground in the second turn of race one before coming from last to eighth and in race two signalled his return to top-flight action with a hard-fought third.
"It's been all right but it would have been better if I hadn't have binned it in the second turn of the first race," said Jake. "The track was like a motorway and normally at Hawkstone it gets a bit gnarly so I was coming through and it was hard to pick people off.
"In the second race I got a decent start but struggled a bit to pass into third. It was getting bumpy by then but was still fast so it was intense – I wasn't getting tired but I could feel that I wasn't 100 per cent fit.
"But I'm pleased to get third in the second race on a tough sand track. More than anything I felt good in the second race and the bike felt good too. It's a big step in the right direction."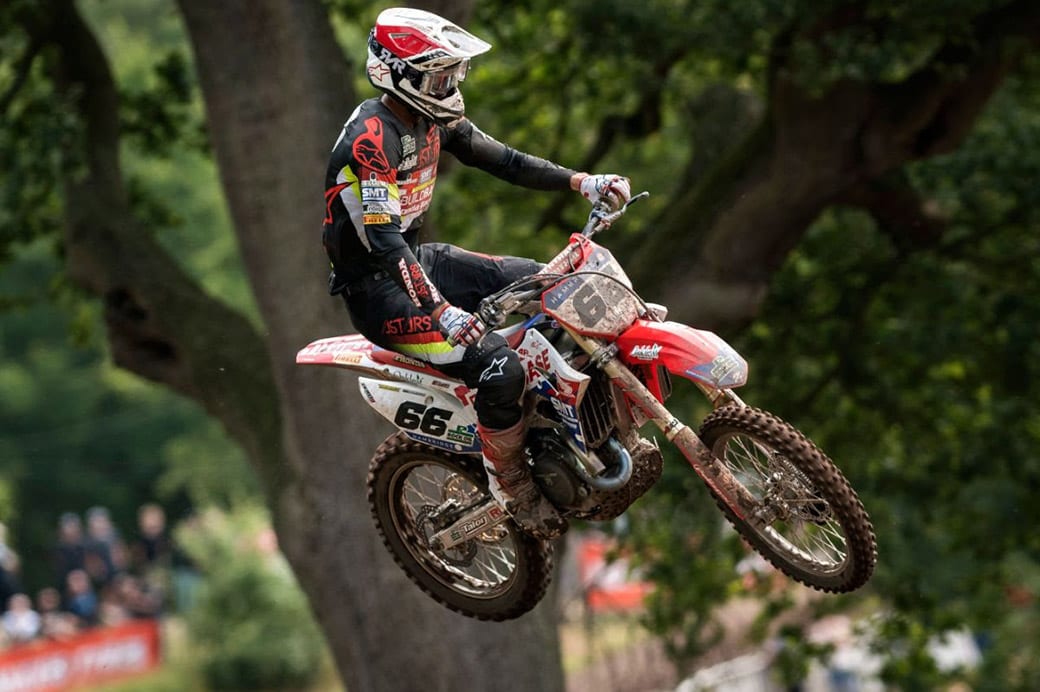 Jake's MX1 team-mate Lewis Tombs, who's still getting over a broken hand sustained in a huge first-turn pile-up at round four of the Maxxis at Blaxhall at the start of June, qualified eighth and then recovered from a big crash in race one to bring it home in 14th.
Staying out of trouble in race two, he finished ninth for 11th overall.
"The first race was half-decent – I didn't have the greatest of starts and was running about eighth and then had a big cart-wheel down the hill," he said. "I've bruised my back and felt a bit beaten-up for the second one so just did what I could and ninth was okay."
The team's MX2 rider Josh Gilbert started the day in third in the championship and came away in third after qualifying in second and then running 3-3 for third overall on his CRF250R.
"I went 3-3 which I'm not too disappointed with because they were two solid rides but the two guys who were in front of me are the two that I need to beat," said Josh. "If I'm honest I was kind of the third-placed guy all day really – they had that little edge on me and in the second race pushed each other along. I was riding around on my own. I've lost a few points but it wasn't an horrendous day."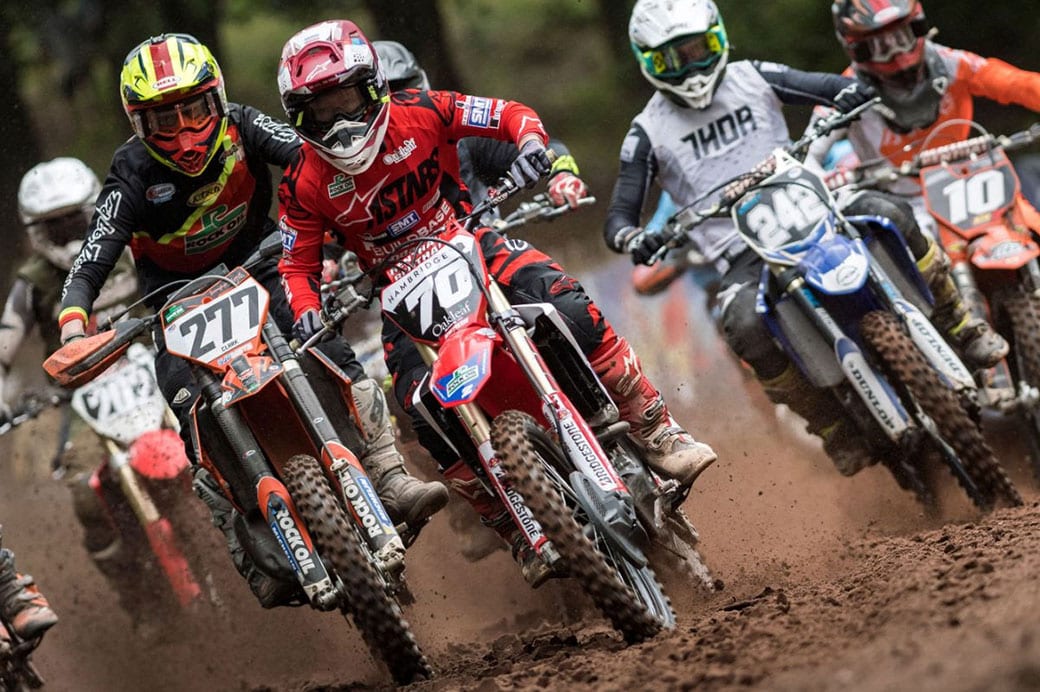 The team's MX2 Youth guest rider Shiaru Honda from Japan qualified in 20th but crashed out of the opening race at the start and withdrew.
Team boss Dave Thorpe was, as always, supportive of his riders.
"Jake had an okay start in race one but he lost the front end in turn two and went down and restarted dead last and came all the way back to eighth which was a good race for him.
"In race two he started sixth and worked his way through to third which was a good, solid ride. He's a tough man, there's no doubt about that.
"It was strange today. The track didn't promote a lot of passing. It was unusually flat and didn't get rough like it normally does so there were fewer opportunities to pass so he did really well in both races to come forward. It didn't really play into our hands by staying relatively flat and fast.
"Lewis was running a good eighth in race one but caught a bump on the big downhill four laps from the end and went over the bars big time and lost his goggles and his peak and did well to finish. He did well to start race two because he was suffering.
"In the first race Josh got himself into second behind Dylan Walsh and then made a small mistake and lost the front end and went down. That dropped him back to sixth and he came through to third and in the second race he started third and finished third. To be fair on the day he didn't quite have the pace of the top two but he never gave in and kept battling away."
[more-from heading="More British MX Championship" category="british-motocross-championship"]