The Hitachi KTM Fuelled By Milwaukee team returned to the UK this weekend for the opening round of the Maxxis ACU British Motocross Championship.
Kicking off his title defence with a perfect start, Conrad Mewse secured a second gate pick in the morning's qualifying session, just 0.035 seconds behind the session leader.
Keen to impress a new domestic fan base, Bas Vaessan set about the day in style qualifying one position and 0.778 seconds behind his team-mate.
Both riders made the most of their gate choices and launched off the steel grates into the wet sand of Fat Cat flawlessly, Bas initially having the advantage.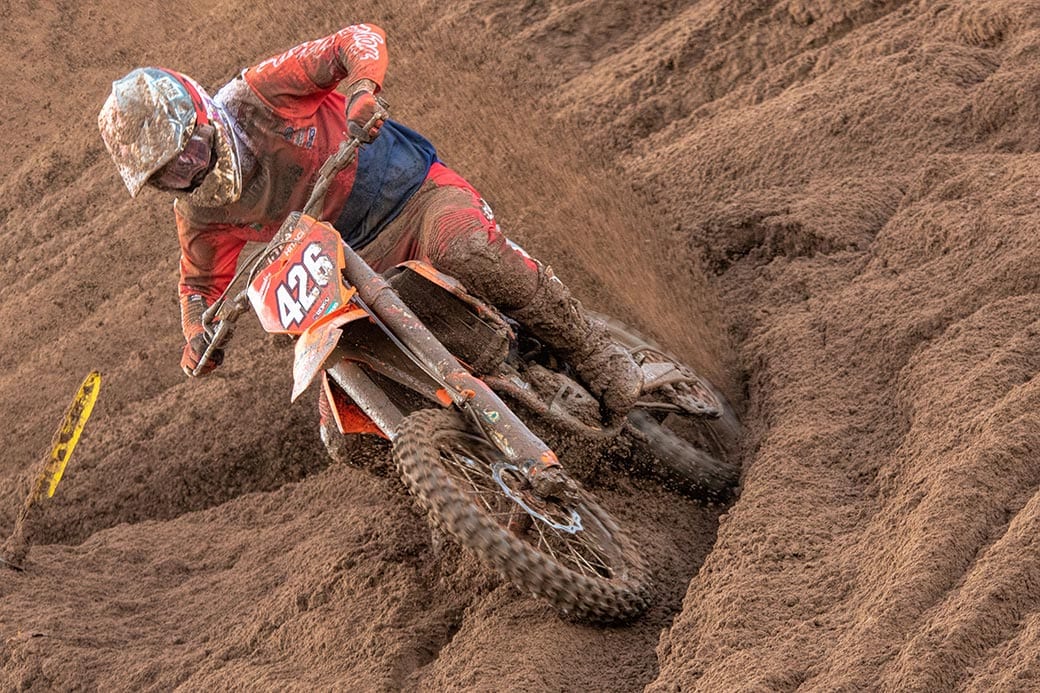 With the opening laps completed Conrad settled into a rhythm, reeling in his Dutch team-mate lap by lap before putting in a pass mid-race on Bas who took a small tumble. Quick to his feet and with #426 as a hare the newcomer kept the crowds excited, putting in a series of perfect laps and almost catching race winner Mewse in the last couple of turns.
The track heavily rutted and bumpy from a full card of races, including two MX1 motos, proved to be a vigorous test of both rider skill and physical fitness for the entire field.
However, the world-class talent of both riders continued to shine through the extreme changes of weather in the second moto.
On board the #98 KTM 250 SX-F, Vaessen took charge of proceedings early on, securing first position and leading Mewse for the 25-minute plus two laps race. The Shepton Mallet rider Mewse put pressure on the leader right up until the chequered flag, finishing just 1.5 seconds behind, and in doing so the pair pulled a huge gap of 40 seconds over third-place finisher Alvin Ostlund.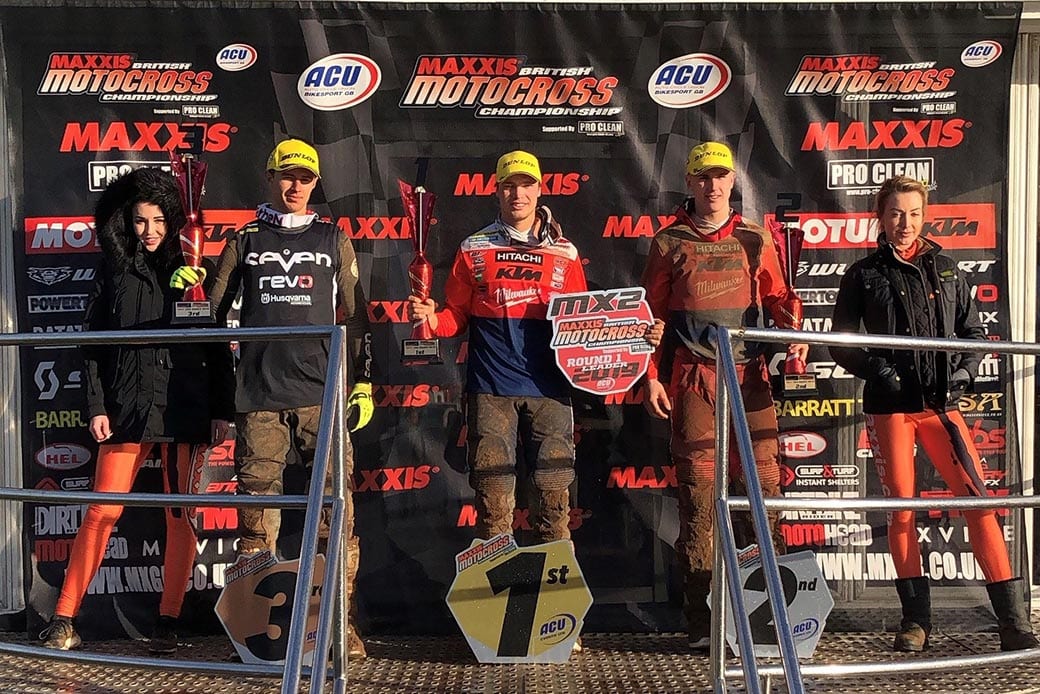 Conrad Mewse: "It's fantastic being back on the podium, not exactly the position I wanted but for this weekend it'll have to do. It was nice to ride a proper Motocross track, real rutted and bumpy so it turned out to be really good day. I'm not completely happy with my riding, we've got a lot of work to do, but it's only the start of the season and it's a long one. We'll take our time and build on this round one by one."
Bas Vaessen: "I had to do my best, this is my first Maxxis British championship race and my first-time riding at FatCat Motoparc. I had a pretty decent qualifying [3rd place] which I translated to a good start in the first moto. I was leading but had a little crash when Conrad passed me, I managed to pull him back by the end but finished second.
"For the second moto I knew I was quick, so I was going for the win. I made a really good start and went into the lead, built up a comfortable gap then for the last two laps I was just cruising, track conditions had deteriorated so I played it safe for the win."
[more-from heading="More British Motocross" category="british-motocross-championship"]