GL12 Racing KTM underlined its reputation as one of the world's leading two-stroke teams at Canada Heights on Sunday when James Dunn and Mike Kras ran 1-2 at the second round of the ACU British 2S Championship.
Their performances were all the more impressive considering the team's race bikes were en-route to Russia for the forthcoming rounds of the EMX250 and EMX300 championships and both were racing stock bikes with standard suspension.
Mike, series leader after his double win at round one at Culham at the start of April, topped qualification by almost two seconds and raced to victory in the opening moto ahead of James. In race two it was James' turn to shine and he won by over 13 seconds as Mike, after narrowly averting a big crash, backed it off to finish fourth.
The team also fielded its 14-year-old youth rider Ike Carter on a 125cc machine and he rode out of his skin against older riders on bigger-bore bikes to score points with 18th in the second race.
"James had a good day at Canada Heights and rode well to finish on the top step which was nice for everyone," said Team Principal, Bob Buchanan.
"Mike was fast when he needed to be and smart when intelligence was called for to extend his championship lead.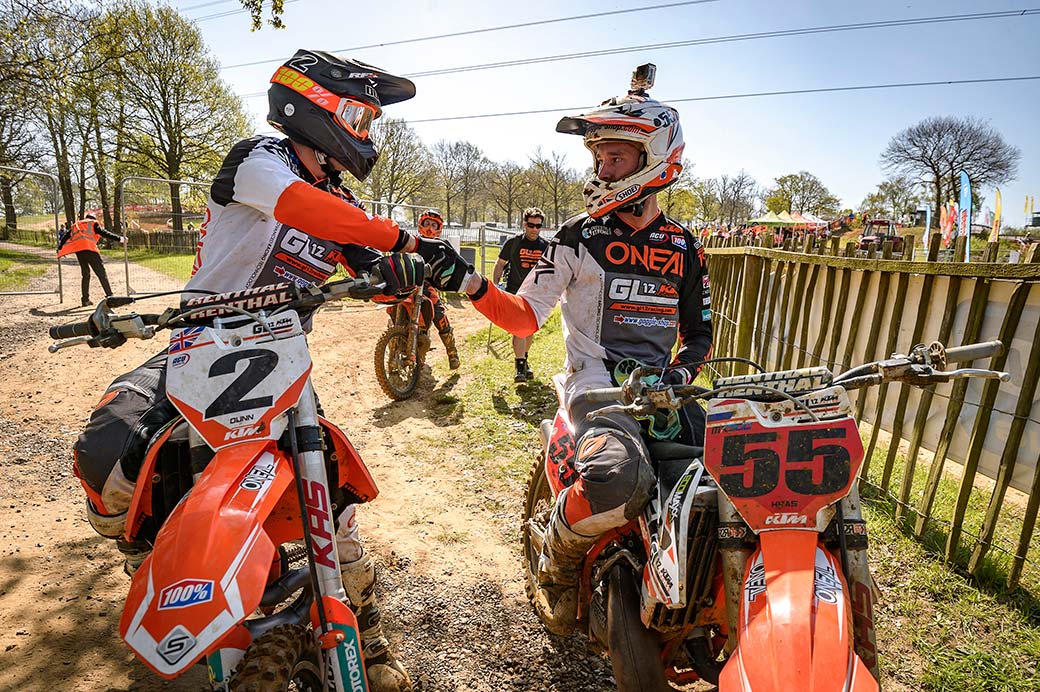 "I'm really impressed with Ike's attitude and commitment. After third overall at the BYN he indulged me by riding his 125 against the men and he threw everything at it, tried every line on the track and even made some of his own and was rewarded with a top-20 finish. I hope he's pumped with himself because he should be!"
James Dunn said: "It was a really good second race. The track was quite difficult – there were some real deep ruts and hard take-offs and some choppy bumps as well. It was difficult to get a nice rhythm going but we made some changes to the suspension between the first and second race which worked really well."
Mike Kras said: "My day was decent. The first race I went from sixth to first on the first lap and James was not too far away so I kept the pace and got the win.
"In race two I was not comfortable with my stock suspension and got a big kicker that almost sent me over the bars. With Russia on my mind I dropped the pace and finished fourth for second overall – not too bad but I'm looking forward to seeing my race bike again!"