Buildbase Honda's new signing Lewis Tombs put his CRF450R on the box in MX1 with a sensational performance at Sunday's opening round of the 2019 Maxxis ACU British Motocross Championship supported by Pro Clean at FatCat Motoparc near Doncaster.
Battling high winds, torrential rain and the country's best motocross racers at one of the UK's most notoriously tough tracks, Lewis – in just his second outing for the team – qualified in 10th and then ran 5-4 in the points-paying races to take a career-first British championship podium finish with third.
"I can't believe it," he said. "It doesn't seem real – my first ever Maxxis podium, I'm over the moon! Qualifying went okay. I crashed on my first fast lap but I did another one that was good enough for 10th which I was quite happy with.
"I almost holeshot the first moto and then found my feet and settled in. I was third for the first four laps before Tommy [Searle] and Mel [Pocock] passed me because I was riding tight because I haven't been in that position for a while.
"In the second race I was running fourth for most of it. It was a long moto and the track was brutal but I was happy to put two solid performances together. I'm really enjoying my racing at the moment."
Following his crash last weekend, Lewis' team-mate Josh Gilbert was forced to race through the pain barrier on his CRF250R but – despite carrying a knee injury – he scored good points in both MX2 motos with a typically gutsy display.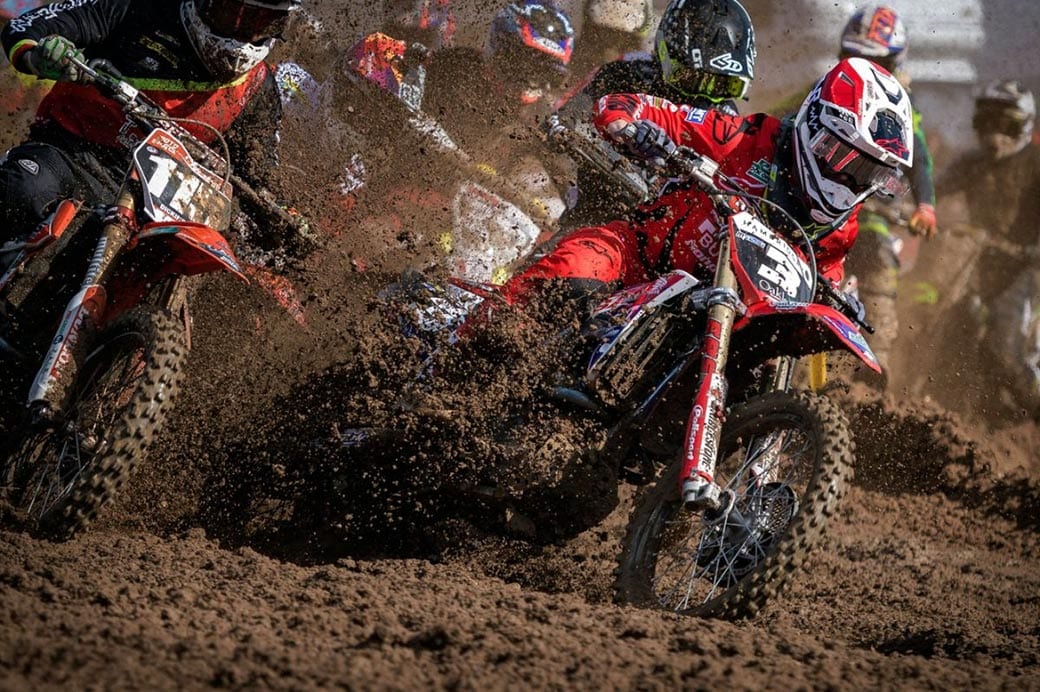 Going to the gate in seventh after qualification, the tough Cornishman matched this result in race one and then dug deep second time out for a hard-fought fifth that earned him sixth overall.
"Today was an exercise in damage limitation after I tweaked my knee last weekend and wasn't able to ride in the week," he said. "I'm not trying to make excuses but it didn't help me and I felt quite stiff on the bike but I had two mega starts – I holeshot the second race and should have holeshot the first one as well but tucked the front in the opening turn.
"The bike is working amazing and in the first race I felt quite comfortable in third but made a small mistake which turned into a big mistake and I went down quite hard. I got back up in fifth but then made another mistake going for a pass and crashed again and lost my rhythm.
"In race two I got a little bit tired if I'm honest and struggled and lost fourth in the second-to-last turn which I'm annoyed about but the track was tricky – it's not too bad but I would have liked a little bit more."
Team boss Dave Thorpe was impressed with the way both his riders performed.
"Lewis did so well," he said. "FatCat is not the easiest place to go to and given the weather we had and the wind and the pressure that comes with racing for the Buildbase team he rode absolutely amazingly. He made a small mistake in the first race and crashed but I was really, really pleased with his third overall and first-ever Maxxis podium.
"To be fair to Josh he did hurt his knee last week so he's not been able to ride or train. Okay, so a 7-5 isn't what he was hoping for or what we were hoping for but this is just the beginning and we're still in it. The level has stepped up this year, especially at a venue like this because there are some great sand riders so we always knew that FatCat was going to be a challenge.
"I'd like to say a big thank you to the whole team – they've worked their socks off to get everything ready and I'm really pleased for them all."
[more-from heading="More British Motocross" category="british-motocross-championship"]