The Maxxis ACU British Motocross Championship headed up to Duns last weekend for the first time in nearly a decade. Last time the series visited Duns, in 2009, Brad Anderson won the British championship title with a 68 point clear lead.
The Verde KTM team had all three riders at the gates – Anderson on the four-stroke KTM in MX1, Todd Kellett in MX2 and Dominic Lancett in MXY2.
The weather had changed, the sun had gone and although it had rained in the night, the perfectly prepared track started off dry, hard and fast.
Lancett was out first in Qualifying – the track was prepped well, although very one liney, but it was Lancett's type of track, hard and fast. Comfortable and relaxed, he enjoyed the session. His initial timed lap turned out to be his best and was enough for first place until the final lap when Rossi Beard put in a flyer to push Lancett down to second gate pick.
In the very competitive MX2 group Kellett struggled with arm pump and although his first lap was his quickest he couldn't get on the pace in this quali session, ending in 15th position.
Anderson put in a good run on lap four and moved up to eighth gate pick.
Lancett got a great start in the first MXY2 race of the day, holding third spot but pushing for second. While edging closer to Callum Green, Lancett crossed rutted on landing after a jump, slipping off the track. By the time he got up, he had lost four places. The gap was now too great to close the leaders but was able to get one place back for sixth.
Kellett got a solid start coming round in about 10th for the opening MX2 race. By this time the track had started to get muddy and rutted, just to Kellett's 'taste'. He was struggling to pass Lewis Tombs and when Kellett tried to make something happen he ended up off the track. He got back on the gas but had lost two places, finishing 12th at the chequers.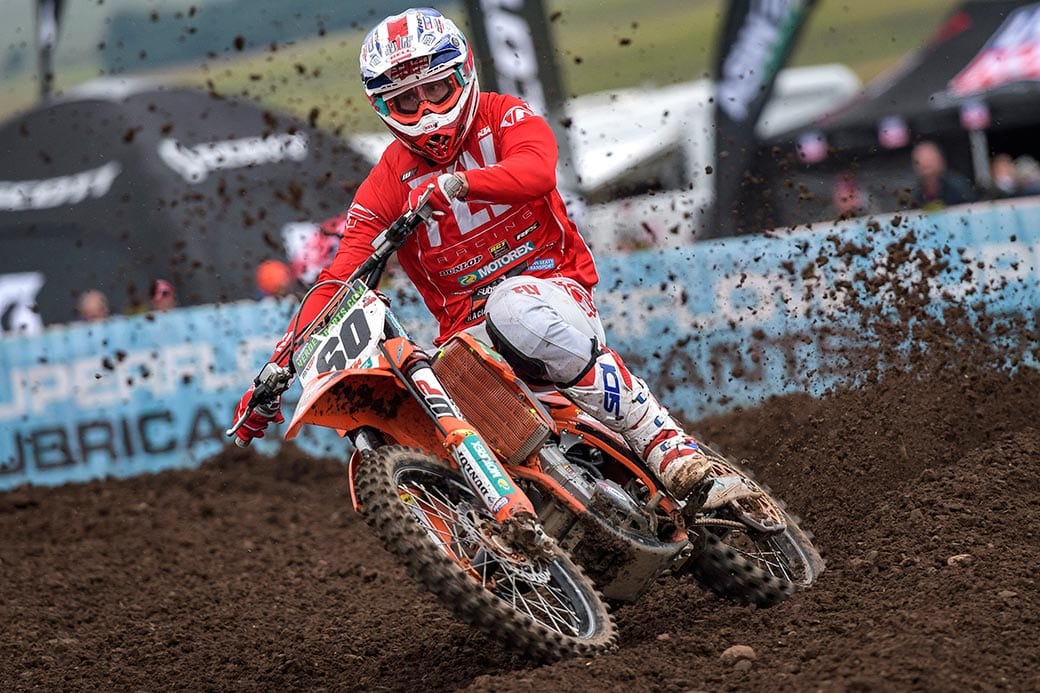 Ando flew out of the traps, in the first and what would be the only MX1 moto of the day, to get himself in sixth place and had improved on that by lap two, moving up to fifth as he charged through the now gnarly track. The conditions didn't hold Ando back, catching series leader Jake Nicholls to move into third place.
He continued to chase with Ivo Monticelli his next target. Backmarkers slowed Ando's progress and was left frustrated when he felt blue flags didn't materialise when they should. Although he thought he had the pace to catch an apparent tiring Evgeny Bobryshev, who was holding the race lead, Ando was unable to make a pass on Monticelli and was left peeved as he took third.
Duns Race Two
Lancett started well in his second moto of the day, taking third and pushing for second. He quickly moved into second and continued to put the hammer down but as he took the lead he slipped off in the mud.
It was now very wet, with the rain lashing down the track had turned to thick mud. Lancett was in sixth when he remounted but got his head down and pushed back up to third place. By this point the track was winning and it wasn't long before Lancett was off again. This time he got his gloves caught on his grips and ended up way back in 12th position and that's what he had to settle for. Lancett finished ninth overall.
By the second moto in MX2 the track was a mudbath – very sloppy with little vision for the riders. It was lottery time.
Kellett got out of the gate well and was soon sat in seventh position but with no goggles. Other than struggling with vision, Kellett didn't mind the conditions and was able to hold down seventh for ninth overall.
Ando felt confident that he had a chance for the MX1 overall as he prepped his gate for the second moto but race control called it off, fearing for the safety of the riders. He would have to settle for third overall and sits eighth in the standings despite missing the Desertmartin round due to injury.
Team Manager, Adrian Kirk: "It was a good weekend's racing. All three riders pulled a few points back in the championship. Brad got the podium and I am sure he could have taken the overall if there had been a second moto.
"He was really on form and not fazed by the conditions. Dominic was so smooth in qualifying, he just needs to settle into the racing and the results will certainly come.
"Todd still has a long way to go to get back to where he was last year. Sheer hard work and determination is the only thing that will get him there."
What the Verde KTM riders had to say
Dominic Lancett: "Pleased to be moving up the championship table. After all it is my first year in this class on this 125 bike. I will be happy if I finish top five in the championship but would actually really like to be in the top three."
Todd Kellett: "Tough day in the bogging mud. Finished up ninth overall and moved to eighth in the championship.
Brad Anderson: "Duns Motocross track was in good condition considering the rain. Fair play to Bry Mac and the boys for doing a good job. Shame it was only one race today but it was nice to get third overall and have that #60 back on the box."