The Maxxis ACU British Motocross Championship visited Desertmartin in Northern Ireland for round five of the championship with rain the day before making for perfect conditions at the sandy former GP track.
Desertmartin is the home race for Hitachi KTM Fuelled by Milwaukee and to make the event extra special Jeffrey Herlings was their guest of honour. The reigning MXGP world champion unfortunately broke his ankle at the MXGP of Latvia but arrived on crutches to meet his fans for autographs and pictures.
Herlings: "I made a personal deal with Milwaukee for this season and 2020. I had a free weekend with no MXGP or Dutch championship so they invited me to this event, we had already decided that I was going to come here before my injury. I broke my ankle in Latvia, still managed to win the first race with it broken then got surgery so now we're in the healing process and hopefully get back to racing as soon as possible.
"Today is just to meet the fans, sign some autographs and have some pictures. I need to get healthy, then get fit and then hopefully win some races again."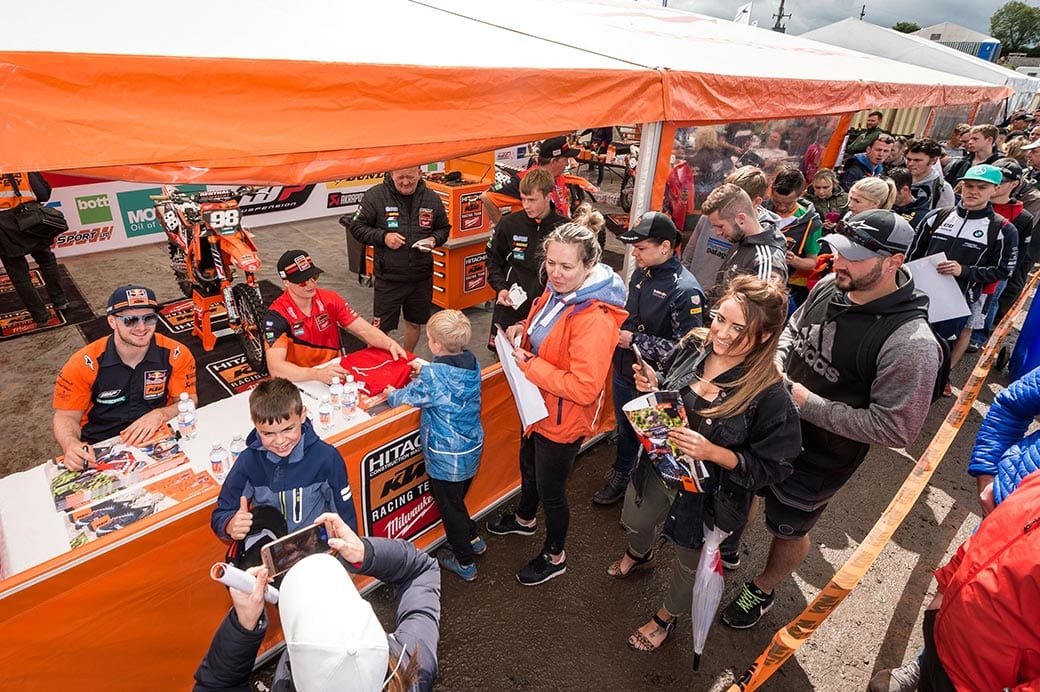 Team riders Conrad Mewse and Alexander Brown are both recovering from injury so it was left to Bas Vaessen to fly the team flag.
The stylish Dutchman didn't disappoint, taking pole position in qualification, over half a second faster than his championship rivals.
In race one Vaessen picked the fifth gate from the inside and when the gate dropped used the KTM power to sweep around the first turn in the lead. From there he never looked back, opening a comfortable advantage to take the win 23 seconds in front.
As the riders emerged from the first turn at the start of race two, Vaessen was placed fifth and within a lap he was in second place – challenging race leader Dylan Walsh.
With Walsh sticking to the main racing line Bas tried a variety of alternative lines to make the pass and was never more than a second and a half away, then on lap nine, a lapper moved into his path and the near miss gifted Walsh some breathing room.
As the two-lap board came out Vaessen was back on the rear wheel of Walsh but was unable to find a way past, crossing the finish line 0.9 seconds adrift.
Despite taking the overall victory, moving up to third in the championship and reducing the points deficit by six, Bas felt frustrated. "I think we had a solid day, qualifying was amazing. First moto, I pulled the holeshot and rode away, that was easy. The second moto, I made it hard for myself. I dumped the clutch too fast and dug the tyre in. I had to come from about fifth but made some quick passes on the first lap. I was faster than Walsh and should've been more aggressive to force a pass, I need to work on that. We got the overall but it should've been with two moto wins."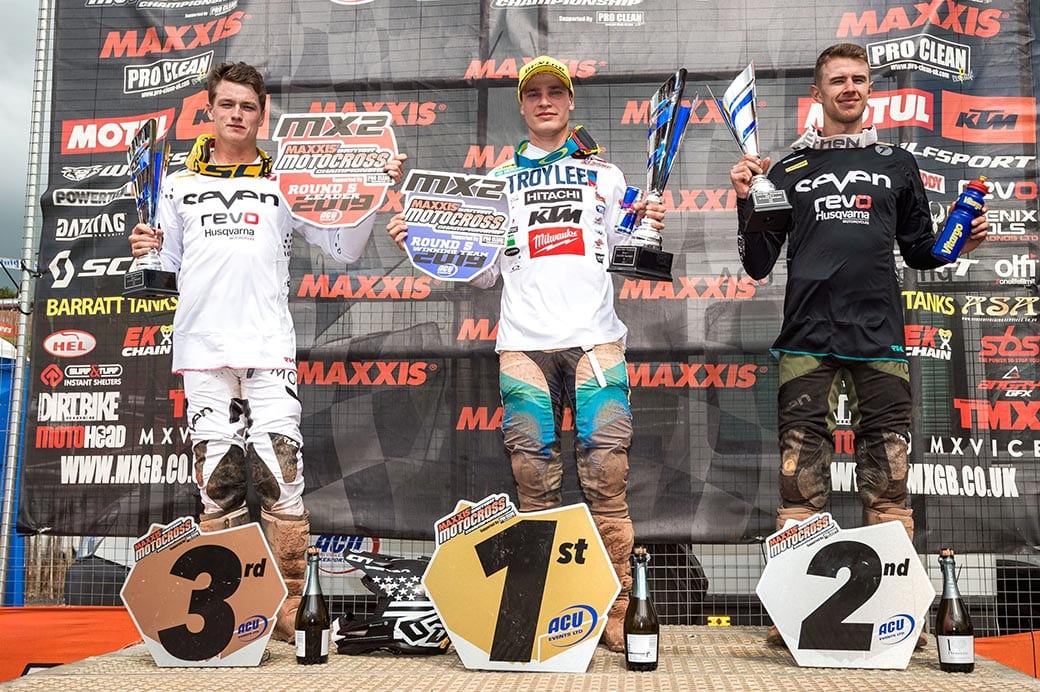 Team principal Roger Magee: "I knew when I saw the track on Easter Monday that it would suit Conrad and Bas. Unfortunately Conrad got injured at Canada Heights but Bas certainly did well for the team, first overall but just couldn't make the pass in the second race. He's on a roll in the GPs and took his second win in the British championships today, he's away on Wednesday to Indonesia then it's back for Hawkstone so it's a very busy schedule.
"There are still three rounds left in the British championship and anything can happen.
"Jeffrey did a great job today for the team, for Milwaukee and for KTM. The queues were unbelievable and the looks on the children's faces getting autographs really did it for me. "Jeffrey was as professional as always and enjoyed it.
"We had a large number of guests this weekend from Hitachi agent TBF Thompson Group and Milwaukee and I know that they all had a really good experience with the team and the hospitality today. We had some special stickers made for both Vaessen and Herlings for this event as giveaways for the kids courtesy of Andy McAlpin of Alpinesigns."
Bas now holds third place in the Maxxis ACU British championship which heads to Hawkstone Park in Shropshire on the July 21.
[more-from heading="More Motocross" category="motocross"]