Despite hot temperatures and high humidity, the AMA Pro Motocross Championship's Budds Creek National saw Team Honda HRC's Ken Roczen put together a solid performance, securing his second moto victory of the season on his way to finishing second overall.
The day started slowly for Ken Roczen, as he struggled in the day's first qualifying practice before finding his stride in the second session, posting the fifth-quickest time with a 2'06.117" lap.
In moto one, Roczen got a poor jump out of the gate but charged down the start-straight to sneak into the inside of the first turn, coming out in second. The German quickly moved into the lead, taking advantage of a clear track to lay down consistent laps and open up a small gap on second. Toward the end of the 30-minute-plus-two-lap race, Roczen maintained his composure up front while fending off multiple pass attempts, then laid down a final charge to open up a 13.8-second lead by the chequered flag.
When the gate fell on the final moto, Roczen got off to a sixth-place start but advanced to third by the completion of the opening lap. He continued his charge, moving into second and then closing in on the leader, looking for an opportune time to strike.
On lap five, he made an impressive pass into the lead and quickly opened a multi-second gap on the riders behind him. Roczen looked smooth up front but was unable to maintain his pace throughout the entire race, relegating the lead on lap 12, before losing one more position by the end of the race.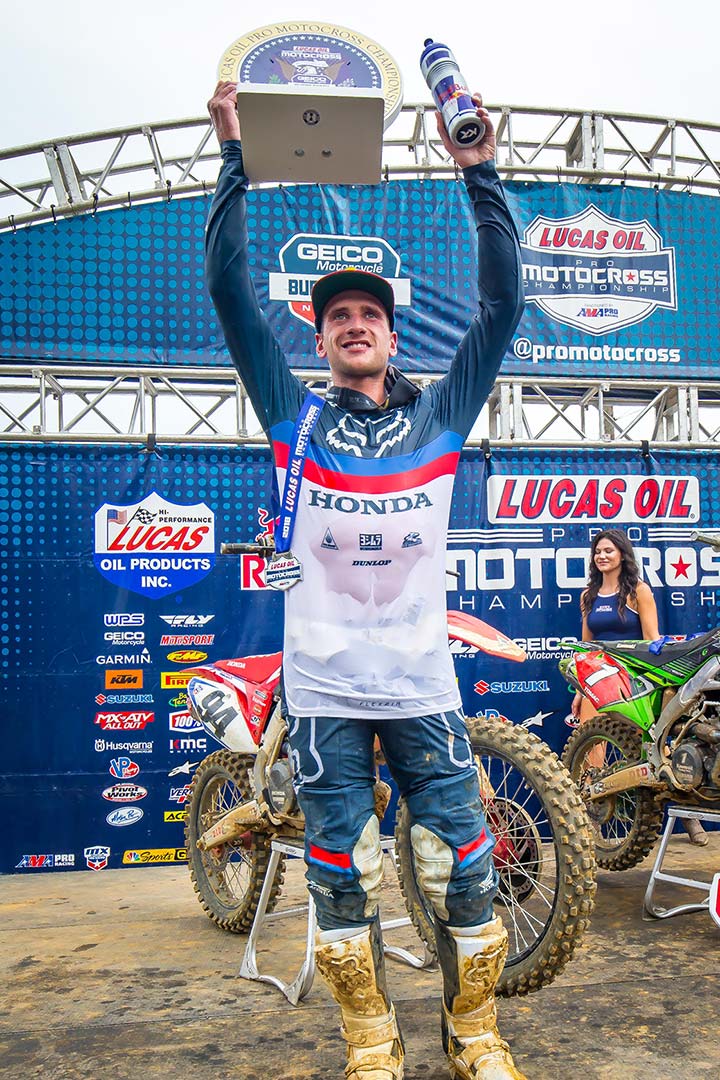 "The first moto was great. I had a good battle with Marvin [Musquin] going through most the race and once there were only five laps left, I just told myself that I better pull this off and get the win," said Roczen.
"I was trying to just keep it steady, but if Marvin was still close behind me, I was going to try and put on a charge the last couple laps – luckily I didn't really have to. It was my shot at the overall today, but unfortunately I got sick halfway through the week and definitely wasn't feeling it this morning and it caught up with me in the second moto. I just ran out of steam at the end and let those guys get by me.
[more-from heading="More From AMA Pro Motocross" category="ama-motocross"]
"I gave it my all out there and unfortunately it wasn't enough for the overall again, but I just want to get this season over with healthy and giving each race all that I have – today, that was it.
"We're going to take what we've learned to regroup for this off-season and come back to crush it next year. I'm happy with where I'm at this season, but at the same time, I'm a winner and I want to win. I try to put it into perspective because I was here last year hurt and I would've taken a day of racing sick and in the heat over anything, so to be back a year later fighting for wins and getting second overall is pretty dang good."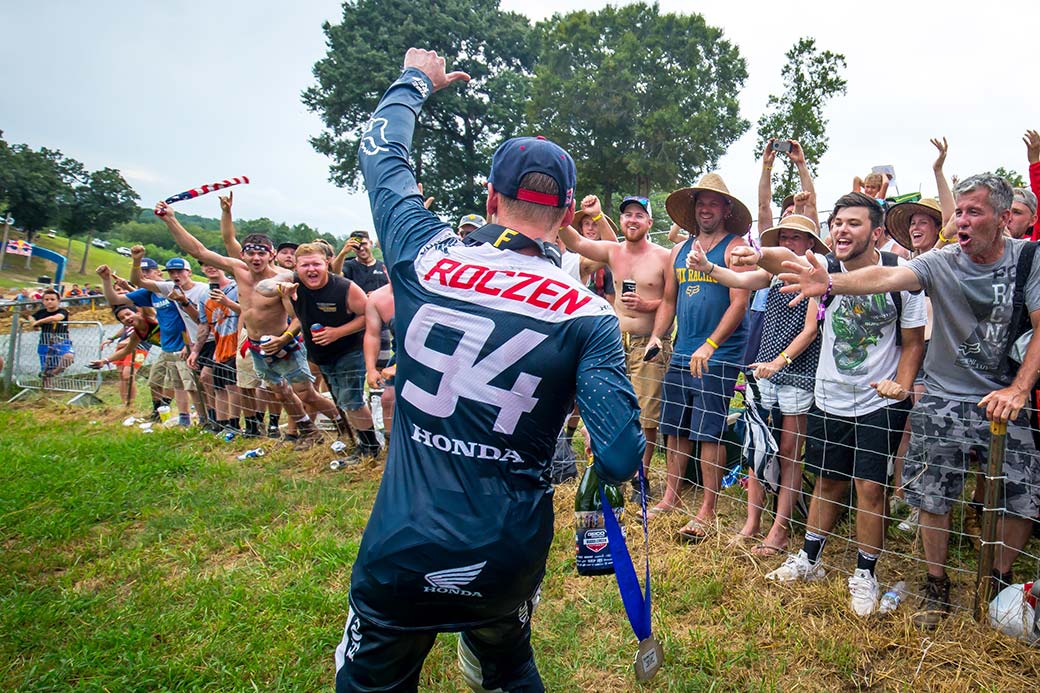 With his strong second-place overall performance at Budds Creek, Roczen regained control of third in the championship standings, with 403 points.
Next weekend, Team Honda HRC heads to the Ironman MX in Crawfordsville, Indiana, for the final round of the 2018 AMA Pro Motocross series.
On Friday, Roczen will participate in the pre-race press conference to discuss his successful season, before hitting the track for two 20-minute riding sessions. Later that evening, the HRC crew will also celebrate the season with a team BBQ at the track.