The seventh round of the AMA Pro Motocross series took place over Independence Day Weekend at the iconic RedBud National in Buchanan, Michigan, where a massive crowd saw Team Honda HRC's Ken Roczen finish fifth overall with 6-3 marks.
In moto one, Roczen got off to a less-than-desirable start, coming around the first turn in 10th. By lap two, he had worked his way into seventh, and he gained another spot a few laps later. At the halfway point, Roczen closed the gap on fifth, making a successful pass on lap nine.
Toward the end of the 30-minute-plus-two-lap-race, Roczen experienced physical issues, actually vomiting in his helmet and relinquishing a spot to take the chequered flag in sixth.
When the gate dropped on moto two, Roczen launched his CRF450R down the start straight and emerged from turn one in fourth. Through the opening lap, he charged into second before making a pass for the lead stick on lap two.
With a clear track ahead of him, the German opened a small gap on the rest of the field. As the race reached its halfway point, Roczen came under fire from Marvin Musquin and was unable to fend off the Frenchman's advances, ultimately relinquishing the lead. He maintained second position until two laps from the end when he slipped back one more spot to finish third.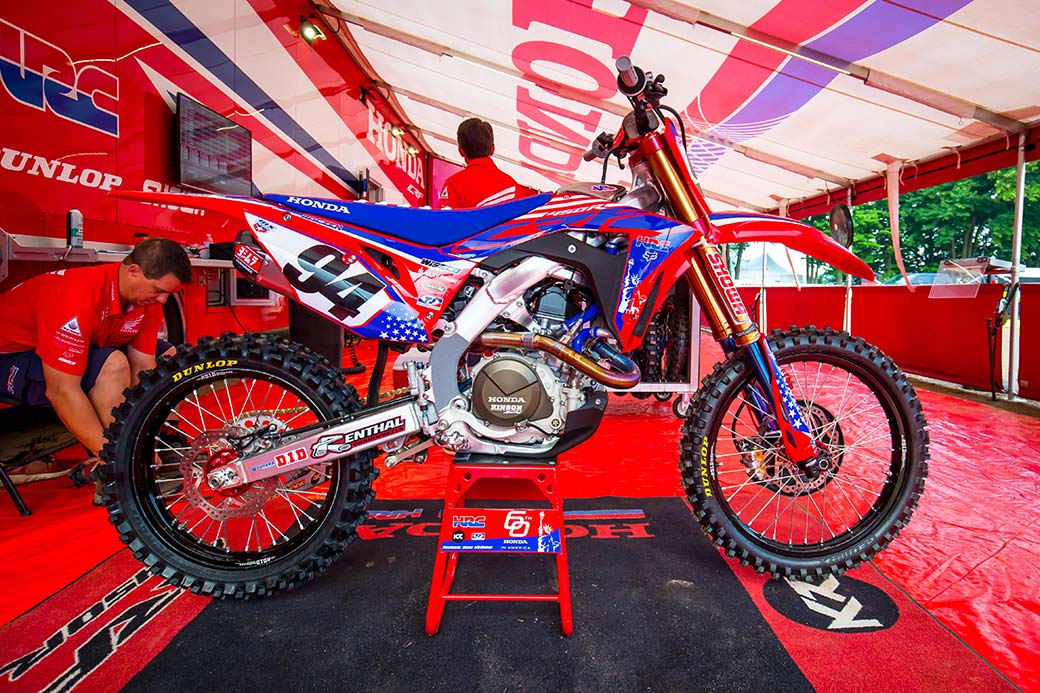 Ken Roczen: "It's hard to be completely satisfied with the way that I'm feeling and how today went overall, but I'm happy with the second moto.
"Obviously, I haven't been myself – it's been a tough few weeks and we're trying to figure it out. The first few races when it was cool out, it wasn't as much of an issue, but with the heat and humidity, it's been tough. I'm just going out there and doing my best.
"The first moto would've been OK too because I had worked my way into fifth but then I actually threw up with like five minutes to go. I let it all out and just finished the race but did lose time. The second moto, I got a much better start and just tried to do the best that I could for as long as I could. I'm happy with how I was riding and finishing third."
Team manager Erik Kehoe: "I think today was definitely an improvement from last week. Ken showed a lot of speed, which he's continued to do each week, but I think he managed his pace better throughout the motos. It's still not what Kenny wants overall, but he had a good second moto and it was nice to see him end on a high note heading into the break. He would've had a solid first moto too, but he had some issues in the final laps that caused him to fall back a bit. He'll take this weekend off and come back fighting at Millville."
Roczen's mechanic Oscar Wirdeman: "Today was pretty good—better than last weekend. Bike-wise, we started with a little different fork setup, just a bit stiffer than normal. Throughout the day we didn't change that much, just some clickers here and there as the track developed."
[more-from heading="More AMA Motocross" category="ama-motocross"]