Round two of the AMA Pro Motocross Championship took place at Pala, California's Fox Raceway, where Team Honda HRC's Ken Roczen scored a solid third-place finish, via 2-3 moto scores. Team-mate Cole Seely overcame poor starts and a crash in the opening moto to fight his way to 10th overall with 11-8 finishes.
For the second consecutive week, Roczen was on fire early in the day, topping timed qualifying practice with a 2'07.107" lap in the second session, while Seely was ninth at 2'10.460".
The track conditions proved to be very tricky, with deceiving dirt and a layout that resulted in a fast pace. "This track was really challenging," Roczen said.
"You had some really high-speed sections, some sandy loose spots with a hard base, lots of rocks and some big ruts, so it had a little bit of everything, throttle control was very important today, especially in certain spots. The dirt looked like it would have more traction but it was really hard underneath, making it very slick."
The first moto started with Roczen launching his CRF450R to a second-place start and swiftly taking over the lead. With a clear track ahead, the German quickly opened a gap on the pack.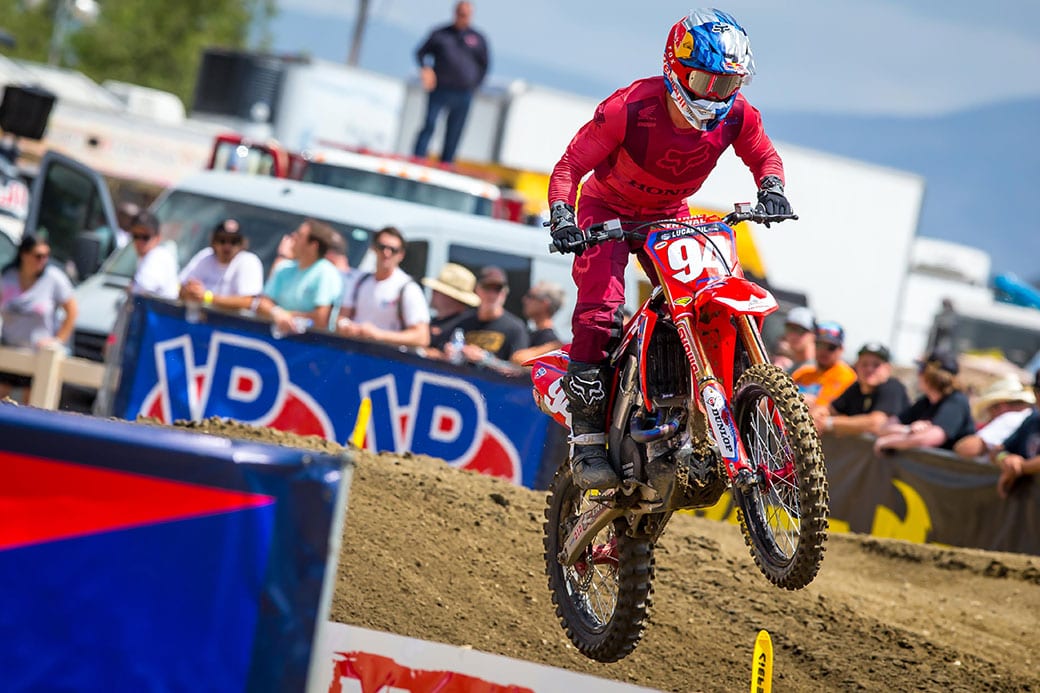 He rode cool, calm and collected up front until the closing laps.
As the track deteriorated, Roczen made several mistakes, allowing Marvin Musquin and Eli Tomac to close in.
A heated three-way battle ensued for the front position, with Roczen ultimately relinquishing the lead to Tomac.
He was able to fend off Musquin's continued advances to take the chequered flag in second.
Seely got off to a disappointing start, completing the first lap in 15th. He went down on the second lap, falling outside the top 20. He remounted quickly and went into salvage mode, working his way forward to cross the finish line in 11th.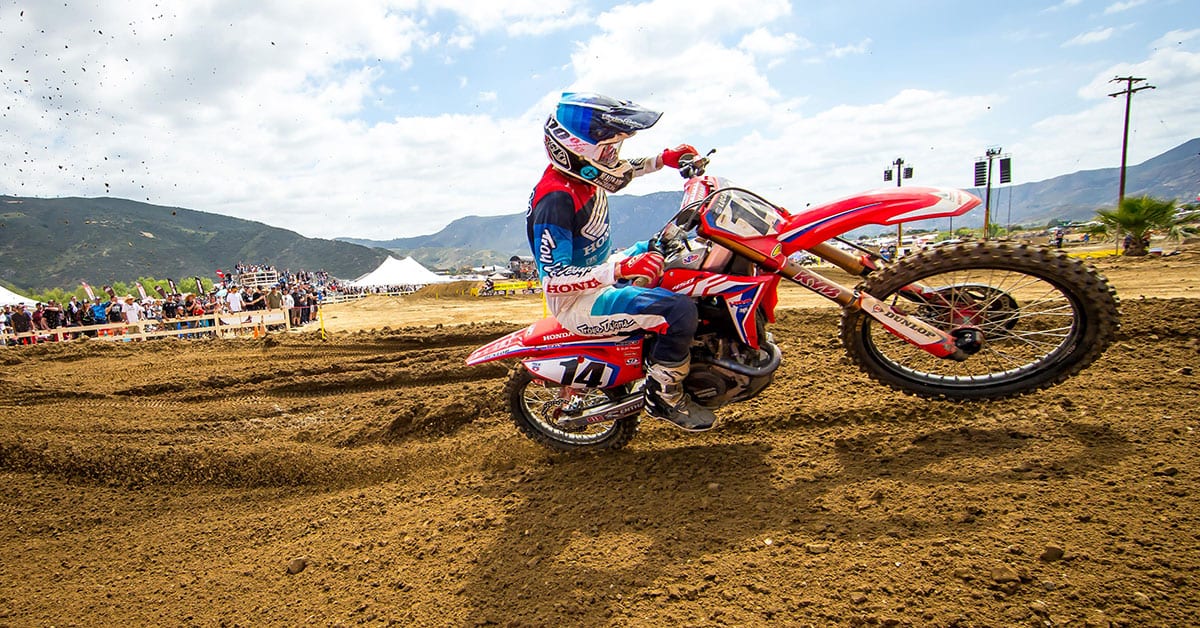 In the second moto, Roczen managed a fourth-place start but lost positions on the hectic first lap, sitting sixth at the green flag. He started to find his groove on the tricky circuit, making passes and continuing his charge forward to take over third on lap six.
Through the final five minutes of the race, Roczen was forced to play defence, fielding multiple attacks but hanging tough to finish third.
Seely once again got off to a poor start, sitting 16th after the completion of the first lap. He put together an impressive charge, working his way into eighth by the end of the 30-minute-plus-two-lap race.
Ken Roczen: "I'm pretty happy with today. Obviously, we want to win but we also have a championship mentality and are in this for the long run, so I'm totally fine with third place.
"This was my first national here at Fox Raceway and it was a tough day. The track was gnarly so you really had to be smart. I didn't feel the greatest so to still come out with a podium is good.
"I got a good start and led for most the first moto, but unfortunately I made a couple big mistakes, where I almost slid out and crashed. That allowed Eli [Tomac] to close in and get by me.
"I grabbed another good start in the second moto and just tried to do the best I could. I managed to get around some guys and into third, but toward the end I really had to fight to hold the position because Zach [Osborne] was right on me.
"I'm happy with how I pushed to the end. We've got a lot of racing left so I'm looking forward to next week."
[inline-teaser article="fox-raceway-results-2019″ class="read-more" align="right"]
Cole Seely: "My starts really held me back today. I was happy with my riding and how I felt on the bike, so it's a bummer my results didn't reflect it more.
"In the first race I got a bad start and went down on the second lap. I spent the whole race trying to just make up as many spots as possible.
"I got another bad start in the second. You can't put yourself in such a bad spot in the beginning and expect to get a solid result. I do think I did a decent job making up positions and was happy with the intensity and pace I held. My fitness is definitely coming back, so there were some positives to take away from the weekend."
Ken Roczen and Team Honda HRC are focused on the long game
Team manager Erik Kehoe: "It was a solid day for the team. Ken is walking away with a hard-fought third, which is great. He rode impressive all day, showing a lot of speed in both motos and even qualifying the fastest for the second week.
"I know he wants to win every week but we're looking at this championship long-term, so each podium and moto finish is important.
"Cole struggled again this week with starts, so we really need to figure that out. He rode strong all the way to the end though, and salvaged a lot of good positions."
Ken Roczen's mechanic Oscar Wirdeman: "I'll take it. We're in this for the long haul so another podium is great. I was really happy to see how hard Ken fought in both motos but especially at the end of the second moto to stay in front of Zach [Osborne]. I know he was pretty tired but he held tough, so it was an earned podium for sure. The track was super gnarly—fast-paced and rough. We didn't make a ton of bike changes but did a few things to make Ken more comfortable as the track broke down."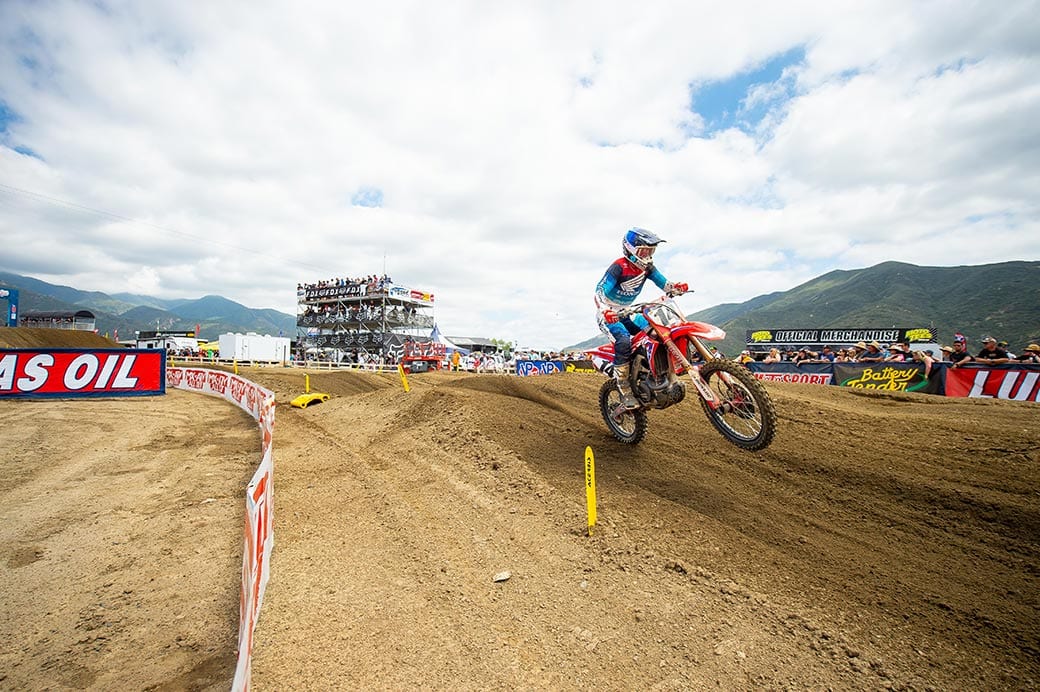 Cole Seely's mechanic Jordan Troxell: "We need to dial in our starts for sure. This is the second week Cole's gotten poor starts in both motos and it definitely hindered him. Bike-wise, things were pretty solid all day. We didn't make any real major changes except a clicker or two before the first moto, just to soften it up a little. We'll work on our starts and continue building each week. There are 20 motos left this season."
In the 250MX class, GEICO Honda's Chase Sexton was consistent aboard his CRF250R, riding to a solid fourth-place finish with 5-5 results.
It was a rollercoaster day for team-mates Hunter Lawrence and RJ Hampshire – each showed very impressive speed and finished second in a moto, but each also suffered a mechanical issue in the other race, ultimately leaving them ninth and 10th overall, respectively. Christian Craig ended up 11th with 6-15 scores.
Up next for Team Honda HRC
Team Honda HRC will return to action on June 1 for Round 3 of AMA Pro Motocross in Lakewood, Colorado, for the Thunder Valley National.
[more-from heading="More Pro Motocross" category="ama-motocross"]