The Lucas Oil Pro Motocross Championship, sanctioned by AMA Pro Racing, made its first east coast stop of the season on Saturday for Round 4 of the 2019 season.
The Circle K High Point National from High Point Raceway has become a Father's Day tradition, bringing out a strong family-oriented atmosphere for both racers and their fans at the famed facility. The 450 Class saw Monster Energy Kawasaki rider Eli Tomac come-from-behind in both motos to take his second victory of the season. In the 250 Class, Monster Energy/Pro Circuit/Kawasaki's Adam Cianciarulo kept his winning streak alive by capturing his fourth consecutive victory.
450 Moto 1
As the gate dropped for the opening 450 moto, it was Rocky Mountain ATV/MC-KTM-WPS' Blake Baggett who emerged with the Motosport holeshot ahead of Red Bull KTM's Cooper Webb and Monster Energy Kawasaki team-mates Joey Savatgy and Eli Tomac. With Baggett out front, the defending champion Tomac quickly went to work and managed to cross the opening lap second, followed by Webb in third.
Baggett set a blistering pace early in the race as he attempted to break away from the field, but Tomac matched his pace and started to inch his way up to the KTM riders rear fender. As Tomac looked to make a move on Lap 4, he made a costly mistake that shuffled him back into the fourth position, allowing Webb and Rockstar Energy Husqvarna Factory Racing's Jason Anderson to slip by.
On Lap 6, Baggett continued upping his pace by breaking into the 2:02 lap times, which allowed him to build a comfortable lead over his championship rivals. Webb began to fall under heavy pressure from both Anderson and Tomac, losing second to Anderson on Lap 7 and third to a hard-charging Tomac just one lap later.
Baggett was dominant as he took his first moto victory since the 2017 High Point National, winning by 9.8 seconds. Anderson rode to an impressive runner-up finish, giving him his best moto result of the season. Tomac rebounded to finish third.
450 Moto 2
The deciding 450 Class moto saw Savatgy take his first Motosport Holeshot of the season ahead of Webb and Monster Energy/Yamaha Factory Racing's Justin Barcia. Webb immediately attacked Savatgy heading into turn two, taking over the race lead. At the completion of the opening lap it was Webb, Savatgy and Anderson out front, while first moto winner Baggett found himself buried deep in the pack.
Webb put his head down and went to work as he looked to rebound from a challenging first moto, however, Savatgy had other plans as he matched the leaders pace and kept the gap to within a couple of seconds. Championship point leader Ken Roczen began to find his stride and blitzed his HRC Honda around Anderson for third on Lap 6. Roczen was relentless in his push to the front, muscling his way by Savatgy and eventually around Webb with an inside pass for the lead on Lap 9.
As Roczen quickly opened a lead over Webb, both Savatgy and Anderson engaged in the battle for third, with Anderson getting the upper hand, followed by Tomac in hot pursuit. On Lap 13, Tomac moved himself into a podium position by overtaking Anderson. The final stages of the moto saw Tomac and Webb pull alongside each other several times before Tomac took control of second on Lap 15.
Roczen carried on to his third moto win of the season, by 4.9 seconds ahead of Tomac. Webb followed in third, matching a career-best moto finish.
Tomac's 3-2 effort gave him his second overall victory of the season and the 19th of his career, which puts him into sixth on the all-time list. Roczen's second-moto win vaulted him into the runner-up spot (6-1), while Anderson finished third overall (2-5).
"Today was a unique situation by winning with 3-2 moto scores," said Tomac. "I'm not sure if I've ever won a race without winning a moto. We did what we could and battled towards the front, so overall the day was good. The track had a lot of good character today, the ruts were plenty deep and the track was rough."
With the win, Tomac move to a tiebreaker with Roczen in the championship point standings with 176 points apiece. Team-mates Osborne and Anderson are tied for third, 32 points out of the lead.
250 Moto 1
The first 250 Class moto of the afternoon saw Monster Energy/Star/Yamaha Racing's Justin Cooper emerge with the Motosport Holeshot followed closely by team-mate Colt Nichols and GEICO Honda's Hunter Lawrence. The three riders led the 40-rider field across the line on the opening lap, while Monster Energy/Star/Yamaha Racing's Dylan Ferrandis and Cianciarulo were credited in fourth and fifth, respectively. The first several laps witnessed the top-five riders going bar-to-bar as they aggressively challenged one another.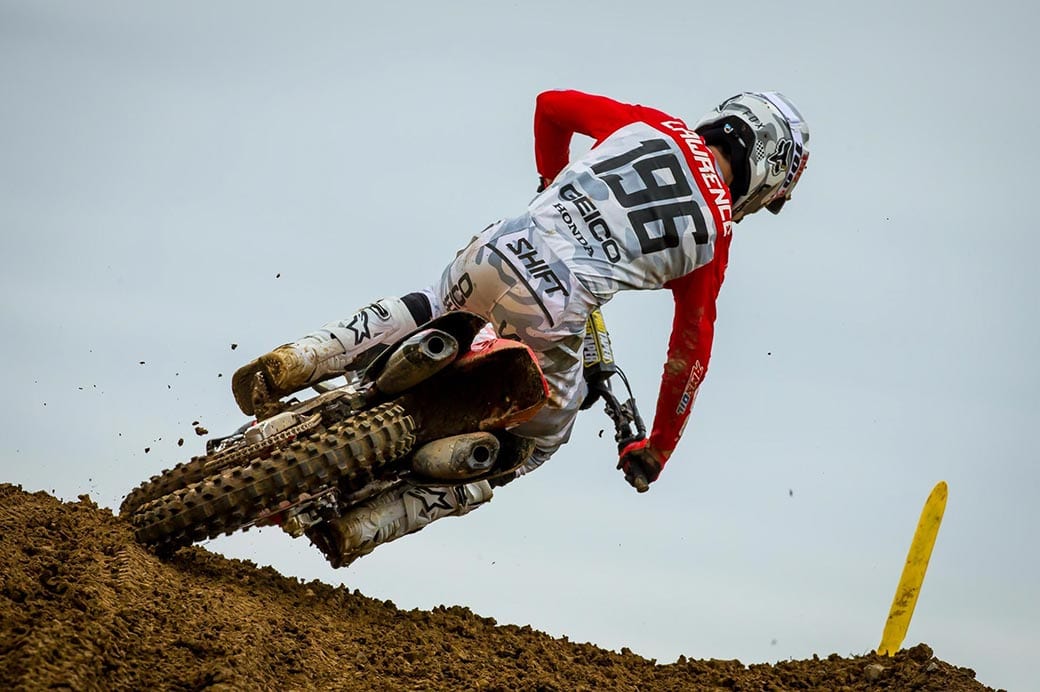 With Cooper riding at the front of the field, the battle behind him began to intensify as Lawrence moved within striking distance of Nichols for second, eventually making the pass stick on Lap 6. Lawrence would continue his march to the front and made the move just one lap later to overtake Cooper for the race lead. The third placed Nichols was using every inch of the racetrack as championship rivals Ferrandis and Cianciarulo battled for position and found their way past, sliding Nichols outside of a podium position.
On Lap 9, Cooper had a rearview mirror full of his team-mate Ferrandis, which led to Ferrandis aggressively pushing Cooper out of his way to take the second, costing Cooper several positions. Cianciarulo took advantage of Cooper's bobble to inherit third, and shortly after second, thanks to a mistake by Ferrandis.
The Australian Lawrence managed the race out front and rode brilliantly to take his first-ever Lucas Oil Pro Motocross Championship moto win with 8.2 seconds to spare on Cianciarulo. A hard-fought third went to Ferrandis.
250 Moto 2
As the 250 Class field exited the first turn to start Moto 2 it was Nichols who succeeded in taking the Motosport Holeshot, with Cianciarulo and GEICO Honda's Chase Sexton giving pursuit. Lawrence, who won the opening moto, started the race in fourth, while Ferrandis had his work cut out by completing the opening lap in 10th.
Nichols used his holeshot to log fast laps out front as he navigated the challenging track conditions and kept championship point leader Cianciarulo at bay during the opening laps. Just behind the top two were GEICO Honda team-mates Sexton and Lawrence who pushed one another to help keep the leaders within sight. Cianciarulo grabbed a handful of throttle by over jumping one of the obstacles to force his way to the inside and around Nichols for the race lead on Lap 5. Moments later, a mistake by Nichols in the roller section would allow for Sexton to overtake second.
[inline-teaser article="video-high-point-highlights-2019″ class="watch" align="right"]
Out front, Cianciarulo and Sexton pushed the pace turning fast laps, which allowed them to build a comfortable lead over the riders behind them. Lawrence closed in on Nichols and briefly made the pass until a mistake would allow Nichols to retake the position. On Lap 11, Lawrence once again clawed his way to the rear fender of Nichols and made the pass for third.
Cianciarulo charged the entire 30-minute-plus-two-lap moto to take his fourth moto win of the season by 6.2 seconds over Sexton. Lawrence followed in third.
The second moto win helped Cianciarulo prevail for his fourth consecutive victory (2-1) of the season. Lawrence's consistent (1-3) moto scores carried him to a career-best second overall, while Sexton also had the best finish of his career with third (4-2).
"I'm so grateful for these wins, they're hard to do and I'm just stoked," said Cianciarulo. "The first moto was a battle from the beginning, I had a terrible start. By the time I was able to get into second, I just kind of struggled and that was it. The second moto I obviously put myself in a much better position to get the win and that is what I was able to do. I just want to keep the ball rolling heading into Jacksonville."
The win helped Cianciarulo extend his championship point lead to 26 points over Cooper who could only muster ninth overall (6-9). Ferrandis remains in third, 42 points out of the lead.
Next up for Lucas Oil Pro Motocross Championship
The 2019 Lucas Oil Pro Motocross Championship will continue next weekend on Saturday, June 22, with the first-ever US Assure Florida National in Jacksonville, Florida. First motos from WW Ranch Motocross Park can be seen live on MAVTV at 10 a.m. PT / 1 p.m. ET, while second motos can be seen live on NBCSN at 12 p.m. PT / 3 p.m. ET. Additionally, all of the action can be live-streamed via the "Pro Motocross Pass" via the Gold channel on the NBC Sports app.
[more-from heading="More Pro Motocross" category="ama-motocross"]