American motocross' own Memorial Day celebration took place on Saturday as the Lucas Oil Pro Motocross Championship, sanctioned by AMA Pro Racing, made its anticipated return to Southern California's Fox Raceway.
The Lucas Oil Fox Raceway National, presented by Fox Racing, was greeted with balmy temperatures and an enthusiastic crowd who cheered on reigning champion and Monster Energy Kawasaki rider Eli Tomac to a dominant first win of the season.
In the 250 Class, Monster Energy/Pro Circuit/Kawasaki's Adam Cianciarulo captured back-to-back victories to start the season and extend his point lead.
450 Moto 1
The opening 450 Class moto of the day saw Rocky Mountain ATV/MC – KTM – WPS' Blake Baggett emerge with the MotoSport Holeshot, but he was quickly passed by Team Honda HRC's Ken Roczen. The point leader proceeded to set a torrid pace on the opening lap to establish a multi-second margin over the field.
Baggett settled into second on the opening lap but then crashed out of the position, which moved Rockstar Energy Husqvarna Factory Racing's Jason Anderson briefly into second before he lost the position to Red Bull KTM Factory Racing's Marvin Musquin.
Just behind them, Red Bull KTM Factory Racing's Cooper Webb gave chase from fourth, with Tomac fifth.
At the halfway point of the moto Tomac was able to capitalise on a mistake from Webb to move into fourth and set his sights on Anderson for third.
[inline-teaser article="ken-roczen-celebrates-third-place-finish-at-fox-raceway" class="read-more" align="right"]
The reigning back-to-back series titleholder faced a five-second deficit to third and successfully overcame that gap to drop Anderson off the podium. He then made a push to track down the top two.
With less than three minutes remaining in the moto Musquin was able to close to within a second of Roczen, while a hard-charging Tomac closed in from third. Soon all three were less than 1.5 seconds apart, and only got closer as the time wound down. Musquin attempted to make a pass on Roczen, but it didn't work and instead opened the door for Tomac to take over second. The champ never let up as he stormed around Roczen before the completion of that same lap.
Tomac pulled away over the final laps to take the moto win by 3.8 seconds over Roczen, while Musquin followed in third. Anderson was fourth, while his rookie team-mate Zach Osborne was fifth.
450 Moto 2
As the riders emerged from the first turn at the start of the final moto it was Rocky Mountain ATV/MC – KTM – WPS' Justin Bogle who earned the holeshot ahead of Musquin and Tomac. Anderson, Baggett, and Roczen jockeyed for position behind them. Musquin was aggressive on the opening lap and attacked Bogle for the lead, with the Frenchman successfully making the pass. Tomac followed into second shortly thereafter, while Anderson moved into third right after they started the second lap.
The lead trio was able to settle into their positions, with Musquin establishing about a 1.5-second lead on Tomac. Anderson ran solidly in third, but Roczen kept him honest from fourth. Roczen applied persistent pressure for several laps and eventually made his move into podium position just before the halfway point, but was nearly 10 seconds behind the leaders.
[inline-teaser article="fox-raceway-results-2019″ class="read-more" align="left"]
Tomac's impatience grew as the second half of the moto unfolded and he began to force the issue with Musquin. The Frenchman responded, but Tomac made a determined pass to grab control of the moto with just over 10 minutes to go. The champ was able to inch away from Musquin from there. Behind them, Roczen received heavy pressure from Rockstar Energy Husqvarna Factory Racing's Osborne, but the German withstood the challenge.
Out front, Tomac ran the closing moments of the moto all by himself and took an emphatic moto win by 11 seconds over Musquin, with Roczen finishing third.
It's Tomac's first 1-1 sweep since the ninth round of last season at Washougal, and marks the 18th win of his 450 Class career, tying him for sixth all-time with Kent Howerton. Musquin (3-2) and Roczen (2-3) ended up in a tie for the runner-up spot, but the better second-moto result gave the Frenchman the tiebreaker.
"That second moto was really comfortable [on the bike]. It was really clean at the end," said Tomac, who moved into the point lead with the win.
"Marvin [Musquin] had a really good pace going there, and about halfway I was able to put pressure on him and make a really good pass. Once I got out front I was able to ride loose, picking good lines, and carried on to the win. We're in a great position now [with the championship], so we're right where we want to be."
Tomac entered the day facing a four-point deficit to Roczen but leaves with a four-point lead over the German. Musquin moved into third, 19 points out of the lead.
250 Moto 1
The first 250 Class moto of the afternoon got underway with the fastest qualifier of the day, Justin Cooper, racing to the MotoSport Holeshot aboard his Monster Energy/Star/Yamaha Racing machine, with team-mate Colt Nichols in tow. Cianciarulo took a gamble on his starting position and lined up his Kawasaki on the farthest outside gate, but it didn't pay off. With his closest championship rival up front, Cianciarulo started outside the top 10 and had his work cut out for him.
The clear track in the early laps gave Cooper a huge advantage and he was able to establish a bit of a gap over Nichols and the rest of the field. Nichols rode in a solid second, while GEICO Honda rookie Hunter Lawrence ran third.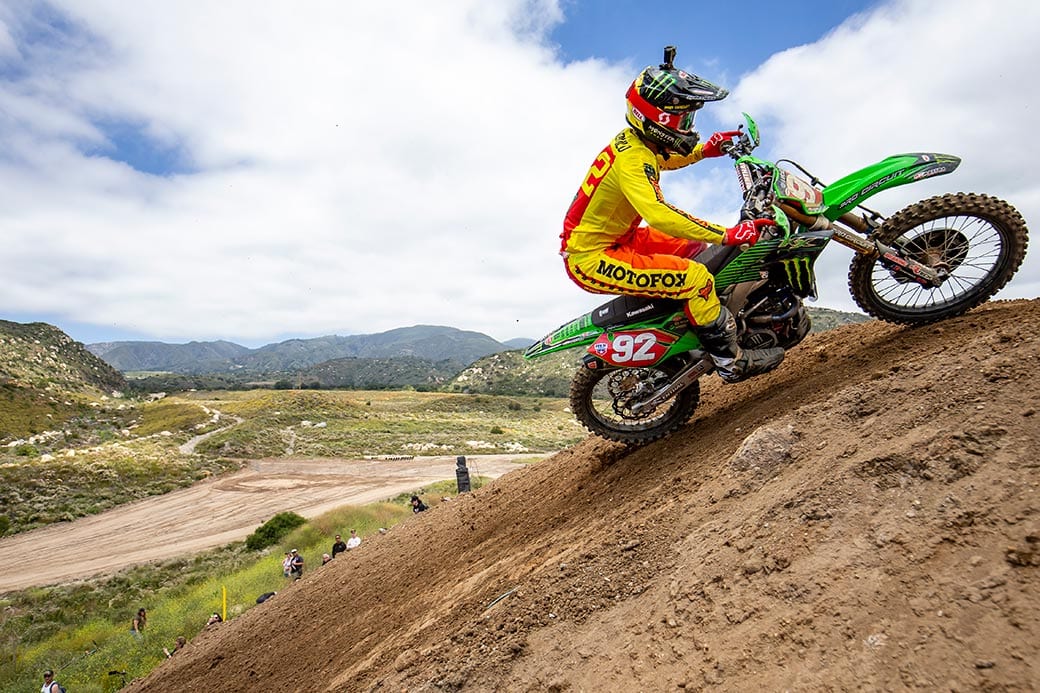 Nichols was able to keep Cooper within striking distance, but Lawrence soon received pressure from Troy Lee Designs/Red Bull/KTM's Jordon Smith. The two riders engage in a brief battle for the position and made contact, which ultimately took both riders to the ground. That allowed GEICO Honda's RJ Hampshire to move into third, with his team-mate Chase Sexton fourth and a hard-charging Cianciarulo in fifth.
In the late stages of the moto, Cianciarulo, who moved into fourth, applied heavy pressure on Hampshire, which ultimately carried them to Nichols in second and ignited a three-rider battle for the final podium positions. Hampshire was able to withstand a brief pass by Cianciarulo to regain third and then make his way around Nichols for second coming to the white flag. Cianciarulo was able to keep the pressure on Nichols and take over third with just a couple turns remaining.
For the second straight weekend Cooper went wire-to-wire in the opening moto, earning the win by 1.8 seconds over Hampshire. Cianciarulo battled back from his bad start to finish third, with Nichols and GEICO Honda's Chase Sexton rounding out the top five.
250 Moto 2
As the field roared into the first turn for its deciding second moto it was Troy Lee Designs/Red Bull/KTM's Shane McElrath who came away with the MotoSport Holeshot over Monster Energy/Star/Yamaha Racing rookie Ty Masterpool and JGRMX/Yoshimura/Suzuki Factory Racing's Alex Martin. Soon Martin moved into second, while Cooper followed into third. Masterpool then lost another spot to Cianciarulo.
Cianciarulo was on a determined march to the front as he made the pass on Cooper for third. As Martin attempted to make a pass on McElrath for the lead, it allowed Cianciarulo to capitalise on a small mistake from the Suzuki rider.
On the following lap Cianciarulo's forward surge was complete when he got by McElrath to seize control of the lead. Not long after that Lawrence made an impressive climb from fifth to second to drop Martin out of podium position and bump McElrath to third. Both Martin and McElrath continued to lose positions, as Cooper fought his way up to third and brought his Monster Energy/Star/Yamaha Racing team-mate Dylan Ferrandis along with him into fourth. It wasn't long before Ferrandis passed his team-mate for third.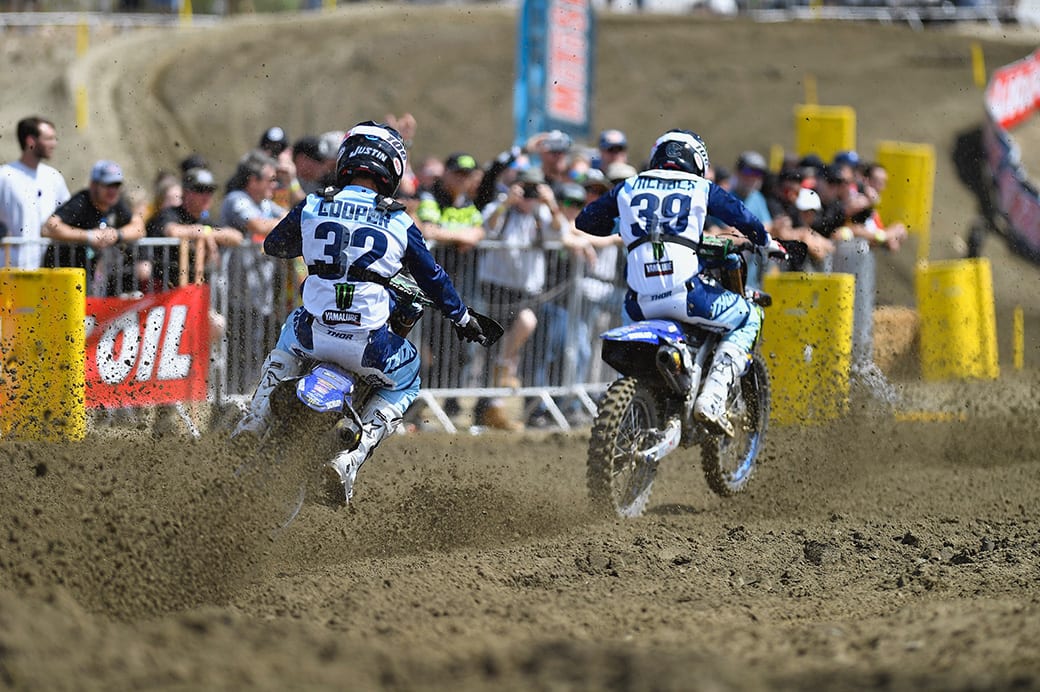 Lawrence stayed within two seconds of Cianciarulo and at the halfway point of the moto he had closed to within a couple bike lengths. A bobble by Lawrence put some distance between them, but the rookie dug deep to close back in on Cianciarulo.
As they navigated through lapped riders Cianciarulo made an outside line choice that opened up the inside for Lawrence, and the Australian took full advantage of it to make the pass and establish some breathing room between he and Cianciarulo. That pass tipped the battle for the overall into Cooper's favour, but Lawrence gave up the lead with less than two minutes remaining when he tipped over.
Nearly four seconds separated the lead duo when Lawrence resumed, but the rookie still managed to close to within just over a second as they came to the white flag. On the final lap Cianciarulo picked up the pace and successfully went on to take the moto win by 2.9 seconds over Lawrence. Ferrandis followed in a distant third, just ahead of Cooper.
[inline-teaser article="video-fox-raceway-highlights-2019″ class="watch" align="right"]
For the second weekend in a row a second-moto victory vaulted Cianciarulo to the top of the overall classification, where his 3-1 finishes were enough to edge out Cooper (1-4) by just a couple points. Ferrandis grabbed the final spot on the overall podium following 7-3 results.
"I had no idea what was happening [with the overall standings]. I just tried to put my best foot forward because I used a lot of energy in the first moto," said Cianciarulo, who has back-to-back victories for the first time in his career. "I can't say enough good things about Hunter Lawrence. He rode so good. When he crashed I thought I as clear of him [through to the finish], but then all of a sudden I could hear him behind me. I'm just so stoked to get two in a row. This is awesome."
Cianciarulo was able to add to his early lead in the championship standings, which now sits at six points over Cooper. Ferrandis moved into third, 22 points behind Cianciarulo.
Next up for Lucas Oil Pro Motocross Championship
The 2019 Lucas Oil Pro Motocross Championship continues next Saturday, June 1, with its annual visit to the mile-high altitude of Colorado and the True Value Thunder Valley National. First motos from Thunder Valley Motocross Park can be seen live on MAVTV at 12 p.m. PT / 3 p.m. ET, followed by tape-delayed coverage of the second motos on NBC Sports Network on Sunday, June 2, at 1 p.m. PT / 4 p.m. ET. Additionally, all of the action can be live-streamed via the "Pro Motocross Pass" on NBC Sports Gold.
[more-from heading="More Pro Motocross" category="ama-motocross"]