The 2019 Lucas Oil AMA Pro Motocross Championship continued in Southern California on Saturday as Round 2 hit Fox Raceway in Pala, California for the first time in eight years.
In the 250MX class it was Monster Energy/Pro Circuit/Kawasaki's Adam Cianciarulo who fought hard for a 3-1 moto finish to earn him the overall win and increase his championship points lead.
As the three-man Monster Energy/Pro Circuit/Kawasaki squad lined up for 250MX Moto 1 the 250MX Championship Points leader, Adam Cianciarulo found himself buried outside the top-10 in the opening laps.
From there Cianciarulo showed why he had earned the red plate last weekend, charging the entire moto and on the last lap he passed into third place making it onto the podium.
250MX Moto 2 saw Cianciarulo rocket off the gate to a fourth-place start, but knowing what was on the line he moved forward fast and by lap three he had taken over the lead.
On laps 11 and 12 a battle broke out and Cianciarulo was forced to go outside around a lapped rider and lost the lead. Cianciarulo would not be outdone as he regrouped and made a pass stick for the remaining four laps and added a three-second gap to make sure the victory was his. Cianciarulo and his #92 KX250 leaves Fox Raceway with 92 championship points after two rounds of racing and a six point lead in the 250MX class as they head to Colorado next weekend.
In just his seventh Pro Motocross race, the #61 machine of Garrett Marchbanks scored his highest career finish with a seventh place overall. In 250MX Moto 1, Marchbanks like his team-mate Cianciarulo, had to fight for every single position after a difficult start and would cross the line in ninth place. In 250MX Moto 2, Marchbanks would rebound from Moto 1 with a better start and was able to increase his position to eighth in the second moto.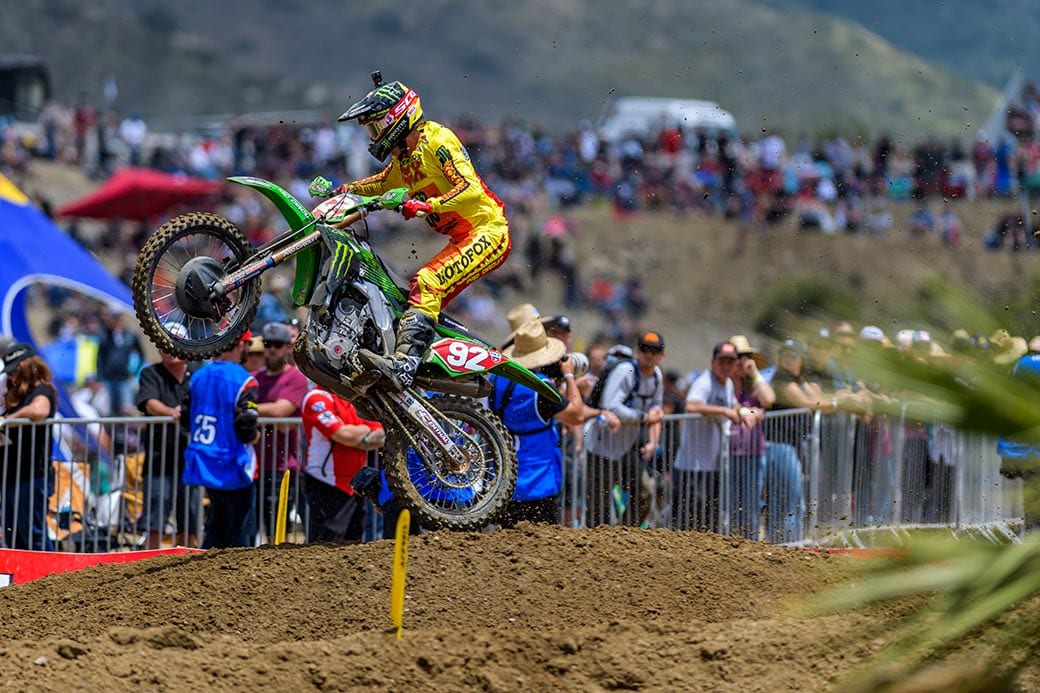 Last week Martin Davalos revealed that his second moto crash at Hangtown resulted in cartilage damage to his rib cage and was not sure how the weekend at Fox Raceway would go, but the veteran rider fought through the day, finishing with 18-9 moto scores which earned him 14th place overall.
The team over at Fox designed special retro inspired gear for the Monster Energy/Pro Circuit/Kawasaki squad to wear at Fox Raceway. They collaborated with team sponsor Bell Helmets to match.
Adam Cianciarulo: "Today definitely wasn't an easy win, but man does it feel good to come out on top. That first moto we gambled a bit with that outside gate pick that didn't really pay off, but we dug deep and put it on the podium to set us up to be in a good position for the overall.
"The second moto I had some good battles, but no one was stopping me from what was mine. We've got a long summer ahead of us and a lot of motos left, but I am pumped to be leaving here with the points lead. We will continue to do our work this week and be ready to go in Colorado next weekend."
Garrett Marchbanks: "I am proud of how today went overall for my team and I. It was my highest career finish in outdoors and something to build on. I need to work on my intensity early in the moto but otherwise I could not be more pumped to finish inside the top-10 with a ninth in Moto 1 and an eighth in Moto 2.
"In Moto 1 I really had to work for it like Adam because we both started way outside. Moto 2 I got a better start and was able to ride consistently from start to finish. We will take what we learned here today with this seventh overall and work to break into that top-five in the coming weeks."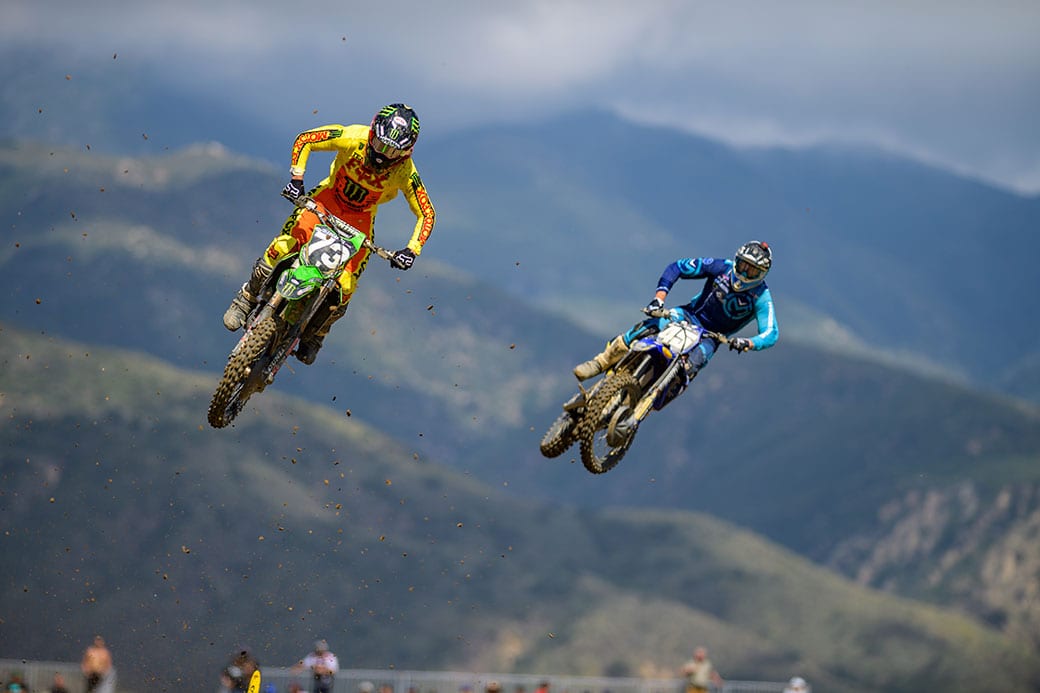 Martin Davalos: "My ribs really got the best of me in that first moto out there today. When you have an injury to your ribs, it is hard to breathe, and for us motocross racers we need every breath we can get as we are putting our heart rates up over 190 beats per minute in a 30-minute moto.
"The second moto I was able to calm down a bit and followed the pace of my team-mate ahead of me. We are much better than the 14th place result we showed today, but we will continue to rehab this week so we are ready to go in Colorado. It is at higher elevation, so breathing will be extra important next week."
[more-from heading="More Pro Motocross" category="ama-motocross"]