The year 2019 may well go down in history for the political farce surrounding Brexit, but in motocross terms, it will be long remembered for yet another fantastic weekend at the Vets MXdN at the 'Field of Dreams' at Farleigh Castle.
With a full 42-race programme over a packed weekend, it was great to see our MX buddies from across the globe from as far afield as the USA and Western Australia gathering for a weekend of top-quality racing.
This year also commemorated the 40th anniversary of Graham Noyce's 500cc World title victory, following a 15-year hiatus since our own Jeff Smith clinched back-to-back victories in 1964 and 1965 – and the 62-year-old competed in the Over 50 Twin-shock races.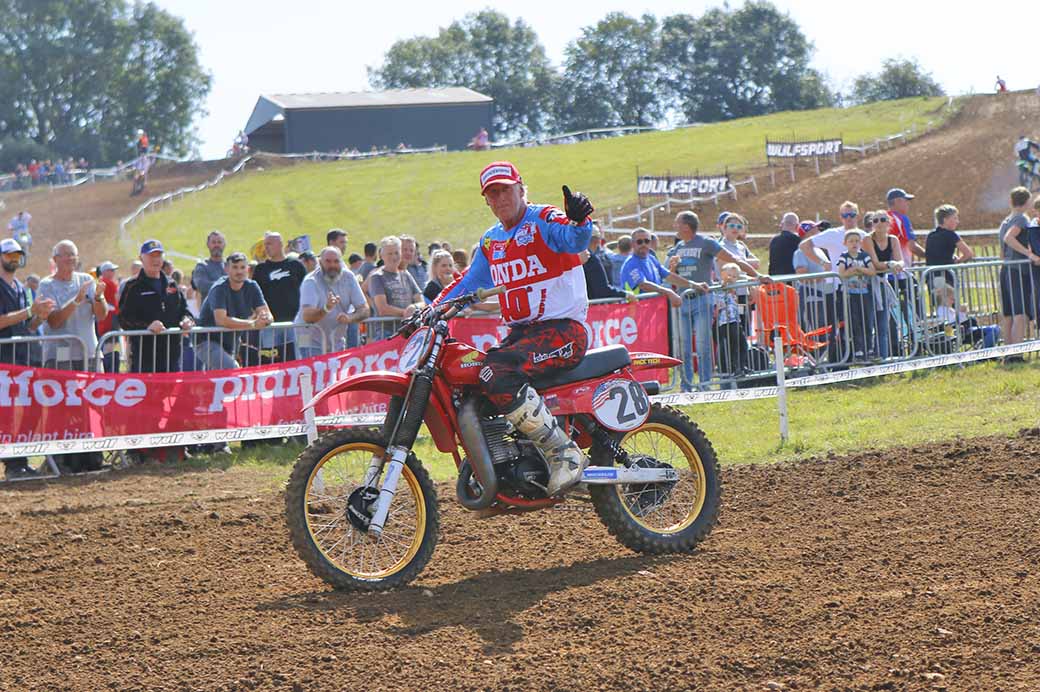 There was also a great turnout of motocross legends headed by ex World champions Graham Noyce, Dave Thorpe, Steve Ramon, Sven Brugelmans and Italian's Michele Fanton and Michele Margaroto.
A host of other Grand Prix legends turned out, with special guests and vice World champions Kurt Nicoll and Andre Vromans – the Belgian suitably dressed in his 80s factory Suzuki clothing.
On to the racing…
There was some real master classes in all groups, with a highly organised Team Germany taking victory in the Twin-shock and Team Belgium in the EVOs. Commiserations to both USA and England who endured cruel luck throughout the weekend.
The guys from across the pond who started out as clear favourites could only finish second and third in both classes. Despite their team leader Mike Brown completing a clean sheet in all eight races, the remainder of the team suffered both crashes and machine failures.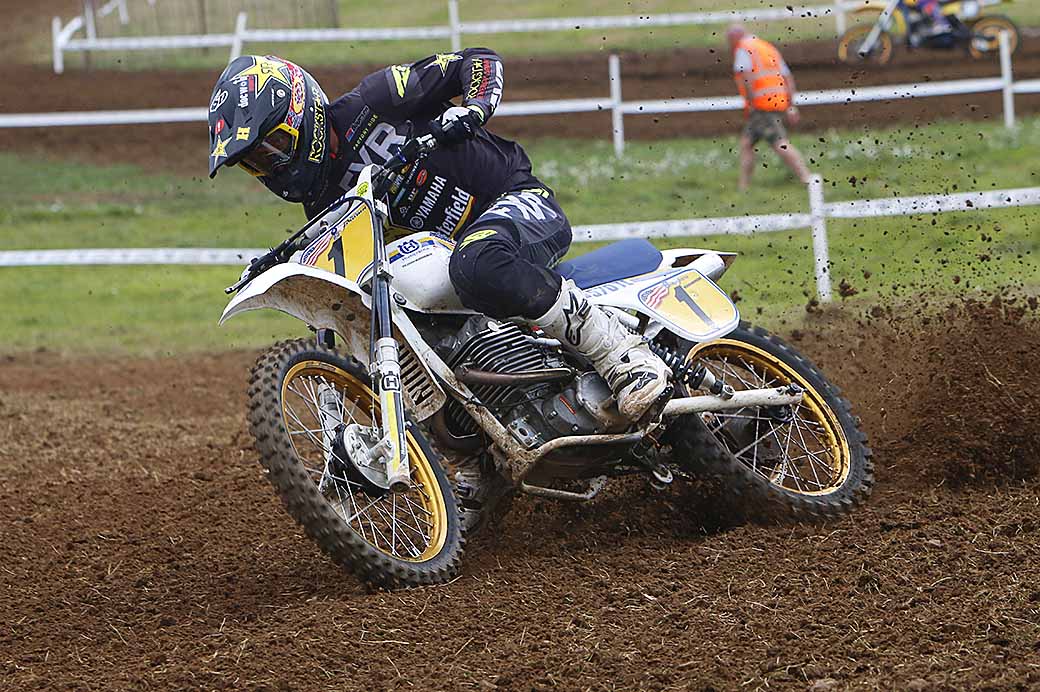 And the home team were reduced to three men before the racing had even started, following an injury to Stephen Sword after his throttle stuck open in the orchard section leaving him buried deep in a Farleigh Castle hedge. The machine had buried itself so far into the bracken it had to be cut out.
A typically disciplined display from the German Husqvarna team consisting of ex GP campaigner Bernd Eckenbach, Laurent Lacasse, Jurgen Kuppers and Joseph Dobes saw them lead the Twinshock group throughout the weekend, practically all four finishing in the top eight, bar the final moto when Kuppers came home in 13th following a mishap.
The USA squad could do little to match the Germans but were in a safe second spot until disaster struck in the final moto. First Doug Dubach was brought down yet again in turn two and was clearly in some difficulty getting back up.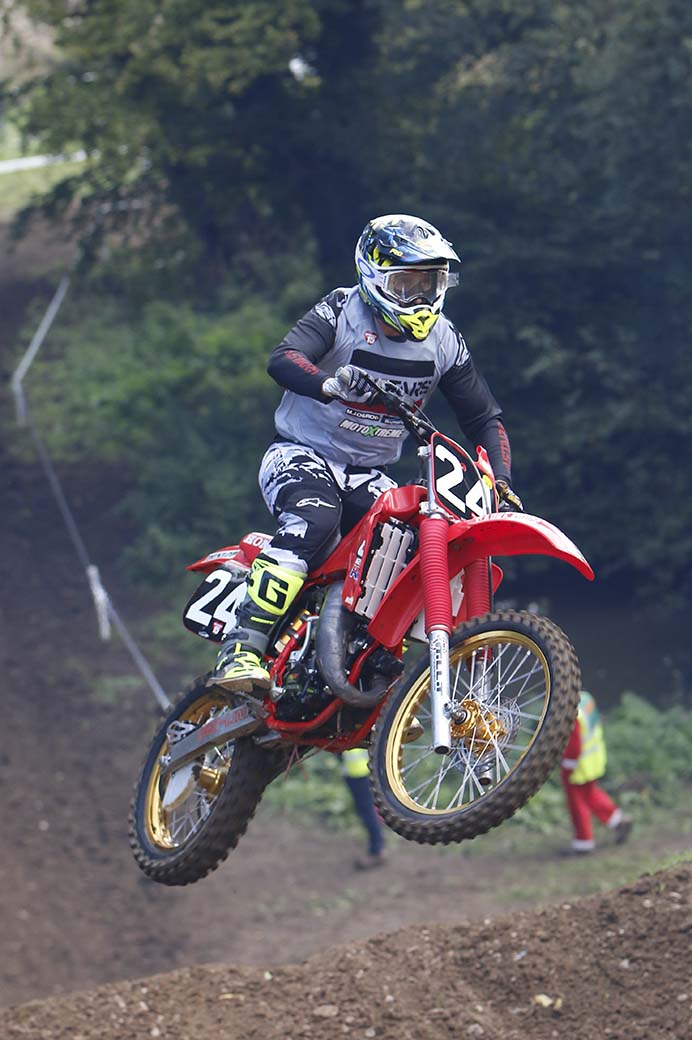 John Dowd suffered a terminal rear break failure at the same corner. "I went into turn two and realised I had no rear brake. I nearly went through the chestnut fencing," quipped the popular American. Realising Dubach was also out he added: "I guess we're f***ed."
Dubach rejoined the race in order to get a placing, but there was too much to do as the Doctor finished a lap down in 47th spot. And with Ivan Tedesco also down the field in 37th place, team USA saw the runner-up spot slip away allowing England to snatch it at the death.
It was a similar story in the EVO des Nations races, but it was Team Belgium who had the strength in numbers on this occasion to take a fine overall victory with two-time world champion Steve Ramon, two-time MX3 champion Sven Brugelmans, Ken DeDyker and Filip Van Dijk.
Even with one man down England consisting of team captain Kurt Nicoll, Mark Eastwood and Phil Mercer held a fine runner-up spot after the opening moto, five points ahead of Northern Ireland and a further two ahead of USA.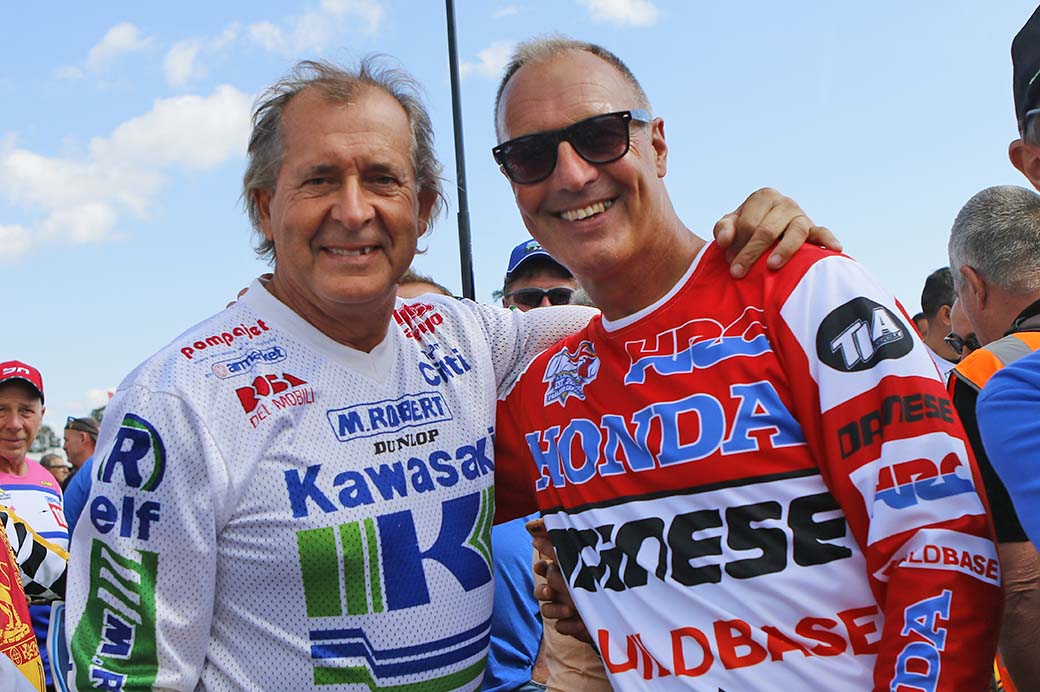 But a superb effort from the Yanks in races two and three fired them ahead, and some way back of the home team.
A brilliant performance by Neville Bradshaw who was drafted into Team Northern Ireland saw the South African clinch an individual second place overall with a 2-3-2-2 scorecard behind the all-conquering Mike Brown.
Welshman Mark Jones also put in a fine performance having missed out on a top grid spot while not realising it was a timed practice, and therefore having to start on the second row for the qualification race.
Former world No.2 Kurt Nicoll kept a clean sheet in the Super Evo class despite being the victim of a blatant false start by Italian Michele Fanton who jumped his Maico over the gate.
Nicoll, who stayed on the line, waited for a restart which didn't happen leaving the Cambridgeshire man a long way back from the pack, with a seemingly impossible task ahead.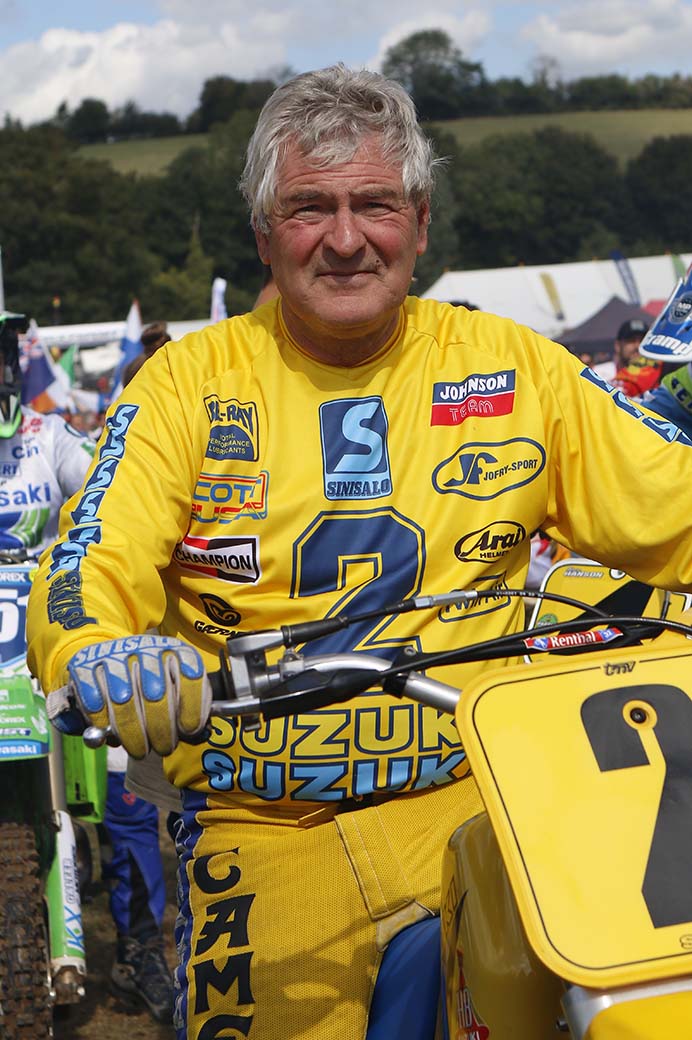 But a truly miraculous ride saw him haul his Mitch Payton prepared 250cc Honda through to clinch victory on the final lap. It was a superb effort and one that was well appreciated by the huge crowd.
Former Grand Prix winner Mervyn Anstie was another popular winner on his 500cc KTM, the man from Newbury making things look easy in the EVO/Super EVO challenge races clinching victory in all four to maintain a clean sheet in front of a proud son Max.
Similarly Jamie Skuse from nearby Calne in Wilshire kept a clean sheet scoring a maximum in the EVO 250 class. There were wins also for Australian James Deakin in the Evo Over 50s, Robert
Lewis Evo 500, Tom Church in the 125s, William Burgess Twin-shock Over 50s, George Gough Twinshock under 50s and Robert Lewis in the Evo 500.
When it came to the podium celebrations it was a raucous Team Germany ahead of an equally elated Team England featuring Terry House, Rick du-Feu, Barry Turnbull and Simon Lane with a slightly subdued Team USA.
In the EVO class it was an equally raucous Team Belgium who accepted their respective trophies ahead of the Americans.
Team England leader Kurt Nicoll graciously took time out to congratulate his compatriots Mark Eastwood and Factory Phil Mercer for their fine performances, and achieving a podium placing against strong competition.
American Doug Dubach was awarded the man of the meeting for the number of times he was wiped out by other riders and on the deck (through no fault of his own we have to add) and for getting back up and finishing on each occasion.