If you think you've got a punishing week lined up, check out off-road all-rounder Jane Daniels jam-packed schedule. Jane kicks off her weekend at round two of the Acerbis Amateur Nationals at Hawkstone Park on Sunday where she'll be aiming to extend her lead in the Ladies class.
Then, when everyone else is relaxing in the paddock in preparation for Monday's on-track action, she'll be jumping in her van and driving almost 400 miles north to Fort William for her first-ever Scottish Six Days Trial.
Writing in her first column for TMX, Jane describes her preparation for the mammoth task ahead…
Hello! For those of you that don't know me, I'm Jane Daniels, I'm 25 and I'm from Wigan. I've been racing enduro 13 years and I also ride a bit of motocross, trials, and occasionally get out on my mountain bike.
All my life I've been around motorbikes, and I started to show a real interest in wanting to ride at 12, after watching my brother (Gary) race enduro for two years. Dad got us into Enduro because he was road racing at the time and it was a lot safer than that!
I started off with practice days and Dad followed me around to make sure I was ok. From there I started to race every other weekend, then to every weekend and even rode in both the morning and afternoon races some Sundays. I've progressed from the youth class through to the experts, which is where I am at now.
[inline-teaser article="trailer-bennetts-war-new-motocross-movie-hits-this-summer" class="read-more" align="left"]
I've raced in various championships inducing British Enduro, British Sprint Enduro, GBXC's, World Enduro, SuperEnduro and the European Enduro. I've also raced some Extreme Enduros, British Extreme Enduro Championship, The Tough One, XL Lagares, Piatra Neamt Hard Enduro and Erzberg!
I don't do as many races as I used to, but I do ride every weekend, whether it be trails, motocross, enduro, practice days or even mountain biking, I'll be somewhere on two wheels when the weekend comes. I'm also a delivery driver through the week and I like to bake cakes – Dad's favourite is Victoria sponge!
This year I am racing the British Enduro Championship, World Enduro, Scottish Six Day Trial, and the Acerbis Amateur Motocross Nationals. I'm riding for Freestyle Wales with the help of Amped Graphics, Putoline Oils, Alpinestars, Kriega Luggage, Tekmo Products, Dave Clarke Racing, SMS Construction, Silver Fish UK, 100% Goggles and Matthew Rudd Photography.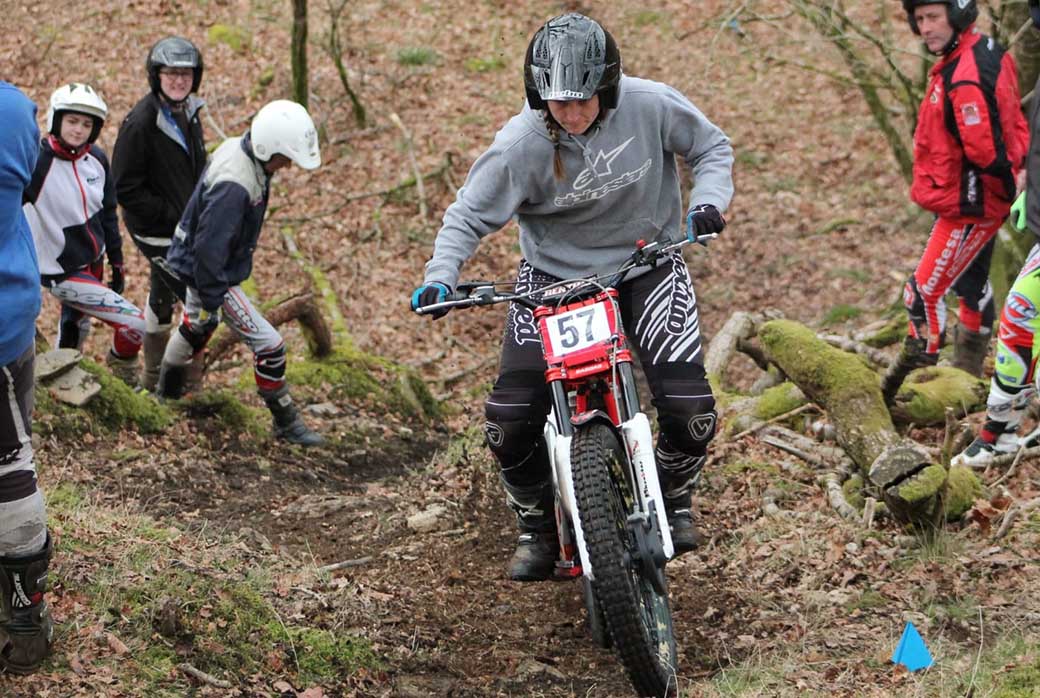 I rode my trials bike a little more than usual over the winter due to a broken collar bone at the World Championship in October, and rather than jumping straight back on the enduro bike, I rode the trails bike to build my strength up and just to see if there were any aches and pains, which luckily I didn't have.
So from the unusual amount of trials practise, I decided to enter the SSDT because there wasn't an enduro on that week/weekend and it's something I've thought would be good to try, so why not! (Look out for me if you're going up to watch, I'm number 113!).
I'm really looking forward to it and the bike preparation I've been doing – and with the help of Dad – has been going on for the past two weeks, every day, but I've been assured it's well worth it! Last year I raced two of the Acerbis Amateur Nationals in between what I had planned and really enjoyed them, so with the encouragement of Matthew Rudd Photography, and some friendly micky taking, I signed up for it this year!
At the first round at FatCat, I surprised myself and came away with the overall win. However, it's put me in a bit of a sticky situation. The next round of it is at Hawkstone this coming weekend on Sunday/Monday and the SSDT starts on Monday. I didn't plan on racing Hawkstone, I was just going to skip that round and carry on with the championship from the next, but where would the fun in that be. So, I may have bitten off more than I can chew.
I'm going to be racing this Sunday at Hawkstone, where I should get three races throughout the day, heading home, unloading the van and getting picked up and taken to Scotland to start the trail on Monday!
I'm preparing two bikes, for two different events, at two different places, nearly 400 miles apart, and my Six Days riding has now turned into seven, what can possibly go wrong? All jokes aside, I'm really looking forward to both events, it's just a shame they clash and I can't be in two places at the same time! I'll let you all know how I get on.
[more-from heading="Latest News" category="news"]