Around 200 riders made the trip to Cadders Hill, Lyng, on Sunday where Norwich Vikings' 15-race programme included a round of the Eastern Evos and NGR Over 30 championships.
Local hero Jake Nicholls surprised the crowd by riding a Honda two-stroke in the Evo group, and won all three motos, although Jason Morland gave him a strong challenge.
Morland led all three races, outdragging everyone on the start-straight with his powerful 500cc KTM, but was soon caught by Nicholls, who was enjoying himself on the tough, gnarly circuit.
In race two Morland held on to the lead for four laps until Nicholls made an audacious pass on a steep descent to take the lead.
Brett Fisher was his usual consistent self with three third places. Alex Hornsby, Glen Bixby and Matt Coles battled all day for fourth.
Series leader in the NGR championship, Will Kerry led at the start of race one but was soon caught by former National star Gary Hoptrough, who was having a one-off ride.
Mark Hunt also passed Kerry and chased Hoptrough hard throughout, while Kerry held on to third place from Liam Walker.
Race two saw Kerry leading with Hoptrough, Hunt, Mark Goodson and Aaron Smith scrapping over second place. Kerry led for three laps until Hoptrough took over, chased by Hunt leaving Kerry to fend off Goodson and Steve Atkins.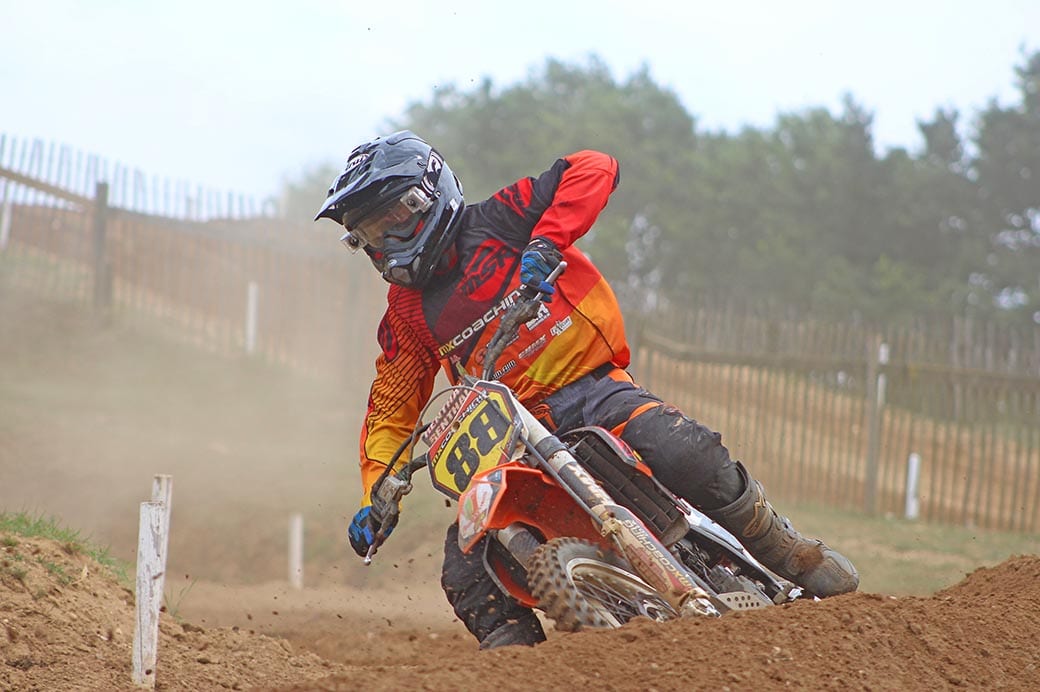 On lap seven, a small mistake by Hoptrough allowed Hunt to take over at the front and and claim the win despite Hoptrough's efforts.
Kerry was a lonely third from Goodson, Atkins and veteran Paul Aldridge. In the last NGR race, Kerry led the 40-rider pack for a couple of laps, with Hoptrough and Smith chasing hard.
Hoptrough was soon in charge and took the win, although as an invited rider, his results did not count in the overall standings. Hunt was second and Kerry maintained his lead in the series by finishing third again, with Atkins getting the better of Goodson for fourth.
Following timed practise the Experts and fastest Junior riders made up the A group of allcomers. Nicholls, riding his 450cc Buildbase Honda, was soon in charge of race one with Luke Benstead chasing hard.
Steve Bixby was riding well in third place until local hotshot Declan Whittle charged by. Josh Keeble finished fifth from a hard-charging Harry Clark.
Benstead stormed to the front in race two and led the first lap, but a mistake on the next circuit saw Nicholls in front, chased by Whittle with Benstead regrouping in third place.
Nicholls increased his lead to take the win, with Whittle holding off a charging Benstead while behind them, Harry Clark got the better of Bixby on lap eight to claim fourth.
In the final moto Nicholls led the first lap from Benstead, Whittle, Ben Cole and Sam Mitchell. But in his sixth race of the day, Nicholls lost his chain putting him out of the race and leaving Benstead in charge.
Whittle tried hard to catch him, putting in some fast laps but had to settle for the runner-up position. Bixby managed to pass Ben Cole for third, with the consistent Clark finishing ahead of Mitchell.
The Junior lads battled well with the Experts in group A and Ollie Brader was top Junior with seventh overall. Daniel Sultana was second best, with 12th on the day.
The Allcomers B group saw Kyle Wilby in great form, taking all three wins. Luke Clifton rode well in all three races for second overall, with Jack Whitlam third on the day.
Tom Sutton took overall victory in C group despite not winning a race.
Lee Scott failed to finish race one, but then had two wins to claim second overall, and local rider Scott Goodson won the first moto but crashed out at the start of race two.
Results
Eastern Evos: 1 Jake Nicholls (Honda), 2 Jason Morland (KTM), 3 Brett Fisher (Honda), 4 Alex Hornsby (Honda), 5 Glen Bixby (Honda), 6 Matthew Coles (Honda).
NGR Over 30: 1 Mark Hunt (Husqvarna), 2 Will Kerry (Husqvarna), 3 Steve Atkins (Honda), 4 Mark Goodson (KTM), 5 Paul Aldridge (Husqvarna), 6 Phillip Waldron (Yamaha).
Allcomers group A: 1 Luke Benstead (Husqvarna), 2 Declan Whittle (Husqvarna), 3 Steve Bixby (KTM), 4 Jake Nicholls (Honda), 5 Harry Clark (KTM), 6 George Ellis (Husqvarna).
Allcomers group B: 1 Kyle Wilby (Husqvarna), 2 Luke Clifton (Honda), 3 Jack Whitlam (KTM),4 Joshua Fullalove (KTM), 5 Connor Cramp (KTM), 6 Ryan Bailey (KTM).
Allcomers group C: 1 Tom Sutton (Yamaha), 2 Lee Scott (Honda), 3 Scott Goodson (Husqvarna), 4 James Gadd Kawasaki, 5 James Collier (KTM), Lewis Abel (Honda).
[more-from heading="More Motocross" category="motocross"]