Marshfield on Good Friday is becoming a bit of a staple motocross event on the UK calendar and 2019 saw the third running of the Huck Cup class.
Formed three years ago, this year's event took place under beautiful sunny skies as part of the Mike Brown Memorial event, which is in its 30th year of existence.
The event is an AMCA club meeting ran by the Marshfield club and caters for the usual AMCA classes of juniors, seniors, and experts and more recently, pro riders.
The traditional 'Old Friends' race is still very much the reason behind the event being held and for 2019 the Huck Cup class returned along with an all-new class, the Under-26 South West Challenge catering for any rider on any bike – they just had to be under 26 years old on race day…
For this year's event, Tom Brown of Motoxtreme who co-ordinates the rider entries for the aforementioned classes has progressively improved the line-up for the Huck Cup each year and for 2019 he'd pulled in three current GP racers in the shape of Tommy Searle, Shaun Simpson, and Conrad Mewse.
These were alongside a sprinkling of current UK-based pro riders, a selection of half decent national level riders and rounded out by a handful of ex-GP racers.
The Huck Cup was decided over two 20 minute plus one lap races and it was Searle that took the early lead over 2018 winner, Conrad Mewse, and a trio of local talent comprising of Luke Hawkins (2017 winner), Adam Chatfield, and Jamie Skuse.
Simpson was outside the top-10 and had a lot of work to do and while coming through the pack he made a costly error on lap three, undoing his early work and then went back to work repassing those that capitalised on his mistake and pulled through to third at the finish. Searle and Mewse yo-yo'd a little with the win going to Searle.
With these three being world-class GP riders they had left a sizeable gap back to fourth place.
Race two saw Chatfield take the early lead over Searle for four laps, proving that he's just as handy outdoors as he is indoors.
[inline-teaser article="jacky-martens-dropped-by-husqvarna" class="read-more" align="right"]
They had local boys – and no strangers to the Marshfield circuit – Skuse and Hawkins in tow and behind them a six-way battle raged for fifth featuring Aaron McCarroll, Todd Kellett, John May, Jamie Law, Taylor Hammal and Tom Church.
Meanwhile, Simpson had hit the deck on the first corner, along with Mel Pocock, Ty Kellett, and Ben Hunt and while charging through the pack he caught the battle for fifth place. However, he stayed on the gas just a little too long and as he entered an off-camber left-hander he lost his balance while trying to stay upright and collected Tom Church and they both went down.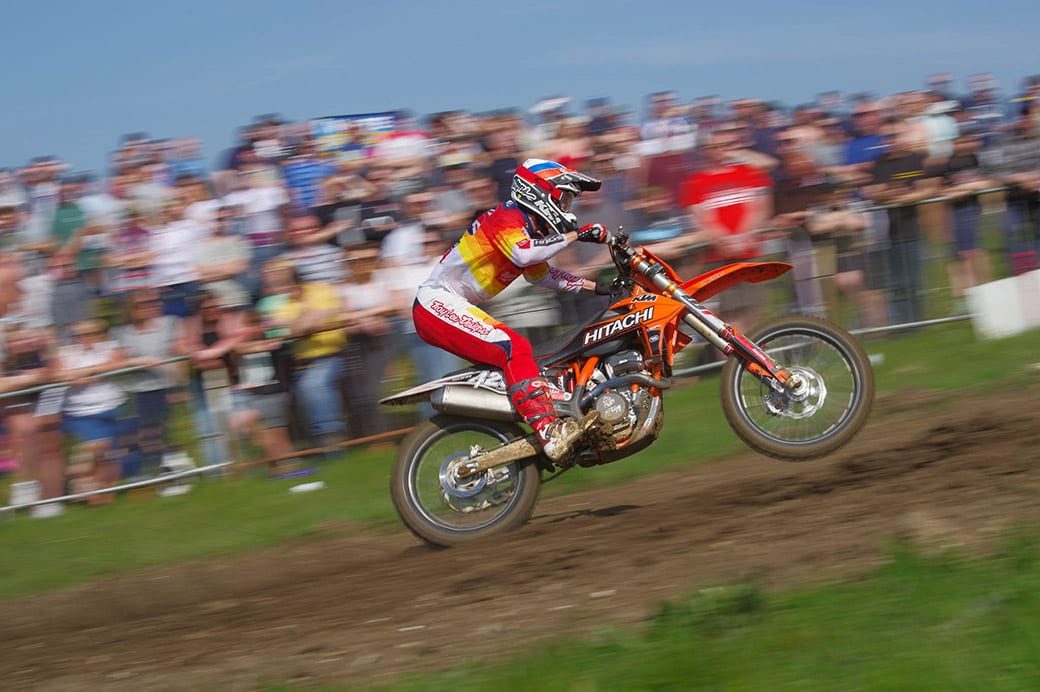 Out front, Searle and Mewse clicked off consistent and trouble-free laps with Conrad closing in slightly on the final couple of circulations.
Chatfield held on for a fine third ahead of Hawkins with Simpson a hard-charging fifth place – his final few laps were visibly faster than anyone else on track so with a decent start the race may have been much different.
The Under-26 South West Challenge had no displacement restrictions (just like the Old Friends race and the Huck Cup) and was decided across three points-paying races that featured competitive riders on both two- and four-stroke machinery.
[inline-teaser article="huck-cup-results-2019-mike-brown-memorial" class="read-more" align="right"]
Early race one leader Bradley Wheeler on his 250 two-stroke Husky gave way to another 250 two-stroke mounted racer Adam Harris (aboard a resplendent black and white Yamaha), and while dealing with back markers he gave way to a poor starting Dominic Lancett, who was aboard a 250 four-stroke KTM.
Taking the chequers first was Harris, followed by Lancett and Wheeler crossed the line in third.
Race two saw Lewis Dowdeswell take the holeshot aboard his 350 four-stroke KTM but was shuffled back by Harris at the end of the opening lap while another slow start from Lancett saw him plug away to eventually take control of the race and take the win – not before a bobble in the final corner that could have been costly!
With a win and a second each it was down to the deciding third moto for the overall win between Harris and Lancett and it was Harris taking the early lead from Wheeler and was never headed as he held a comfortable gap to the chequers and took the overall win in the inaugural U26 South West Challenge!
[more-from heading="More Motocross" category="motocross"]