Twisted Tea Suzuki Supercross rider Max Anstie made his Monster Energy supercross 450SX debut last weekend in Orlando.
Speaking to DBR exclusively, Anstie gave us a run down on how it went for him in round eight and dealing with recovery from his injury earlier on in the season.
"I only had two proper days on the bike before going to Orlando. I didn't even really want to go to Orlando. I was trying to push everything out for Daytona, because that would give me these next two weeks," said the Briton.
"But it was one of those where the team wanted me out there for sponsors and things like that. We literally made a last-minute decision. I watched the race last week, Orlando one on the TV and didn't even know that I was going to be racing the next weekend. So on Monday they were like, We need you to come out here on Wednesday, so I flew out and just tried to make the best of the situation."
"It's tough because, as a racer when you're under-prepared and you've not done a lot of laps, its difficult. I hadn't even done a lap since I crashed, which was six weeks ago, so it was a struggle. I was trying to just do everything that I could to get my body feeling alright. I knew if I didn't have pain while I was riding, then I could at least get in there and get some laps under my belt. I wasn't obviously anywhere near as fit and as sharp as what I like to be, but it's a starting point."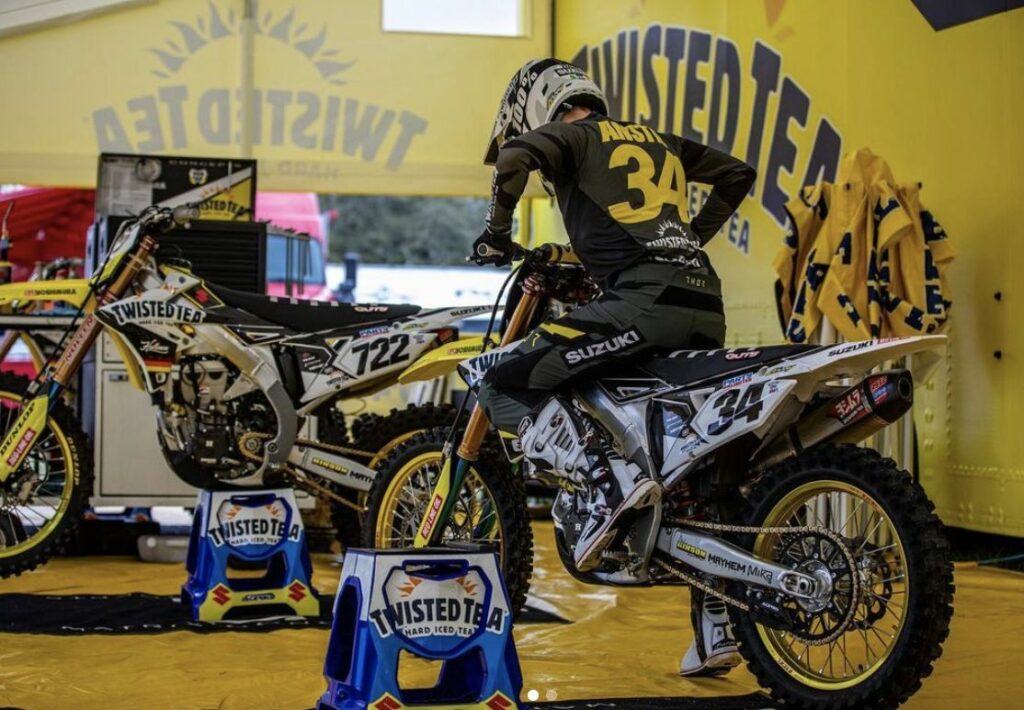 After Anstie qualified well enough to make the main event in Florida, his target was to finish, get in the points and make some more progress heading towards Daytona.
"At the end of the day, life's not perfect. I'm at a point where I've got to start somewhere, it was my first 450 supercross race, and first main event. Riding under the lights and being in supercross is something very difficult. So to be honest, it was a good experience. I'm happy that I did it just to get the laps, because now I've got these two weeks to try to do some testing, and to push myself. I've got to try and get back up to speed."
"I can make the bike better going into – probably not Daytona, because Daytona is a slightly, more outdoor-style track anyway, but going into the Texas rounds and things like that, I think the information that I gathered from Saturday will help for that. So I'm pleased I did it, but for sure coming back from the injury wasn't easy because I couldn't do a lot."
"I couldn't train properly. I couldn't do a lot of anything. Up until literally this week I just started feeling like I didn't have that much pain and they were like, Okay, get on a plane and come racing, I'm like, I'm not ready. But it is what it is. I'm happy we did it, Now I can push on these next two weeks."
Anstie made the switch to Suzuki for his debut season after years riding outdoors in MXGP but it hasn't been a big wrench.
"I've got a good group of people working with me. I'm happy with the Twisted Tea HEP Suzuki team. I've been in a lot of teams in Europe, I've been on factory teams, I've been a lot of different bikes."
"The thing that I learned was to get a good group of guys around you, you can't buy that. My crew chief, Clark Jones, he's like the Roger De Coster of the team. He's an older guy and he's got so much experience he's really is helping me with what direction to go with the bike, and even just little things with supercross. My mechanic, Dave, he's worked for Chad Reed, for Mike Alessi, for a lot of great riders.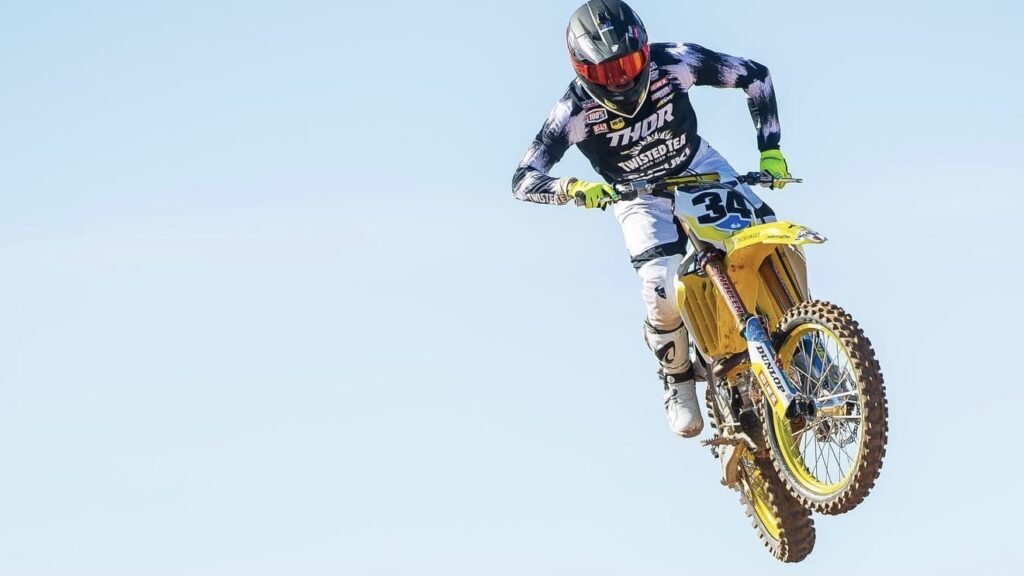 "Again, he is another one that's in my corner, he's really been my eyes and helping me see what I need to see and go the direction that I need to go. There's certain obstacles, even at the weekend there were things I've never even seen before, I've never seen a set of whoops that big, like they were in Orlando. It's one of those where I'm learning so It's new for me. I'm okay with the motocross stuff, I know exactly what I want to do, but with supercross I don't know. So I think the team and the people I've got around me have got the potential to grow and we'll be in a good spot."
Anstie isn't shy about his ambitions in America. He wants to get in the mix with the big boys but is under no illusion about how difficult that will be.
"I think my starts are going to be really good as my bike is working well off the gate, I just want to get in the mix with them now I've got some points on the board I'm going to keep on progressing."
"Of course, the end result is I'd like to win one of these things, but this year it's probably not going to happen. So I want to just take each race as it is, learn as much as I can through this supercross season so that I can take it into next year's supercross season and be in a position to be constant in the race, or in the top ten."
"I think I learned a lot from the outdoor season so that now going into this 2021 motocross season at the end of the supercross I think I'm going to be in a much better position than what I was last year. So I think going into the outdoor season I am going to be strong and feeling good. Of course, you've got to get there first, we've got another nine rounds of supercross, or whatever it is. As you can see, anything can happen."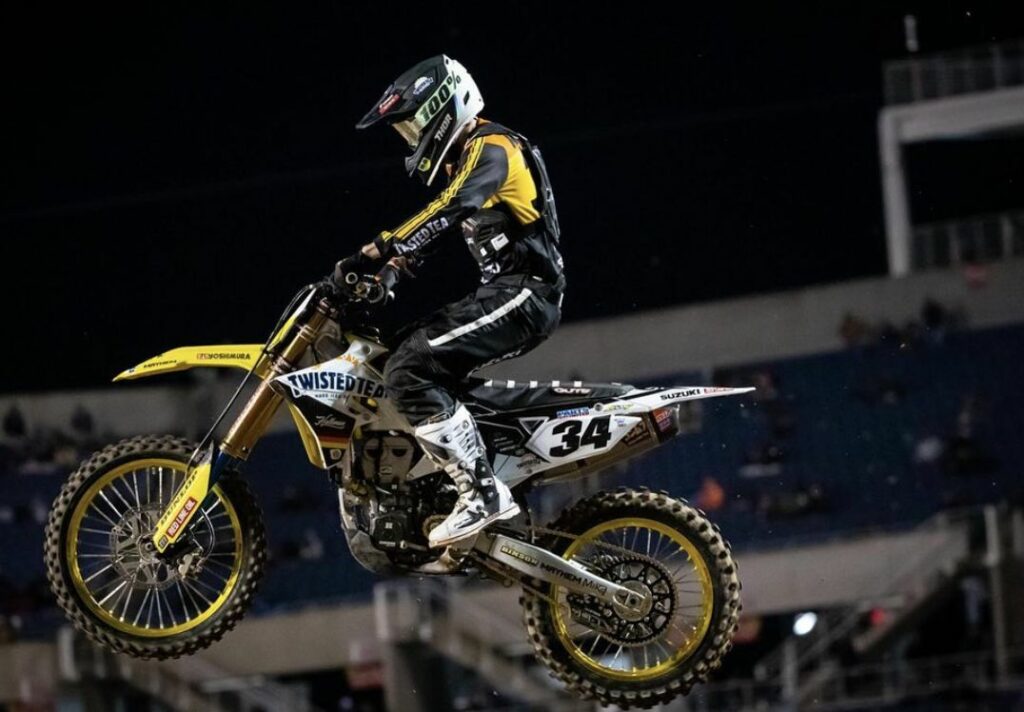 Anstie believes the the Americans have taken to him well and having a lot of support on social media from home makes it all a little easier but there are still some big culture differences.
"Having Twisted Tea as your sponsor seems quite cool, the Americans do seem to like that. It's weird because I don't think in Europe you've even allowed to have an alcohol sponsor, It's iced tea with some sort of alcohol in it. To be honest, I haven't had much of it, even though my line is, 'I'm English. I like tea'.
"I do have a cup of tea, but not the iced stuff. To be honest, I think having my teammate as well, Adam Enticknap, he has a big fan presence over here, with his rapping and he's honestly a really funny bloke. I get on really well with him."
"I think the outdoor championship really put myself and the team on the map. Now moving forward in supercross, I've got to do a few more races, but I'm getting there and start ruffling a few feathers with them and then we'll see."
"I think the Americans are maybe slightly more closed-minded than the Europeans, They don't really look at the GP's that much. They know who guys are, but they don't really know. Sometimes it's actually quite nice to be an underdog. Even the physio place that we go to, everyone knows everyone at supercross, but when I first started going there they had no idea that I even raced. When I say that I'm racing they're like, 'Oh, really?' So it's a bit different, but honestly it's all going well."