The tragic loss last weekend of 55-year-old Eric 'The Kid' Geboers in a drowning accident has robbed motocross of one of the biggest and most successful names in the sport's history.
Sixth on the list of all-time grand prix winners and five times world champion tells only part of the story.
The short, stocky Belgian bombshell was – and shall always remain – the only man to conquer the world on 125, 250 and the mighty 500cc machines in the space of a devastating decade before retiring on top in 1990, aged just 28.
Born into a motocross family in August 1962, little Eric saw his much older brother Sylvain twice finish second in the 250 world championship to boisterous compatriot Joel Robert. It was Sylvain who worked as Eric's mechanic when he too emerged onto the world scene with Suzuki in 1980, capturing his first grand prix victory in Czechoslovakia and finishing third in the 125 world championship behind Harry Everts and Michele Rinaldi.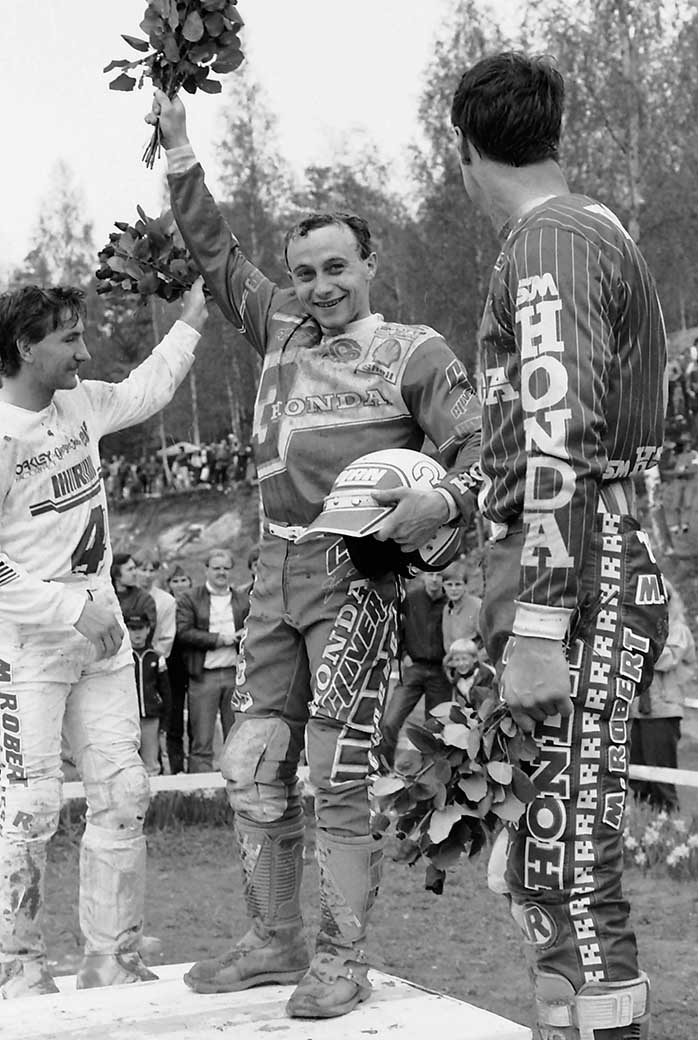 He improved to second in 1981, winning in Switzerland, France and Spain to miss out by 14 points to experienced team-mate Everts.  Finally in 1982, as he turned 20, he blazed to six grand prix victories and the world title, following it up with further success in 1983.
And that September, in the 250cc Trophee des Nations, he gleefully beat the triumphant Americans at Povaska Bystrica in Czechoslovakia to salvage European pride. Stung by their defeat by Yamaha and Hakan Carlqvist, Honda then hired Geboers to join a mighty HRC factory 500GP quartet alongside Andre Malherbe, Dave Thorpe and Andre Vromans.
While Malherbe regained the crown, a nasty knee injury incurred over the dastardly double jump at Hawkstone Park put Eric out of the last three GPs, though he had won in Holland on his way to fifth in the table.
The 1985 season brought sweeping victories in Sweden and Finland and the bronze medal behind team-mates Thorpe and Malherbe and in 1986 he entered Luxembourg's final round locked in combat with that pair and Georges Jobe in a thrilling four-way scrap for the crown.
Title
An unlucky practice accident in which he collided with an English fan crossing the track detuned the little Belgian though and he once more finished third. HRC, eager to win a first quarter-litre title, then transferred Geboers into 250GPs where he spent 1987 going head-to-head with Cagiva's former 125 world champ Pekka Vehkonen.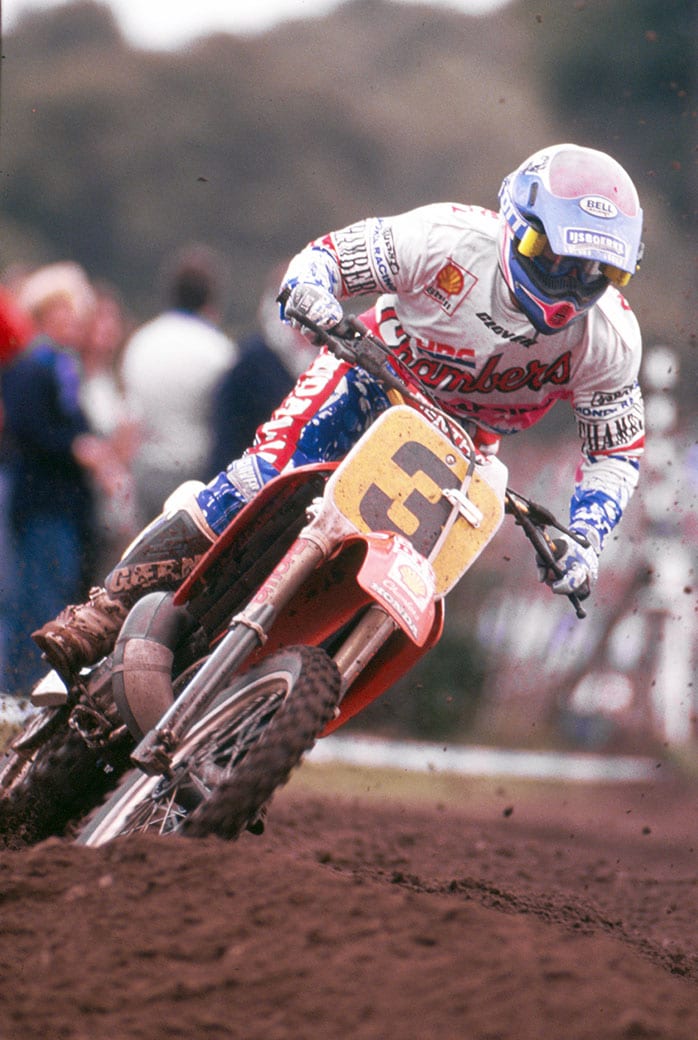 "That was my toughest year," Eric once told me, "because of the weight of Honda's expectations." He prevailed and after a thrilling season-long contest with Vehkonen claimed his and Honda's 250 world title and was rewarded with a return to the blue riband 500 class.
The 1988 season proved another classic as he locked horns with team-mate Dave Thorpe. What a contrast they made – the small, smiling Belgian against the tall, taciturn Englishman.
Thorpe started out on top but Geboers retaliated with a searing mid-season sequence, winning in Finland, Germany and Italy.
Thorpe hit back in America and at Hawkstone Park and led by just nine points before being injured in Holland where Eric stormed to victory before ultimately and aptly seizing that historic 500cc world title at Namur in front of his home fans.
Another epic season saw Thorpe reclaim the title in 1989 with Geboers relegated to third place at the final round by team-mate Jeff Leisk but he trounced the world again in 1990, his 39th and finest grand prix victory coming in the final round at Glen Helen, California, after a gripping duel with Ricky Johnson.
Already an enthusiastic supporter of young Italian race promoter Guiseppe Luongo, Eric ultimately organised GPs at Lommel and – as 'Geboers Racing Promotion' – ran the Rockstar Energy factory Suzuki team with Sylvain.
He also worked as a fitness coach with Alstare Suzuki in world superbikes, competed as a car racer in the world sports car endurance championship and launched his own helicopter company.
But Eric Geboers will mainly be remembered as an effervescent bubbly character, always upbeat and amazing proof that a brilliant little fella can stand a chance against a brilliant big fella, even in the muscular world of motocross.
His breathtaking talent – especially in sandy conditions – will live on forever. RIP Kid.