FMF KTM Factory Racing's Cody Webb has won round three of the 2018 SuperEnduro World Championship in Malaga, Spain. Team-mate Jonny Walker put in an excellent performance to finish second overall.
Over three thrilling races and in front of a packed stadium, Cody Webb put in a superb display of riding to finish as a well-deserved overall winner at the third round of the 2018 FIM SuperEnduro World Championship in Malaga, Spain. Despite a crash early on in the third and closing final, his results from the first two races were enough to give the 2017 Endurocross Champion the overall win.
The first race saw a close battle between all three Factory KTM riders. Swapping positions throughout the 11-lap race it was Jonny Walker who crossed the line first.
Webb was close behind with Taddy Blazusiak taking third. The second race, as always, started with a reverse grid. After a strong start Taddy Blazusiak crashed heavily on the second lap, Webb took the lead and despite having to fight off challenges from both Billy Bolt and Colton Haaker the American took the win by close to two-and-a-half seconds.
After the first corner crash in race three, it was Blazusiak who took control at the front. Despite a couple of mistakes, the multiple SuperEnduro World Champion held his nerve to take the win. Webb remounted to finish ninth and add six points to his tally, ending the evening with a winning total of 46 points, just two points ahead of Walker.
Now holding a 24-point advantage at the top of the standings, Cody Webb was happy with his evening's racing.
"I finished the final race with a hole in my radiator, my bars were completely bent and I had half a grip missing on the throttle side, but I still managed to do enough to get the overall win," said Webb.
"It was a crazy night, that's for sure, but I never gave up, and it feels great to have won.
"Getting the fastest time in the superpole was a nice way to kick things off, but I rode a little tight in both the first and second races.
"I have a little homework to do, but I think everyone had some troubles at some point.
"The first corner crash in the third final was one of those things, but it was pretty rough. I was a lap down but once I got back on track I was running a good pace. I didn't want to get involved with the riders ahead of me, but I needed to un-lap myself.
"It was just a crazy race. I was mentally beat up and had a terrible final lap, but I managed to just do enough to win overall and that feels so good."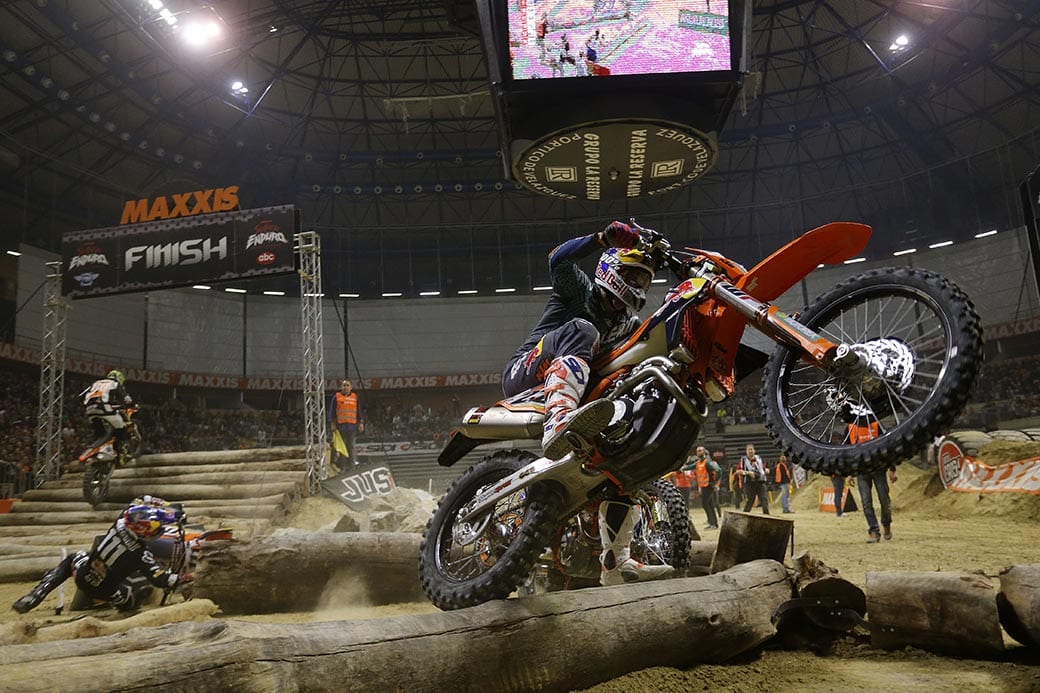 Despite getting tangled up in the race three start crash, Jonny Walker claimed an excellent runner-up spot overall. The British rider was extremely pleased with his result after such a closely-fought evening.
"It's been a great night," said Walker. "A crazy night, but a great night! Second overall and just two points from the win is really positive.
"It was such an unpredictable night's racing. Winning the first final was great – battling with Taddy and Cody was awesome. We were all fresh and pushing hard and I managed to run a good pace and make fewer mistakes. I really enjoyed the track, we were all able to go fast and that made for some great racing.
"The second final was a little frustrating because I felt like I could have won it or finished second, not fourth. But the crash at the start of the third final was pretty nasty. I got taken out from behind and set off almost last. I knew it was close for the overall win so I just pushed as hard as I could.
"I was a few points short at the end of the night but in general it's been a great event and I'm more than happy with the way most of it's gone."
Taddy Blazusiak's riding throughout the evening was extremely impressive. His crash in the second race was thankfully not serious and the Polish rider, despite feeling a little sore, impressively came back to take the win in the final race.
"That was a scary, scary night for me," Blazusiak admitted. "My crash in the second race was, thankfully, something that doesn't happen that often. But it was kind of typical of what happened tonight.
"It seems like everyone had some kind of issue during the three finals. It was a crazy ride.
"I really enjoyed the first final – I had a great battle with Jonny and Cody. The three of us gave it everything and it was 11 hard but clean laps from all of us. That's exactly what I love about SuperEnduro racing. When I crashed in the second race I was focused on getting into the lead. I went a little offline on one of the jumps and hit a small hole on the back side of the log that ran across the top of the face of the jump. It kicked me over the bars and I was so, so close to a huge get off. I went off the track and crashed into the stands.
"It happened so fast. I was lucky.
"I didn't think that I was going to be able to complete the third final, but when I saw all the other guys crash off the start I knew I had to take the opportunity to get as many points as possible. It's kind of amazing that I managed to win the third final. I was all out of energy, but a win was a great way to end the night."
The FIM SuperEnduro World Championship continues with round four in Bilbao, Spain on March 3.
Results – 2018 FIM SuperEnduro World Championship, Round 3
Prestige Class Overall
1. Cody Webb (USA), KTM, 46points (2-1-9)
2. Jonny Walker (GBR), KTM, 44pts (1-4-6)
3. Billy Bolt (GBR), Husqvarna, 41pts (5-3-3)
4. Alfredo Gomez (ESP), Husqvarna, 37pts (6-5-2)
5. Colton Haaker (USA), Husqvarna, 37pts (7-2-5)
Other KTM
6. Taddy Blazusiak (POL), KTM, 35pts (3-DNF-1)
7. Manuel Lettenbichler (DEU), KTM, 19pts (4-6-4)
Prestige Race 1
1. Jonny Walker (GBR), KTM, 11 laps 7:13.436
2. Cody Webb (USA), KTM, 7:17.464 +4.028
3. Taddy Blazusiak (POL), KTM, 7:24.036 +10.600
4. Manuel Lettenbichler (DEU), KTM, 7:39.052 +25.616
5. Billy Bolt (GBR), Husqvarna, 7:41.724 +28.288
Other KTM
10. Juan Pau Segura (ESP), KTM, 7:58.814 +1 lap
Prestige race 2
1. Cody Webb (USA), KTM, 11 laps 7:14.181
2. Colton Haaker (USA), Husqvarna, 7:16.609 +2.428
3. Billy Bolt (GBR), Husqvarna, 7:20.477 +6.296
4. Jonny Walker (GBR), KTM, 7:26.088 11.907
5. Alfredo Gomez (ESP), Husqvarna, 7:36.122 21.942
Other KTM
6. Manni Lettenbichler (DEU), KTM, 7:16.000 +1 lap
10. Juan Pau Segura (ESP), KTM, 7:43.397 +1 lap
Prestige Race 3
1. Taddy Blazusiak (POL), Husqvarna, 11 laps 7:00.085
2. Alfredo Gomez (ESP), Husqvarna, 7:09.724 +9.639
3. Billy Bolt (GBR), Husqvarna, 7:12.116 +12.031
4. Manuel Lettenbichler (DEU), KTM 7:26.504 +26.419
5. Colton Haaker (USA), Husqvarna, 7:35.700 35.615
Other KTM
6. Jonny Walker (GBR), KTM, 7:25.105 +1 lap
9. Cody Webb (USA), KTM, 7:25.105 +1 lap
Championship Standings (After Round 3)
1. Cody Webb (USA), KTM, 155pts
2. Taddy Blazusiak (POL), KTM, 131pts
3. Billy Bolt (GBR), Husqvarna, 124pts
4. Colton Haaker (USA), Husqvarna, 114pts
5. Jonny Walker (GBR), KTM 105pts
Other KTM
7. Manni Lettenbichler (DEU), KTM, 99pts